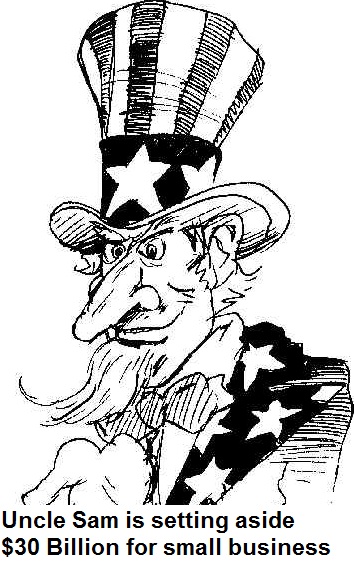 Small-business owners wanting to expand, and entrepreneurs looking to start a new company or buy one, can set the groundwork to take advantage of the pending legislation wending its way through Congress. That's because you will be able to zero in on the banks most likely to make small-business loans.
"This is going to help small business which has always been the job generators of our country," Senate Majority Leader Harry Reid (D, NV) said upon breaking the Republican's filibuster threat. He was referring to the anticipated bill that (as of this writing) is awaiting a full Congressional vote and President Barack Obama's signature. It is expected to create between 500,000 and 700,000 new jobs.
Additionally, Coleman Publishing reported that Reid also said, "We have community banks now with the ability to compete with big banks." But it is unclear what he meant because most big banks don't want to be in the business of making small loans.
Big regional, national and international banks prefer making multimillion-dollar loans to large corporations. That's because the fee income is greater and it allows them to hire experts in industries that they want to target. In that way they can choose the growth industries that are more likely to be successful. Equally as important, they hire economists and market researchers to help them avoid lending to businesses within riskier industries.
Yet, large banks have to meet the goals of the Community Reinvestment Act. It requires them to lend in the communities where they accept deposits. Accordingly, making small-business loans within their community is one way to do that. But when they do, they prefer businesses with at least two years of profitability, excellent credit scores and owners with many years of related experience. The lenders also require solid collateral to be pledged.
By contrast, small community banks are able to make small business loans profitably. They embrace the U.S. Small Business Administration's loan guarantee programs and sell the guaranteed portion into the secondary market. The upfront fees paid by borrowers, points received from buyers of the guaranteed paper, and servicing fees are sources of profit for them.
In other words, small banks make small loans because they find them profitable. Large banks prefer larger loans and don't usually compete with small banks as Sen. Reid believes. But he is correct that community banks, with assets under $10 billion, are more likely to make small-business loans to fledgling companies, start-ups, and more marginal applicants.
That is why the pending small-business legislation is creating a fund to lend $30 billion to community banks with favorable terms. Whether or not the banks decide to participate, and to what extent they will make loans that they would not have otherwise made, remains to be seen.
So now is the time to form a depository relationship with a small community bank in your neighborhood. Get to know the president and loan officers. Ask if they intend to participate in the new financing available to small banks. Find out how they underwrite small business loans and if you are a candidate.
Although the small-business bill can help you get financing, good credit scores and sound underwriting will still prevail.
Jerry Chautin is a volunteer SCORE business counselor, business columnist and SBA's 2006 national "Journalist of the Year" award winner. He is a former entrepreneur, commercial mortgage banker, commercial real estate dealmaker and business lender.
SUBSCRIBE TO & FOLLOW THE MORNING EMAIL
The Morning Email helps you start your workday with everything you need to know: breaking news, entertainment and a dash of fun. Learn more