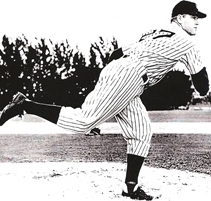 A skilled business mentor can help you succeed. The late George Barley was mine.
In 1930, the New York Yankees tried to recruit the talented pitcher during his junior year in high school. But he said, "No way, I'm going to college," according to an interview with author Hank Utley. "I won´t play baseball all my life, and I want an education."
The interview took place at Barley's home in Pinehurst, N.C. on May 31, 1995, long after he retired from baseball and his business career. "I wanted to go to Duke University in Durham, N.C. and play under Jack Combs who I had read a lot about and understood to be a great pitching coach," he said. Barley followed his dream and left Long Island, New York for North Carolina to attend college.
After graduating from Duke, he played semi-pro baseball with the Coastal Plains League in eastern North Carolina and met such notables as Dizzy Dean and Satchel Paige. Barley eventually transitioned from the minor leagues into the business world and was a vice president for Berens-Associated Mortgage Companies. The Washington, D.C.-based organization was second largest mortgage-banking firm in the nation at the time. That is where I met the pitcher-turned-businessman.
Barley was responsible for all of the company's regional offices. He hired me in the late 1960s to open an office in Atlanta and develop the southeastern territory. I was 28, had some mortgage origination experience and was a proven salesman. But managing people proved to be my weakest skill.
I hired a sales team, loan processors and office staff. I worked long hours to train them. As a result, my southeastern office led the nation in sales volume. However, we also led in employee turnover, especially among my loan processors and office workers. Barley took notice and asked me if I wanted his guidance.
Even though I was young and brash, I welcomed his intervention.
Barley interviewed my entire staff and promised them complete confidentiality. His conclusion shook me up. My employees did not trust me.
Barley said that my dealings with clients lacked transparency. I quoted interest rates too optimistically. Furthermore I lowballed my estimate of fees for acquisition, development and construction loans. In other words, my staff was watching how I did business with clients and concluded that I might be deceitful with them as well.
I was naive and too inexperience for the job. In fact, I thought that all successful businesspersons operated in the gray area. So I welcomed Barley's findings even though they stung. The lesson was that I had to change my ways. Moreover, consistency throughout my business and personal relationships was necessary for me to build credibility and trust. I was grateful for the new insight and unwaveringly followed Barley's cue.

Leo "the lip" Durocher, manager of the New York Giants, hired Barley in 1946 when he was 32, after sitting on the benches at a number of farm teams. "What the hell you want me for? I´m through," Barley recalled saying to Durocher, according to interviewer Utley. "I haven´t thrown a ball in three years, and I don´t care to throw a ball."
But instead of asking Barley to pitch, Durocher hired him to become assistant coach of the Giants' farm team. And fortunately for me, his coaching skills carried over to the mortgage-banking business. Barley used them to change my life.
Sadly, I never had the chance to thank him.
Jerry Chautin is a volunteer SCORE business counselor, business columnist and SBA's 2006 national "Journalist of the Year" award winner. He is a former entrepreneur, commercial mortgage banker, commercial real estate dealmaker and business lender. You can follow him at www.Twitter.com/JerryChautin
SUBSCRIBE TO & FOLLOW THE MORNING EMAIL
Start your workday the right way with the news that matters most. Learn more