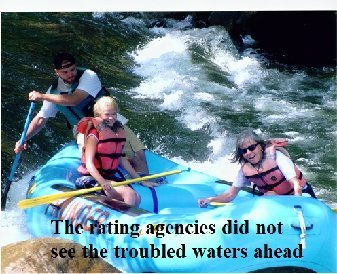 I've had it up to my nostrils with the rating agencies. They got it wrong with the real estate industry and do not have enough credibility left to play a role in Europe's financial problems. Yet, they still have the hubris to squash the investment rating of Greece, and warn us about Portugal, Spain. It is wreaking havoc with the with the Euro the financial markets.
The time has come for investors to make their own decisions and stop abdicating financial responsibilities. The time has come to recognize that rating agencies are research firms, and they are not deities endowed with inalienable rights to dictate the quality of investments. Moreover, the agencies being paid by the debt issuers that they rate, brings into question their impartiality and fiduciary role.
"We are lowering our ratings on Greece to 'BB+/B' from 'BBB+/A-2' and assigning a negative outlook," Standard & Poor's wrote on April 27, when it downgraded the investment quality of the country's debt to "junk."
As if S&P's analysts receive its inspiration from more heavenly hosts than the analysts of institutional investors, it went on to pontificate about Greece's impending disaster. "The negative outlook reflects the possibility of a further downgrade if the Greek government's ability to implement its fiscal and structural reform program materially weakens in our view, undermined by domestic political opposition at home or by even weaker economic conditions than we currently assume."
The Dow tanked by over 200 points as a knee-jerk reaction to S&P's rhetorical pronouncement and rating downgrade. But upon saner review of the relevant facts and other economic news, stocks are rebounding.
Wall Street likes to tout third-party evidence as "proof" that its offering is investment grade. That is the role played by the rating agencies. So when Goldman Sachs, or Citigroup pitched subprime-based derivatives to investors, it was Fitch, Moody's or S&P that rated the securities "triple A."
In turn, the nations largest pension funds and institutional investors believed the ratings. Given that they have their own analysts on staff, was it because of laziness? Or was it stupidity? Or was it because using the third-party ratings shifted the responsibility of choosing investments from themselves?
Whatever the reason for individual or institutional investors' ineptness, Congress is struggling with legislation to prevent another financial meltdown. That is okay. Better regulation can help. More transparency is imperative. But the requirement for investors to become more responsible for their own investment decisions cannot be legislated. And the proposed Consumer Protection Agency will not help consumers take less investment risk.
Investors need to arm themselves with the best research they can do or buy. Then, if they don't understand the quality of the investment, they should not buy it. Furthermore, the marketplace of buyers and sellers should determine how much to pay -- not the rating agencies.
We do not need rating agencies. They are research firms and should not be hired to place a nebulous letter-grade on investments. What is more, the disgraced agencies have some serious re-branding to do if they expect to remain as going concerns -- even for research assignments.

Jerry Chautin is a volunteer SCORE business counselor, business columnist and SBA's 2006 national "Journalist of the Year" award winner. He is a former entrepreneur, commercial mortgage banker, commercial real estate dealmaker and business lender. You can follow him at www.Twitter.com/JerryChautin

SUBSCRIBE TO & FOLLOW THE MORNING EMAIL
The Morning Email helps you start your workday with everything you need to know: breaking news, entertainment and a dash of fun. Learn more