On any given day 3.5 million pounds of explosives blast apart the oldest mountain range on the planet. But for the past week the sounds of silence have replaced mining blasts while Laura Steepleton and Nick Stocks have been living 80 feet up in a pair of trees in Pettry Bottom West Virginia. As a result of their civil disobedience action Massey Energy has temporarily halted blasting operations at the Edwight Mountain Top Removal (MTR) coal mining site. For the residents who live below the cessation of blasting operations means they can let their children play in the yards outside without fear of rocks striking them down.
On Friday in Floyd County Kentucky, a boulder from a MTR site crashed through a home and caused two others to be evacuated. Fortunately no one was inside the home at the time. To live near one of these surface mining sites is to be in constant terror. Neither the Department of the Interior which overseas surface mining at the federal level, or the State Environmental Protection Agencies, protect the civilians whose property, water, and air are destroyed and contaminated with toxic pollutants from the insane pursuit of coal from surface mining. This is ground zero in the global fight to prevent climate chaos.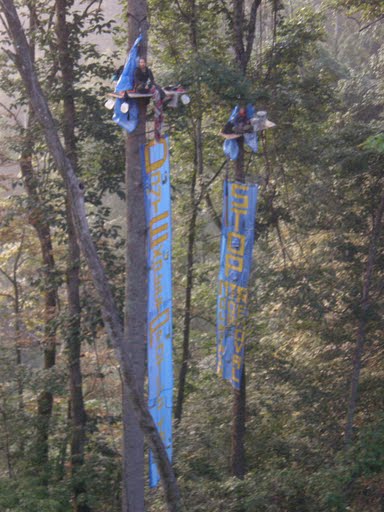 ClimateGroundZero Photo
In Pettry the ground support team of Kim Ellis and Zoe Beavers were arrested on charges of trespassing and released on bail ($2000). Massey is apparently content to harass the tree-dwellers with sleep deprivation and the occasional rock throw while waiting them out. The pair have enough supplies for 10 days or so. In an exchange of messages, Laura and Nick explained why they are living up in the trees.
Morale is great! We're up here to protect the communities from effects of blasting, breathing in toxic dust, endangerment of flyrock, housing damages, mudslides, flooding, are everyday realities for the community. Members of Pettry Bottom, Clays Branch, and Peachtree residents have expressed fears of mountains sliding down on them, have to dig ditches in yards to contain flood water from going under their homes. They have lost faith in the West Virginia Department of Environmental Protection (DEP) to protect them, so the only choice we have is to be up here to keep them from blasting. We will come down if they shut down this site! Four repeat violations that the WV DEP has not been enforcing, cleanup slides, fix housing damages, & address health concerns.

Supplies are holding fast but security has taken the tack of keeping us up at night with whistles, air horns, banging sticks, and shouting while the miners pleasantly harass us while on break.
In point of fact it is the very site at Pettry where Laura and Nick now live in the trees that Massey was recently found guilty of four violations regarding MTR operations there. No action or enforcement was taken by the West Virginia Department of Environmental Protection, which actually functions as if a wholly owned subsidiary of Massey and other coal mining companies in the state. The same holds true for WV Governor Joe Manchin and the State Supreme Court. Corruption in the State of West Virginia is complete; fear and money rule. Massey Energy campaigns on promises of jobs and prosperity combined with threats of economic armageddon if mining is regulated while simultaneously busting the labor unions, lowering wages, importing workers from out of state, and reducing or eliminating benefits.
Massey Energy's CEO Don Blankenship has achieved success by raising profits and his personal compensation package while leveling mountains in the most biologically diverse forest in the world and boarding up what were once thriving communities. Politicians court his favor, employees believe there is no other employment to be had, and both sing his praises. All the while West Virginia suffers and the environmental degradation that results from MTR is permanent, irreversible, and unnecessary. Traditional underground coal mining practices are more productive in terms of the percentage of reserves recovered and the environmental impacts far less severe. MTR is not labor intensive, miners are replaced by mechanized equipment so large some of it must be assembled on-site. Surface mining practices have eliminated over 70% of miner's jobs while destroying over 500 mountains, 2500 miles of streams and headwaters - creating over 100 Billion gallons of toxic sludge in the process.
Hopefully this fall the Obama Administration, The EPA, the DOI, and the Army Corps of Engineers who have collectively refused to enforce the clean water act and ban this practice will finally do the right thing. The West Virginia DEP should be eliminated immediately and oversight responsibilities vested directly in the EPA. There is no gray area in regards to MTR and there is no possible justification for ecocide in pursuit of profit. The long term costs are beyond measure. If the mining companies were held economically accountable for the direct consequences of these practices in terms of the environmental destruction which is permanent and the danger to the public health and welfare which is lethal, they would be bankrupt tomorrow.
For more information and to contribute to Laura, Nick, Kim, and Zoe's defense fund please go to ClimateGroundZero. Encourage President Obama and EPA Director Lisa Jackson to personally inspect the devastation in the great Appalachian mountains. Demand the US take a leading role in establishing a consensus treaty in Copenhagen this December at the COP15 Conference to address climate change before it's too late.
Follow Jerry Cope on Twitter: www.twitter.com/jercope