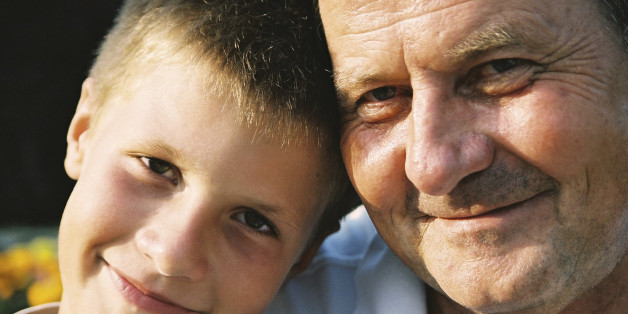 What do Holly Hunter, Madonna, Salma Hayek, Michael Jordan and Cheryl Tiegs have in common besides fame? They all had children after their 40th birthdays. Holly Hunter gave birth to twins at age 47. Cheryl Tiegs became a mother again to twins at age 52. Michael Jordan celebrated his 51st birthday one week after he and his wife, Yvette, announced the birth of twin girls. He will be over 65 when his girls are still talking about things like learner's permits and proms.

We've all heard the adage that we enter the world in diapers and we leave the world in diapers. But did we ever foresee a time where droves of parents and children would walk the earth together in diapers?
There are some real benefits when you wait until later in life to have children. Chances are that you will be more financially and emotionally stable. This can translate into more resources and support, as well as more thoughtful and sophisticated coaching. Let's face it, wisdom does come with age and a couple more decades of experiences can provide great benefits to children if leveraged well by parents.
On the other hand, bringing children into the world as you enter the twilight of your income earning years presents some significant risks to you and your children. Having a greater level of savings is a benefit, but having a limited time to generate additional income is not. While you may only have 10 to 15 more years of income, your kids could need income support for 20 years, or even longer. Your death, disability, or a major change in your health can have enormous consequences to your young children.
It's time to forget about your own retirement dreams for the moment and focus on your kids. What happens to your children if your paycheck stops earlier than you anticipate? Here are five things older parents can do to protect young children:
1. Get a backstop. Given the young age of your child or children, they will need years and years of financial support if you meet an untimely death. Life insurance can be a powerful backstop. You may feel you have plenty of savings, but life can change and your savings can go south. Markets can drop. You could lose your job or get sick. Life insurance provides you with the certainty that your heirs have financial protection in the event of your death. Don't wait until you can't be underwritten because of your age or health to get this done.
2. Update legal documents. Do not leave the future care of your children to state law and a probate judge. Make sure your will/revocable trust is up to date and you've made clear provisions for the care of your children and any money that will be available to support them in the event of your death.
3. Prepare for the unexpected. A disability is never planned, and yet, it happens. An unexpected interruption in your ability to work and generate income could have a catastrophic impact on your children. The savings you thought would be there in retirement to pay the bills, put food on the table, and fund future expenses like college, may instead be used to pay the bills today. Disability income insurance can help cover the day-to-day expenses during your working years, hopefully lessening the impact to your savings if you are unable to work.
4. Plan for long-term care. The last thing you would want a 17 year old child to worry about is providing you with financial support if there is a material change to your health situation and you need extensive care. While it can seem daunting, the alternative would be crushingly expensive for you and your children. Seek out solutions for long-term care insurance that can help protect you and your loved ones.
5. Don't go it alone. If you are one of the millions of Americans that does not work with a financial professional, this situation is one that screams for professional help. I bet the issues above sound complex and overwhelming. They are -- and that's why you need professional help to make good, sound decisions.
There is no greater joy than having children. In my own case, we waited quite a long time to have them. We saw, and are now realizing, some of the benefits described above for sure, but we also recognized the risks we created in the process -- and planned accordingly. My advice to all older parents -- do the same.
Top 8 Financial Worries Of Americans
SUBSCRIBE TO & FOLLOW PARENTS
HuffPost Parents offers a daily dose of personal stories, helpful advice and comedic takes on what it's like to raise kids today. Learn more