THE BLOG
Beware of Jokes - II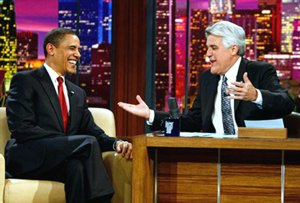 In what seems like an extension of his election campaign, President Obama -- in an effort to fulfill his promise to be accessible to the electorate -- has been popping up all over the television tube. Since he took office, he has been seen from the West Wing of the White House, in Air Force One, in Europe for the G-20, on Sixty Minutes, and, most notably for the purpose of this post, as the first sitting president to appear on The Tonight Show. By sitting in Jay Leno's guest chair, the president entered the risky world of comedy.
The previous post, which cautioned about the many risks of trying to be funny, included even self-deprecating humor -- a technique Barack Obama has often used successfully when speaking alone. But with Leno and without his much-heralded teleprompter system, Obama left himself open to the vagaries of spontaneous dialogue. Sure enough, one exchange went awry.
Discussing the amenities in the White House, Leno asked, "Now, are they going to put in a basketball court -- I imagine the bowling alley has been just burned and closed down."
The laughter from the audience signaled that everyone understood that Leno was poking fun at Obama about his poor performance at a bowling alley in Pennsylvania during the Democratic primary campaign. Obama played along with Leno by responding in deadpan, "No, no. I have been practicing ... I bowled a 129."
Leno took it up a notch, feigning how impressed he was by applauding and saying, "No, that's very good. Yes. That's very good, Mr. President."
The audience responded with more laughter.
Continuing to play along, Obama broke into a big smile and said, "It's like -- it was like Special Olympics, or something."
This time, his attempt at self-deprecating humor backfired, and Obama and his staff immediately realized it. Politico.com reported that the president called Special Olympics Chairman Tim Shriver to apologize before the taped program was broadcast. Simultaneously, Bill Burton, the Deputy White House Press Secretary, told reporters that, "the president had 'made an offhand remark making fun of his own bowling that was in no way intended to disparage the Special Olympics.'"
Beware of jokes.

This Blogger's Books and Other Items from...