Halloween came early this year for Kim Kardashian who hosted the second annual Midori Green Halloween at Avenue in New York City this past Saturday. The reality star who says she's always been "fascinated with mermaids," dressed as a sultry green siren with a long blonde flowing mane. In fact, the wig, made from human hair, took over 10 hours to craft together. And the guy who Kardashian called her "captain" for the night just happened to be Kanye West. But not only was West a captain, he also played photographer taking photos of Kardashian and documenting the evening.
Other costumed guests La La Anthony, Simon Huck and Carla DiBello munched on Artichoke pizza and sipped Midori cocktails as a chorus of mummy dancers performed a number that played homage to Thriller. When DJ Kiss spun Kanye West's song, My Perfect Bitch, the room went nuts, especially when West himself placed his hands in the air to rev up the crowd. Yet, perhaps one of the sweetest moments occurred when Kardashian tried to navigate the sea of people in her nearly impossible to walk costume. West swept in and picked up her green mermaid tail to ensure that his main mermaid wouldn't trip.
Photos used with permission. Photo credit: Seth Browarnik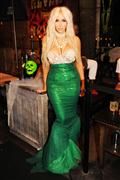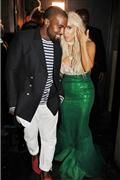 SUBSCRIBE AND FOLLOW
Get top stories and blog posts emailed to me each day. Newsletters may offer personalized content or advertisements.
Learn more