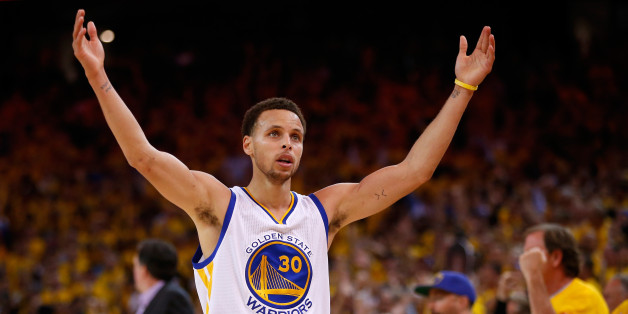 It's the outcome many wanted to see in this year's NBA Finals -- King James back on the league's biggest stage for the fifth straight year facing the sharp-shooting Warriors, who finished a league-best 67-15 under first-year head coach Steve Kerr and MVP Steph Curry. For fans hoping to attend a Finals game this year, a Cavs-Warriors Final is also the priciest outcome. According to secondary market ticket aggregator TiqIQ, the average price for NBA Finals tickets is $1,532.64 over all seven games, making it the most expensive NBA Finals in at least the last five years. Excitement has reached a fever pitch at both Oracle and Quicken Loans Arena, and no game will see an average ticket price drop below the $1,200 threshold.
Game 1 will tip off on Thursday night in Oakland, where the average secondary price for Game 1 tickets is $1,247.47 and the get-in price, or cheapest ticket available, is currently listed for $559. Game 2 on Sunday night will see similar prices on the secondary market, with tickets owning a secondary average of $1,269.66 and get-in price starting at $571.
The series then shifts to Cleveland for Games 3 and 4 next Tuesday and Thursday night. Interestingly enough, Game 3 will be the cheapest of the series, breaking from the typical archetype that prices continue to increase as the series goes deeper. Game 3 tickets average $1,230.08 and the get-in price is $347 on TiqIQ. Game 4 is the first to break the $1,500 average, with tickets currently averaging $1,513.50 and the cheapest going for $387.
Should the series extend to a Game 5 back at Oracle Arena, tickets see an average secondary price of $1,578.39. The cheapest available ticket is now $667. Game 6 will be the most expensive game in Cleveland with an average ticket price of $1,753.12 and $492 get-in price, but a possible Game 7 will be far-and-away the top-priced game of the series. As of Tuesday, June 2, Game 7 tickets at Oracle Arena average at $2,038.10 and get-in price starts at $875.
So much emphasis is being placed on the 2015 NBA Finals that it will finally eclipse the Stanley Cup Final in terms of average secondary ticket price for the first time in the last half-decade. Priding itself as the premier live sporting event across all four major sports in the U.S., the NHL has consistently seen bigger price premiums on the secondary market for Finals games over the NBA in the last five years. 2015 is different, however, as James and Curry square off in the more expensive championship series. The average price for 2015 Stanley Cup Final tickets is $1,344.11, 12.3 percent cheaper than the NBA Finals.
As James chases his third title and first in a Cavaliers uniform, Curry and his young cast of talent will aim to hang a banner of their own in Oakland. It's been 40 years since the Warriors last hoisted the then-called Walter A. Brown Trophy, and they'll look to bring a title back to the Bay Area by keeping the King barren for yet another season. While the series can go either way, one thing remains clear -- those on hand to watch the action live will be paying record ticket prices to watch their team etch their name into NBA history.
SUBSCRIBE AND FOLLOW
Get top stories and blog posts emailed to me each day. Newsletters may offer personalized content or advertisements.
Learn more