I said it before, but everything about this show is just awkward: Molly Sims has the charm of a macrame plant holder (ooh, there's an idea for a challenge), the zings aren't funny, the drama is like, ludicrously manufactured. Nicolina is portrayed as the Manic Villain just because she's kind of loud? If that's the case, several of my friends are veritable Lady Macbeths.
The challenge this week is introduced by host Molly Sims and a model, who slithers out in a pink bodysuit. "She looks naked, like she's got nothing on," David says. I think it looks like the Green Man from "It's Always Sunny in Philadelphia," except with a face hole. Hot! My muffin top will look great in that.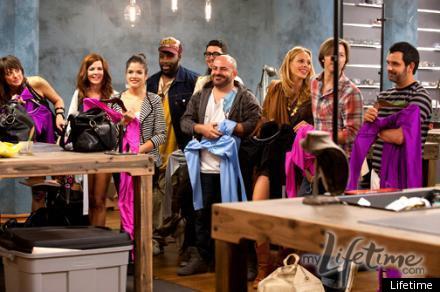 Molly woodenly explains that the challenge will be to accessorize the Bodysuit of Fug. But not everyone gets to dress up the fuschia spandex-ed model: no, each contestant gets to pick colors. James goes first and picks the hot pink. Adrian picks white. Yikes! A white head-to-toe bodysuit, which looks like something Ke$ha would get married in. Everyone wants black, because it's easiest, and also, black hides a multitude of body flaws.
David, the pink-o-phobe, gets stuck with the pink suit. Irony! Beard Guy says his goal is that he wants to forget the girl is wearing the bodysuit. That makes two of us.
David decides to dress up his model's pink catsuit like a Barbie...in Aspen. So Barbie goes skiing, or stays in the lodge drinking hot chocolate and flirting with Ken.
Nicolina is into crotches, you guys. She can't stop saying "camel toe." Which, granted, is a legit question when your garment is a seamless piece of Elastane. But suddenly, no one on this show can stop saying "camel toe!" Tim Gunn would never put up with this.
The team goes shopping at Mood, which, omg, must be effing rolling in "Project Runway" dough by now. I used to work in the garment district in Manhattan, and there are literally fabric and notions stores like this every two feet. I wish they'd change it up a bit, because there are tons of smaller shops that could use the publicity.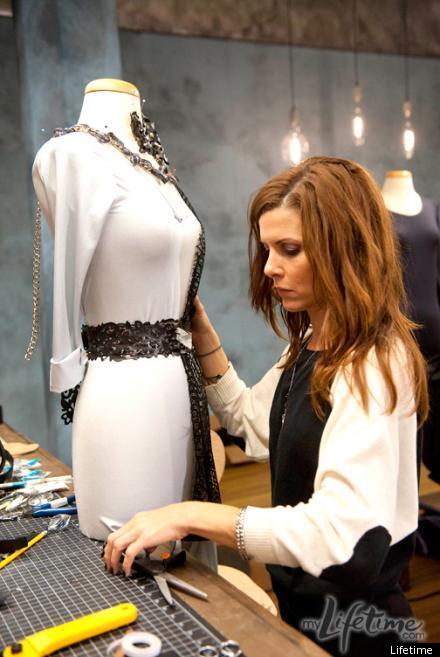 Back in the workspace, Christina plans to hide the bumps and lumps of the bodysuit with a "sarong belt." Beard Guy is crafting a necklace out of copper. You know, I've been recapping this show for a whopping three weeks now, but I feel like I still don't know how these "accessories" are made. At least with "Project Runway," we could watch a piece develop and observe the draping, but it's less gratifying to show someone hammering a pair of stud earrings into submission and then be like, "oh, there they are, stud earrings."
Hey, let's talk about "camel toe" some more! David claims to really not know what one is. Has he used the Internet before? David's "Aspen socialite" outfit is pumping out the LOLs with its fur-spangled leg warmers. Then mentor Eva saunters in and drops the bomb: TWO people will be eliminated after this challenge! The crew looks stunned, like they've never seen a reality TV show before. "A double elimination?" Shea says gravely. "That increases the odds of someone going home." Ohhh, I was wondering how that worked.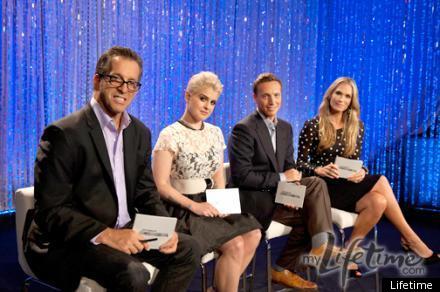 A bunch of kind of boring stuff happens next, so let's just skip ahead to the runway. Runway time! Kelly Osbourne and her blonde bouffant are guest judging. James made Bigfoot booties to match his hot pink bodysuit. WTF! He had immunity though, so whatevs. Brian jazzed up his model with a skirt, a yellow belt and some major sideboob. Adrian's stuff is awesome. Seriously. A fringed skirt and bag and awesome wood earrings that all work together. Beard Guy's model has a mohawk. LOL, David, WHAT. His model is wearing a fuzzy white hat, a belt that looks like it's made from Play-Doh, and what might be fur leg warmers or just cats that are clinging to the model's svelte calves. Don't believe me? Look: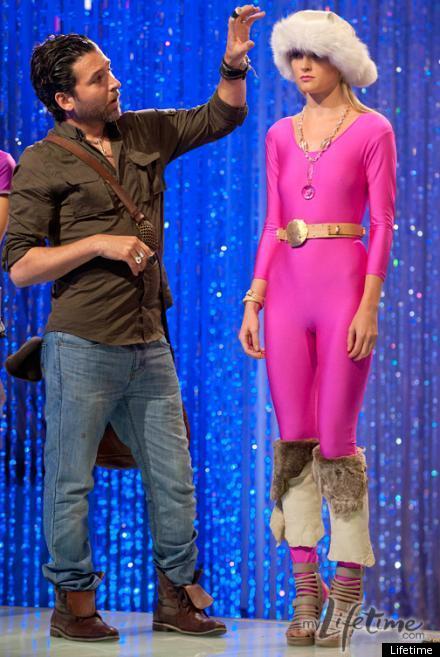 In the "B.S. about your accessories" segment, Christina gets praise. The judges HATE everything Shea has ever breathed on. Nicolina had crafted her model a belt with a long string danging off the front, which Kelly Osbourne says reminds her of a tampon. BURN! When people start comparing your creative endeavors to menstrual products, it might be time to rethink your aesthetic.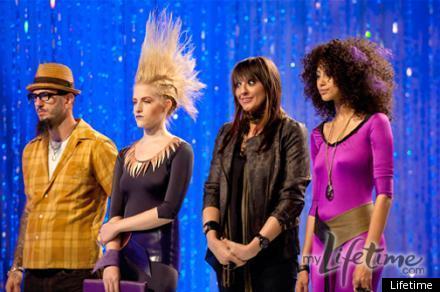 David, in trying to explain his pink/cats nightmare, reveals his Aspen Barbie's name is "Kristen." Yeah, the judges are like ROFLing at this point. Kelly calls it "Eurotrash." And the results are in, folks: Christina wins! Here's her look: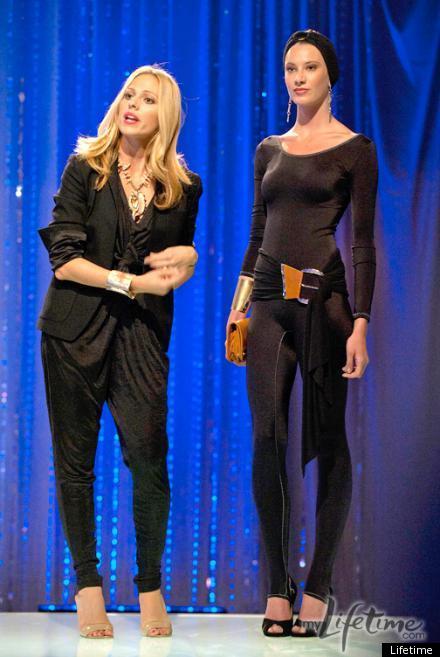 David (and Kristen) are predictably axed, and then Nicolina the Evil is sent to pack her bags, giving gullible reality show viewers across America their "villain is sent home" schadenfreude. So, gentle readers, if you ever find yourself staring down a spandex bodysuit, or preparing to guest star on "It's Always Sunny," wondering how in the world you're going to rock this, remember: tampons and Barbie role-play are not the easy way out.
SUBSCRIBE AND FOLLOW
Get top stories and blog posts emailed to me each day. Newsletters may offer personalized content or advertisements.
Learn more