Welcome to my latest essay in the scholarly "Project Accessory" recap academic journal. Here's a précis: There are 6 designers left and only about 6 minutes left in my attention span for this show, so, coincidence.
Last week, the gang had to dig up their treasures in Coney Island sand, but remarkably, they're all here and not afflicted with tetanus.
Nina says she lives at home with her parents, which sounds sad, but in Miami, where she lives and I used to, that's kind of the culture: people tend to live at home well into their 20's and even 30's.
Molly, who continues to thaw her personality this week, is wearing a leather minidress circa every year in the '90s. She informs the contestants that they'll be working with judge Kenneth Cole this week. Everyone cheers! I hope they make some KC stuff that I can afford.
In his office for the meet-and-greet, Kenneth Cole has ditched his glasses (rock and roll!!) and is wearing his edgiest cardigan when the designers stroll in.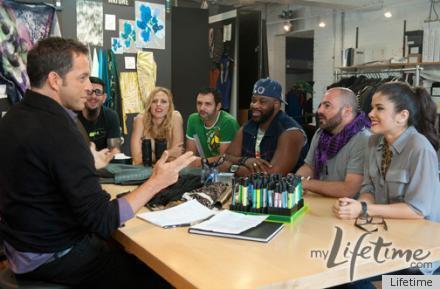 He gives them the challenge: Create a clutch to go along with one of his Kenneth Cole holiday outfits, along with another accessory of their choice. You guys! I just realized his voice sounds remarkably like Fred Armisen's President Obama impression in both cadence and tone! Amazing.
The winner will, of course, have their look sold in KC stores, but the profits will go to fund AIDS research, which is both awesome and perhaps a way to get around the legal loopholes of having to pay the designer royalties.
Everyone scurries back to the workshop with their (mostly all black) Kenneth Cole outfits to sketch. No one knows what they're doing yet. Nina has a feather mini that she's staring down. Beard Guy is eyeing his dress and leather jacket. It's accessories, guys! You only have so many options. Throw a necklace or earrings on there, gee whiz. They head to Mood with $150, and I really miss Tim Gunn.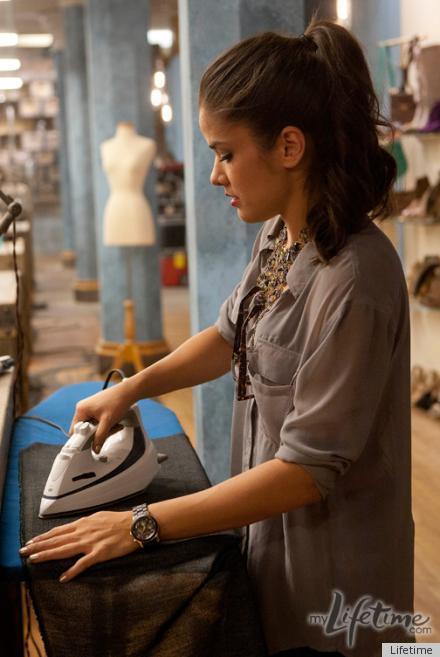 Diego does a talking head saying he designs handbags that are BETTER than Kenneth Cole's. Cool, good thing Kenneth Cole isn't judging this challenge or he'd be really mad you trash talked hi - OH WAIT.
"The clutch has to be perfect," Beard Guy says, back in the studio, fondling his eponymous beard. "I don't' want to be in the bottom again."
Over in the corner, Brian is using a grinding machine to chisel a giant, uh, appendage-looking horn out of resin. That is my new favorite sentence.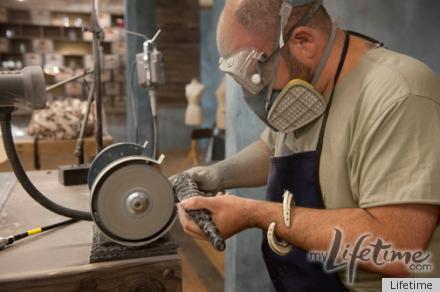 The dust from the resin is blowing all over Brian and the clothes and the air and probably New Jersey, and Brian looks like a well-dressed coal miner because he's coated in a layer of gray dust. Ick. Everyone is pissed and says they can't breathe and the dust is getting on the clothes. Brian doesn't care, because, "I'm not here to make friends." It's officially a reality show, guys!
Eva comes in and says the unicorn horn clutch "excites" her. Uh. Adrian's bag looks like an envelope, and everyone is snickering over it. Eva says sees a "vision" for Diego to make a show-stopper and "surprise" the judges by not doing his usual leather. Then she turns around and tells Beard Guy to use metal, because he always does metal and rocks it. Contradictions, Eva!
Her grand finale of her The Most Obvious Advice Ever? "Give the judges something that will surprise them. Create something they're not expecting." Sigh.
During the commercials, there's an ad for Heidi Klum's fragrance, Shine. Can we replace Molly or Eva with a bottle of Shine?
Judging hour! The guest judge this week is Ruth Bader Ginsburg. No, fine, it's Alexa Chung, wearing a Peter Pan collar as is her wont.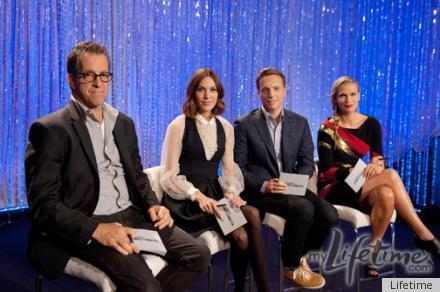 "Yay for Kenneth!" Molly shrieks, clapping like a seal as she announces that proceeds will be going to charity. Kenneth looks at her like, yeah, it's cool, but calm down, honey.
Tall attractive people walk the runway. Adrian's bag looks like, yeah, an envelope.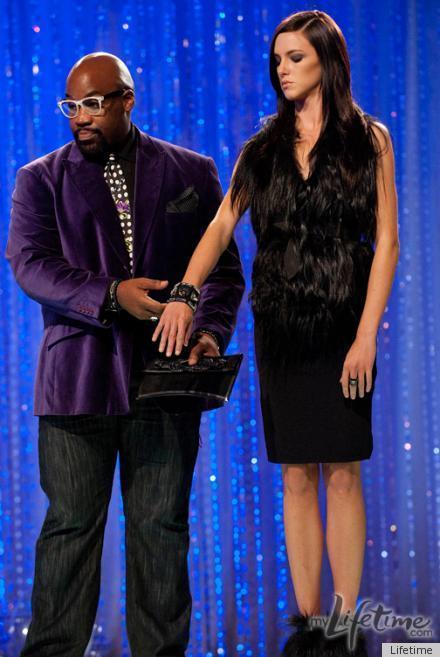 Christina's does too, though. Brian's unicorn clutch looks actually pretty cool, if not so Kenneth Cole-y. Everyone did clutches!
Oh wait, Diego's earrings are HUGE! Seriously, they look like actual chandeliers. That poor model's going to have earlobes to her shoulders.
Nina's clutch has a strap that you can slip your arm into and wear hands free, which, okay, looks a little odd, but don't you hate when you're at a party and trying to hold a glass and a plate but you also have to hold your clutch and it's super awkward? I do. I would wear this bag.
At judging hour, Beard Guy says his jewelry intentionally looks like shrapnel. Kenneth Cole, who has his Serious Glasses back on, disses Adrian's bag. Molly Sims says the snakeskin on it is soooo over. Alexa Chung is all like, no.
The judges dig Christina's gold accessories: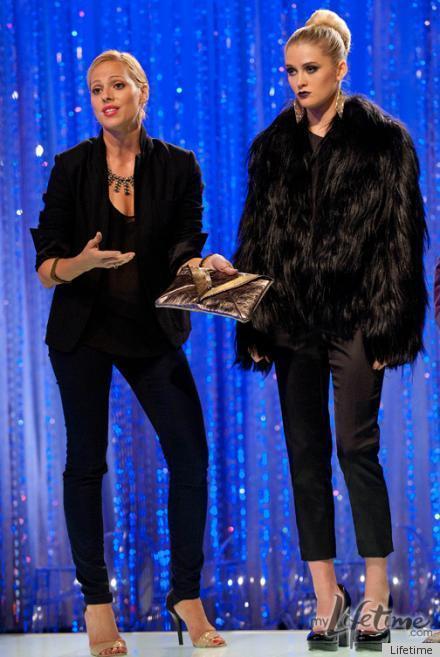 Alexa says Diego's earrings look super heavy. The unicorn clutch is a hit with everyone except Cole, who says it's too "primitive."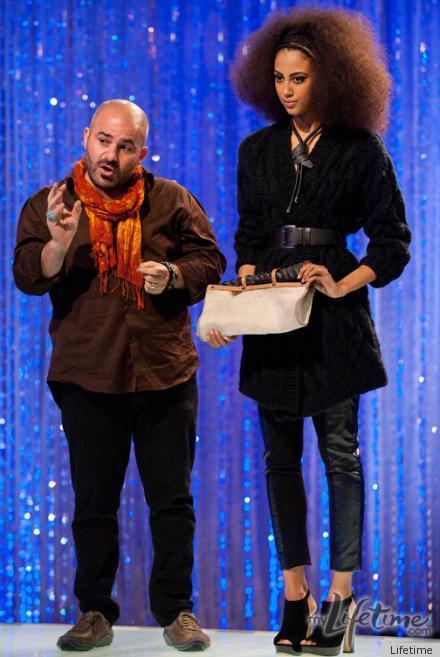 Verdict time! Ruth Bader Ginsburg seemed very jazzed with Brian's unicorn horn bag, so he wins. Does this mean we can all buy unicorn bags soon? Now I'm getting "excited" all up in here. Adrian gets the boot for his limp Clutch of Shame.
Tune in next week, when some more people will make some more earrings and stuff.
Follow Jessica Misener on Twitter at www.twitter.com/jessmisener.