Before tuning into "Project Accessory" last night, I was watching the 13th GOP candidate debate, where seven wooden Republicans duked it out/pandered to voters in Iowa over Freddie Mac, their favorite Supreme Court justices and who wants to cut taxes for corporations the most. After an hour of that, I was almost ready to watch some milquetoast reality contestants slap some jewelry around.

So last week, the designers had to work with Kenneth Cole to gussy up some pieces from his holiday collection, which was mostly black and shiny. This week, the challenge is a lot more, uh, alive.

In the New York apartments, Brian's on the phone with his wife talking about their 3-month-old son. Aw! Put a kitten in this scene and I'm a puddle.

There are 5 people left! We've come so far from that first episode where everyone was elbow-deep in trash and we still thought Molly Sims was going to rival Heidi Klum in host personality. Speaking of, Molly is on the runway to reveal the challenge: the designers will have to bling up some evening gowns, and they get to choose from a selection of gorgeous Elie Tahari dresses.

Christina picks a white and gold embellished gown. Brian gets black and Nina gets cream. Beard Guy (you know what? I'm going to start calling him by his real name, Rich) grabs the maroon with a plunging neckline; Diego gets stuck with the white bridal-looking gown.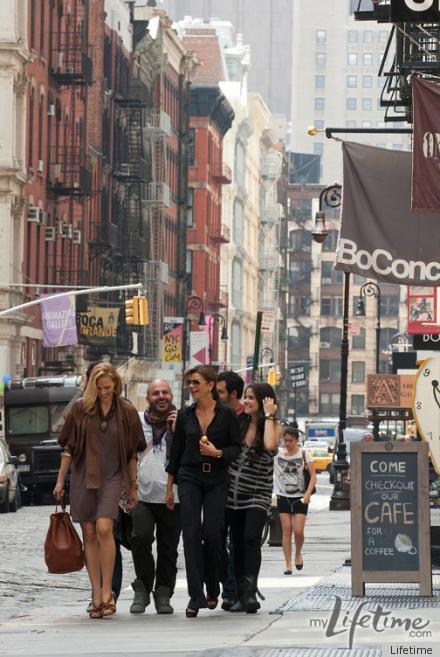 Time for the mystery venture into the city with Eva! They end up at Evolution, which is this crazy curiosities shop in Soho where you can buy taxidermied animals and skulls and fossils and stuff.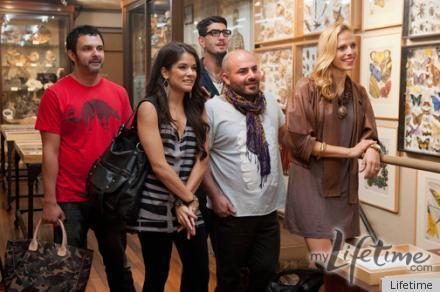 Eva drops the bug bomb: they'll each have to pick an INSECT to inspire their design. Bah! As much as I hate insects, I'm kind of digging this challenge already; it might be the most creative one we've had so far.

The girls head for the butterflies, because, obvi. Christina chooses a weird blue leaf bug thing. Nina picks a spider. So who ends up with the butterfly? Diego! Christina laments that a "pretty butterfly on a dress" is a little obvious, and I totally agree. It's also a little 1998. Did you guys wear dragonfly-decorated hair clips in the '90s like I did? I basically spent the whole decade doing a sartorial study in entomology.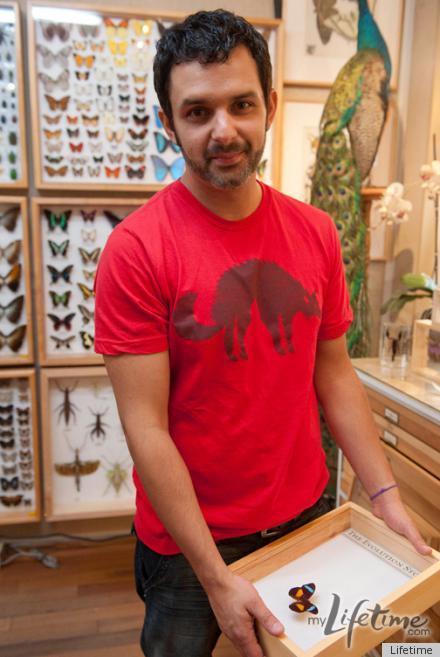 Back in the workshop with bugs in tow, Nina is draping a chain for some body jewelry. Rich is autopsying his beetle and turning its beetle guts into different forms of jewelry. "Whoa, it's hollow!" he exclaims. He also says he made his fiance, who is clearly Significant Other Of The Year, a ring out of beetle legs once.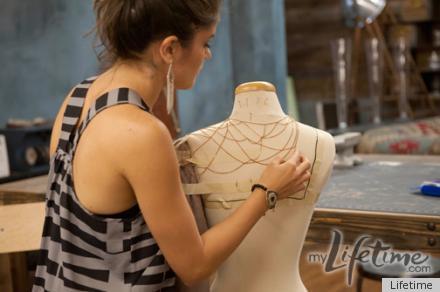 Christina is making her leaf bug into a hair comb. She wants to make a minaudiere clutch, but, lo, the saw breaks as she's making her handle.

Brian, who last episode made everyone sick by grinding a unicorn horn purse handle and showering dust everywhere, is making "icicles" out of resin and putting them on this gold necklace that looks like...hmm...I don't know, take it away, Diego:
"Brian's model looks like she just came out of the cemetery," Diego sniffs. And there you go.
Then Eva comes around to sweep the room in platitudes and nonsense as per usual. Reach for the stars! Follow your dreams! An apple a day keeps the doctor away! What's good for the goose is -- okay.

Runway time! This week's judges include Rachel Roy and Brian Atwood, expert fashion bugologists: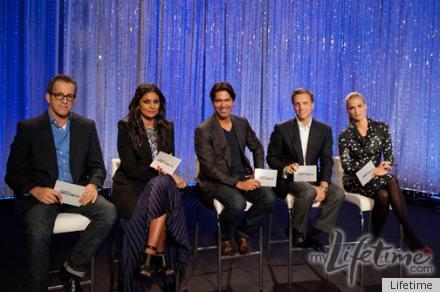 Brian's model's jewelry looks like, well, a bug pooped all over her. It's a ruffly beetle choker! Victorian insects: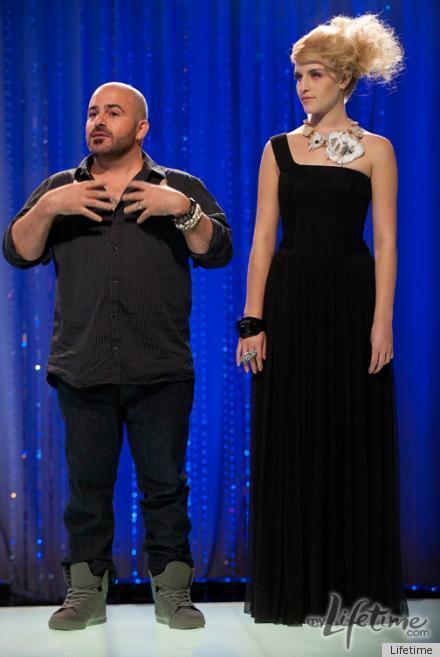 Diego's model looks pretty; his pieces are simple, but I think he used the white gown well.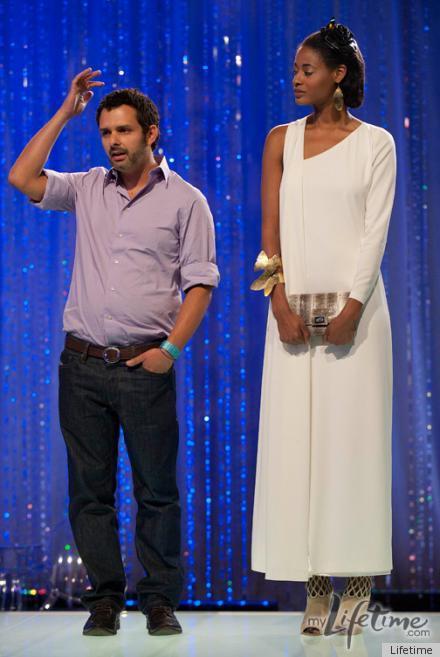 Nina made delicate chain jewelry into a shoulder necklace sort of thing, and she also fashioned a spindly spider cuff: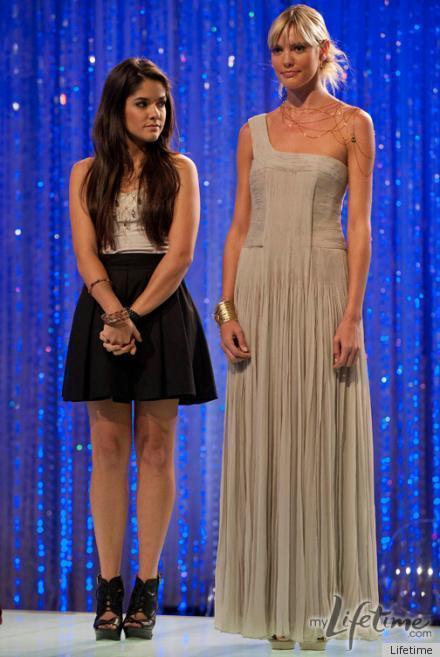 Christina paired her ornate dress has basic jewelry, and the bug is comprising a big barrette, I think the problem is that her detailed Tahari dress actually stands out more than her pieces: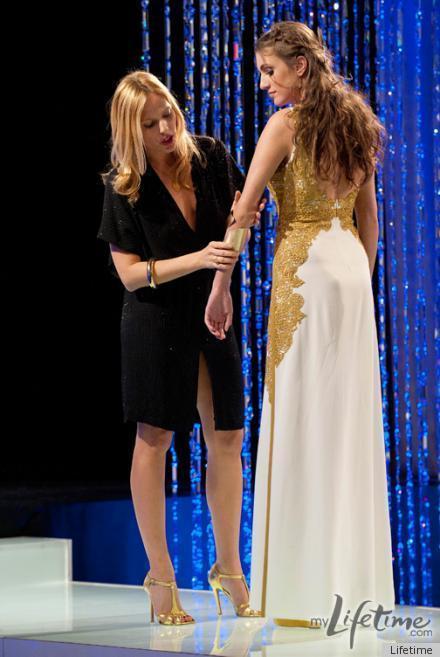 Rich played up his maroon gown with a beetle brooch and decapitated beetle head ring. He knows what the ladies like! There's also a BIG EFFING PILE OF BEETLE WINGS that he wrapped into a necklace...blerg: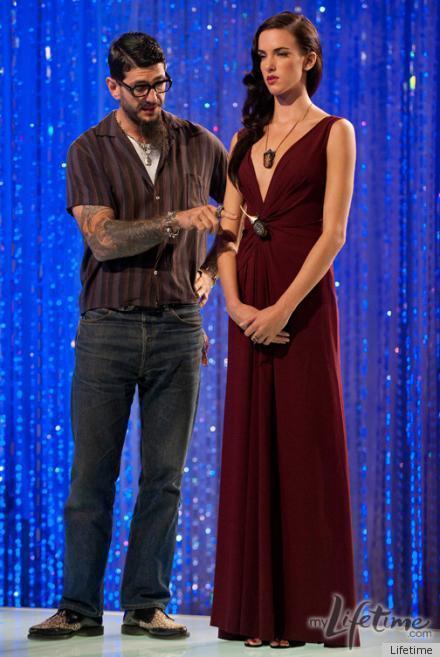 The judges respond solidly to most of the looks, which means there were no REAL disasters, but boringly, no standouts. "I feel like your model was in Hurricane Irene," Molly blathers at Brian. Zing of the night!

In the end, Rich wins with his beetle massacre! And they sent Christina home? This is sooo stupid, because she was totally my fave. And, judges, we all know this show is all about ME. Since it's a double elimination, Diego also gets sent packing, and we're down to the final three: Nina, Brian and Rich.
You know what that means! Tune in for my LAST RECAP next week, as it's the season finale of the show. I'm going to go cower in the corner and try not to think about giant spiders.
SUBSCRIBE TO & FOLLOW LIFESTYLE
HuffPost Lifestyle is a daily newsletter that will make you happier and healthier — one email at a time. Learn more