Chances are you found your job through a connection, like 80 percent of Americans. But what happens if you don't have those connections, or if nobody taught you how to manage professional relationships?
Sometimes all it takes is one connection to change the life trajectory of a young person. My organization, the Opportunity Network, (OppNet) teaches low-income New York City students how to build and maintain professional networks on the road to career success. Our students come from the city's toughest neighborhoods. They go to overtaxed and under-resourced schools. They have managed to thrive academically, but no one has taught them how to build the relationships they need to translate straight A's into rewarding careers. Once they build those relationships, their lives soar. One hundred percent of OppNet students graduate from selective colleges and almost all are working in their chosen fields or pursuing advanced degrees within six months of graduation.
Take Shun Dy, a high school junior who lives in Chinatown and hopes to study fashion at the Fashion Institute of Technology. Shun Dy didn't know much about the inner workings of the fashion business and didn't know anyone who worked in it. She attended our recent speed networking program in a JP Morgan Chase conference room high above Wall Street. Students had three-minute opportunities to connect with each professional before the bell rang and they rotated round-robin style to the next networking opportunity.
Shun Dy met Jesse Rodriguez, Director of Development at Columbia University Medical Center. It seemed an unlikely paring but during the course of their three-minute conversation, Jesse mentioned that two of his college buddies had started a men's clothing company. "If you are looking for an internship, I would be happy to connect you with them," he told her. Shun Dy thanked him, and offered her business card and a firm handshake. This could be the connection that will change her life.
Tyriek Coley, who lives in the South Bronx and is a junior at the Eagle Academy for Young Men, also made an important connection that night. He met Bruss Lima, a Brazilian neuroscientist doing a post-doctoral fellowship in New York City. Tyriek dreams of a career in medicine, a field that offers more diverse opportunities than he realized. Bruss asked Tyriek probing questions about his interests. Did Tyriek want to work at a computer or in a community setting? Did he like the idea of a U.S. hospital or a foreign country? Tyriek didn't come to any conclusions, but he opened his eyes to the many ways to pursue his dream. And he found a guide to help him along the way.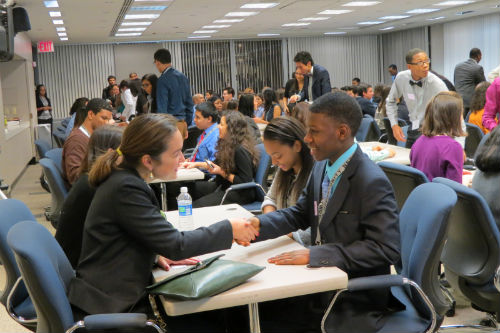 We rely on schools to teach students how to read, write and even solve complex problems, but we can't ask our education system to give them the career exposure or the connections that they need to put their education to use. Some young people make their own connections through their own and their families' social circles. But many others, including new immigrants and students from low-income neighborhoods, don't have ready-made networks. They need adults willing to help. And they need to learn the skills that many of us take for granted, like what tone to strike in an email, how to converse in an elevator, or what to wear to an interview.
With this support they will be able to imagine their own futures, and plan for college and career accordingly. And like Shun Dy and Tyriek Coley, they will build the professional networks to help them get there.