Having lived in Los Angeles for almost a decade, seeing celebrities is as common (and dare I say it, mundane) as going grocery shopping or working out. Bottom line-you get used to it-real quick. The quicker I learned that lesson the better, since I often found myself working side-by-side with some of the people I most admired. But now and then, you'll find yourself in the same room as a true showbiz legend, aware that if you don't take advantage of the moment, you'll never get it back again.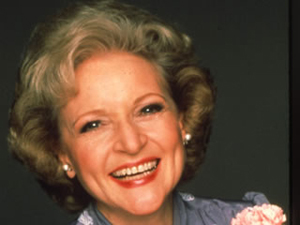 December 2004: I was pet-sitting at a gorgeous Brentwood estate when I got the urge to go grocery shopping at the tony Vicente Foods nearby. I never go grocery shopping so early in the morning, but I learned when you're pet-sitting a dog the size of Texas, you don't get to sleep in either. So, while I strolled the aisles of this small, yet elite grocery store-in my pajamas no less-I came across this blondish/white-haired woman in her early 80s.
Let me present to you the conversation that went on in my head: "No way. It's so not her. Nah. Couldn't be. But what if it is? Shit, if it is, I have to go up to her, but I'm in pajamas. Of course I'm in my pajamas. That's when my Mom says you see people you don't want to see-cause you're not looking your best. Ok, fine, Mom, you won. Lesson learned. I show up at the grocery in my pajamas, with no bra and an oversize t-shirt, and she's here. This is just fantastic. Ok, so maybe it's not even her. Maybe I'm just overreacting. But if it is her, then god help me. The poor woman is not going to know what just hit her."
So at this point, it should come as no surprise that my palms were sweaty and my heart was racing at lightning speed. Disclaimer: this is probably not the most common reaction to seeing a celebrity, but when you actually work in the same industry as this so-called celebrity and hope to one day attain the same level of excellence. . . well, your palms get sweaty and your heart starts racing.
Still, embarrassing myself is quite an easy task for me, and I was hoping beyond hope this wasn't who I thought it was. So I called Mom.
"Mom, don't scream, but I'm at the grocery store, and I think Betty White is in the frozen foods aisle next to me."
Mom: "AHHHHHH!!!!!!!!!"
Me: "I told you not to scream!"
Mom: "But it's BETTY WHITE!!!! Jessica, I don't care what you do. I don't care if you have to get on the loud speaker and tell her you are looking for her and she can't leave the store until you meet her, but you go up to Betty White right this minute."
The way my Mom said it to me, I was on my way to be grounded (1500 miles away no less-Mom lives in St. Louis) if I did not approach Betty White.
Me: "But Mom, I'm in my pajamas! And what if it's not her?!"
Mom: "I don't care if you're walking around half-naked, you go up to Betty White! And I promise you, it's her! Now hang up and go call me back when you're done!"
I'm not sure where I got the gumption to start stalking Betty White in the grocery store, but I also knew that if I didn't, I would have bypassed a chance to meet one of my comedy legends. I also would have never been allowed to come home again. I had to do it.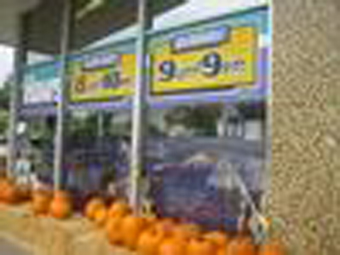 Here it is: the old-fashioned, yet elite Vicente Foods in Brentwood
By the time I found Betty again, she was in the produce section, crossing off items on her list. Yep, it was her alright, shopping by herself, completely unaware that a scared little 24-year-old was about to ambush her.
"Excuse me, Betty. Hi! I hope you don't mind, but I just had to say to hi and tell you how much I love your work and the Golden Girls and Mary Tyler Moore, and everything you do. Seriously, you are just so wonderful and so funny! In fact, I just called my Mom because I wasn't sure if it was you-oh, and my Mom doesn't even live here-she lives in St. Louis-but she told me that I had to go up to you, and so now here I am, and now I'm going to stop talking! Oh, but before that, my Mom made it clear that if I didn't get a picture with you, she probably won't ever talk to me again. If you don't mind of course!"
Betty's eyes opened wide as if Rose Nylund had just found out she was Ms. Saint Olaf, and she grabbed my hand with both of hers, and said, "Oh dear, aren't you just so sweet. Of course!"
I'm not done yet, but if I was, the moral of the story is this: Betty White is a saint.
In LA, it's kind of an unwritten rule not to go up to celebrities, especially when you're in the local neighborhoods, and they are minding their own business. And I do. Usually. Ashton Kutcher once winked at me in line at the Rite-Aid pharmacy, and I couldn't have cared less. (Ok, that's not true. I did care, but I played cool. Or tried to at least.) But this was Betty White. And every hoity-toity Brentwood trophy wife who was in the grocery that Saturday morning was thinking the same thing: 'shit, I could never be caught dead doing what that girl did, but man I wish I would've.'
For the next 15 minutes, Betty and I chatted like we were long lost friends. She wanted to know my story (I was an actress, just cast in a new sitcom called "Campus Ladies"), from St. Louis originally, etc. Upon hearing the news that I was going to be part of a new show, she was as delighted for me as if I was telling my Grandma. (For the record, probably more so, because my Grandma really didn't say much, except 'honey, if you're happy, I'm happy.')
Betty herself pointed out that she was just cast on "Boston Legal," and said, 'well, honey, let's make a promise-we'll both watch each other's shows!" Of course, in my head I'm thinking, " you have got to be kidding me. Betty White just said she'd watch me if I watched her. Man, I better be good. If not, I just ruined my entire career."
"Really," I said, "I can't tell you what an inspiration you are to me, and how watching you influenced my decision to entertain others."
The woman was delightful. And she took not one, but two pictures with me incase the first didn't come out good (her suggestion, not mine).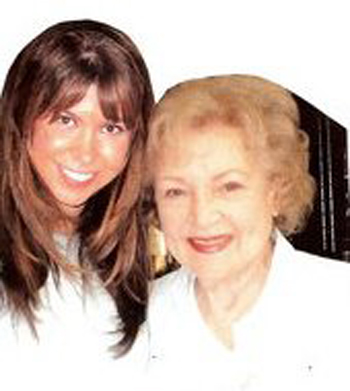 Me & Betty White, from my collage I put together (I didn't want the wine section of San Vicente Foods in the background!)
Of course, when I called my Mom afterwards, it was clear I was the Golden child once more (sorry, Laura, just go with the "Golden" reference. . . after all, it's clear we are both of equal importance in this family). And in the years since, whenever my Mom comes to visit me in California, you better believe we always stop at San Vicente foods. Really, who needs the Ivy when you have Betty White at the supermarket?
But, wait, my story isn't done yet. You see, this was not the last of my run-ins with Betty White.
Thanks to that very sitcom that Betty promised to watch, I was now (well, a few years later) a member of the esteemed Academy of Television Arts & Sciences (aka, The Emmys). And one of the coolest parts of being a member of such a prestigious organization is that you're invited to some pretty awesome events.
Cue "Betty White: Celebrating 60 Years in Television" on August 7th, 2008. And not only were we honoring Betty White, but we were welcoming some of her most memorable co-stars: Mary Tyler Moore, Valerie Harper, Ed Asner, Cloris Leachman, etc. Honestly, who needs the Oscars when you have these guys?
Betty was at her best that night, gracious as ever, but bawdy and downright dirty in her humor as well. She might have been 86 years old, but she certainly had the stamina and wit of someone much younger.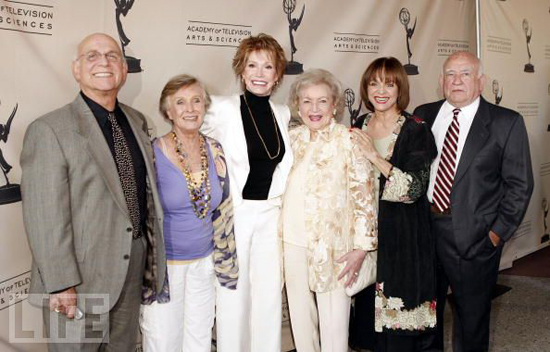 Gavid MacLeod, Cloris Leachman, Mary Tyler Moore, Betty White, Valerie Harper and Ed Asner at the Academy of Television Arts & Sciences Honors Betty White for 60 Years in Television
That night was like witnessing comedy magic in a bottle, and I was so honored to be a part of it. As we all participated in a champagne toast later in the evening, it was obvious that as modest as Betty was, there was no doubting her impact on television, colleagues, animals (she's a devoted animal rights activist), and friends-including a now-28-year-old actress who was so happy she got up the nerve to tell this woman want an inspiration she was.
So you see, as much as I love the recent honors and acknowledgements that Betty is getting in her 88-years-young life, I kind of feel protective of her, and those that have always appreciated her talents. She's not staging a comeback, and she's not a newfound treasure. She is, and has always been, a true legend.
She's Betty.