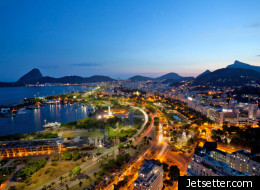 Here's a New Year's resolution for you: Get your passport stamped in one of the year's hottest destinations.
London, Myanmar, Panama -- each of our picks is a classic in the midst of transformation or a sneak-up-on-you surprise. Cheer on Olympians in a futuristic Zaha Hadid-designed pavilion, witness the brightest Northern Lights in 50 years or lose yourself in once-in-a-lifetime reggae festival.
Sure beats hitting the gym.
Jetsetter's Where To Go In 2012
Why Now: Berlin is Europe's unofficial contemporary art capital with more than 20,000 artists, 180 museums and 440 galleries. Planning a trip is easier than ever, thanks to a batch of stylish new hotels, including a new build by the Waldorf Astoria, and amped-up transportation: Air Berlin now offers daily service from Berlin to New York and launches the first non-stop flight to Los Angeles (about $960 roundtrip) in May, and the Berlin Brandenburg International airport debuts a month later. Art highlights for 2012 include the Berlin Biennale for Contemporary Art (April 27-July 1) and the Neues Museum's exhibition in honor of the 100th anniversary of the discovery of the bust of Nefertiti in December.

Why Now: The sexiest city in the world (in our opinion) will see a slew of cultural and hotel openings leading up to the World Cup in 2014 and the Summer Olympics in 2016. Copacabana Beach is having a comeback thanks to the end-of-year opening of the Museum of Image and Sound, designed by Diller, Sofidio and Renfro. And between 2013 and 2016, Rio will get a Four Seasons, a Ritz-Carlton, an Andaz and a Grand Hyatt, plus the Santiago Calatrava-designed Museum of Tomorrow, which will be the centerpiece of a $2.8 billion waterfront redevelopment project, with galleries cooled by harvested seawater and a paneled façade that will move to adapt to changing environmental conditions -- bringing a whole new meaning to living museum.

Why Now: The city that straddles Europe and Asia just keeps getting hotter with openings on all fronts. The first Istanbul Design Biennale lands in October and a slew of hotels (Shangri-La's first Turkish outpost; the heliport-equipped Raffles Istanbul Zorlu Center; Le Meridien Istanbul Etiler with a rooftop bar featuring Bosphorus views) will open throughout the year. And Soho House -- the members-only club beloved by creative types -- adds Istanbul to its international portfolio in 2013.

Why Now: The Caribbean capital of cool kicks off its 50th year of independence with the 16th annual Jazz and Blues Festival in January (headliners include Shaggy, Celine Dion and Cee Lo Green) followed by a month-long island-wide celebration of reggae in February and the annual Reggae Sumfest in July (at press time, artists weren't yet confirmed, but past acts include Usher, Rihanna and 50-Cent). The whole thing ends with a bang with a float parade and gala in August at Kingston's National Museum.

Why Now: Panama is transforming at warp speed: The brand new Punta Pacifica neighborhood along Panama Bay is being hailed as "the Dubai of the Americas" thanks to big-bang openings like the Trump Ocean Club and the Hard Rock; dozens of boutique hotels are in the works in the old town of Casco Viejo, where more than half of the historic buildings will get a facelift by 2013. The Frank Gehry-designed BioMuseo, which will focus on natural history, is slated to open at the end of 2013 but, in the meantime, hard-hat tours are on offer; and in 2014, the canal will be expanded to make room for China's super tankers and to mark its 100-year anniversary. Phew.

Why Now: Hawaii has long drawn travelers to its soft-sand beaches, lush rainforests and snowcapped volcanoes, and it's becoming easier -- and more affordable -- to get there. Alaska Airlines recently launched a daily nonstop flight from San Diego to Honolulu and Hawaiian Airlines plans to debut the same service departing from JFK this coming June for the first time in decades (from about $750).

Why Now: Colorado isn't all about double diamonds. The Clyfford Still Museum in Denver's downtown cultural district just debuted with more than 825 paintings and 1,575 works on paper by its namesake Abstract Expressionist artist. Meanwhile, less than a 10-minute drive away, the Denver Art Museum will host a major Yves Saint Laurent retrospective on March 25 (through July 8).

Why Now: As its government inches towards democracy -- Secretary of State Hillary Clinton's recent visit was the first of its kind in more than 50 years -- Myanmar is shaping up to be the hottest ticket in Southeast Asia. Expect gold-leafed pagodas, pristine beaches, countless temples, endangered river dolphins -- and, for now, a dearth of fellow travelers.

Why Now: Is there ever a reason not to visit NYC? It earns its place on our 2012 list for the opening of the Museum for African Art -- one of just two US museums solely devoted only to the continent's art -- which will settle on Fifth Avenue and 110th Street in the second half of the year, extending Museum Mile uptown into Harlem. Designed by Robert A.M. Stern, the 90,000-square-foot building will have a soaring, three-story lobby and a façade comprised of V-shaped windows meant to evoke a sense of motion. Another hot cultural happening: London's 170-gallery strong Frieze Art Fair comes to Randall's Island Park for the first time in May.

Why Now: Iceland is expected to go through an especially active solar maximum cycle this year, with the Aurora Borealis, or Northern Lights, shining at their brightest for 50 years (November-April should be especially clear). While you're there, check out the Harpa Concert Hall, a dazzling addition to Reykjavik's skyline with an Olafur Eliasson-designed, multi-colored hexagonal glass façade.

Why Now: Renowned architect David Chipperfield -- the latest winner of the Mies van der Rohe award for his reinvention of Berlin's Neues Museum -- brings his exacting vision to the 13th edition of the Venice Architecture Biennale this fall -- he's the first Brit to curate the mega arch event, which will see countries from Australia to Japan unveil pavilion designs.

Why Now: It's London's year -- the capital celebrates the Queen's 60-year reign in June with a spectacular, seven-and-a-half-mile-long Diamond Jubilee flotilla along the River Thames, and the Summer Olympics kick off in July. We're looking forward to gawking at the Zaha Hadid-designed Aquatic Center, a mammoth manta ray-shaped building that will host everything from synchronized swimming to water polo. But it's not all sport: A flurry of world-class cultural shows are planned throughout the UK: Tate Modern is showing a Damien Hirst retrospective, the World Shakespeare Festival is staging dozens of plays in just as many languages, and the London 2012 Festival will be country's biggest ever, with 1,000 dance, music and film events, and more. Let the games begin.
Follow Jetsetter.com on Twitter: www.twitter.com/jetsetterdotcom