If ever a city were made for cycling, Amsterdam -- with its miles of safe bike lanes on flat, canal-skirting roads -- is it. It should come as no surprise that the city is home to almost as many bikes as people, nor that they use them for every occasion -- Amsterdam's VIPs even rock up to red carpet events on their trusty fiets.
Jetsetter's latest Mystery Sale, pairs three two-wheel itineraries with one of Amsterdam's most respected luxury hotels, a city stalwart that combines classic lines with clean, contemporary decor.
Click here to book Jetsetter's Mystery Hotel then read on for your curated guide to classic, cutting-edge and hedonistic Amsterdam on two wheels.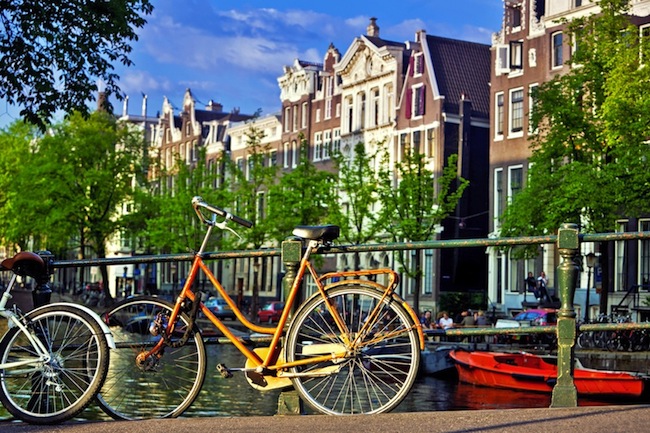 First Gear: Classic Amsterdam
If you've been out of the saddle for a while, a sedate cycle through classic Amsterdam is the perfect way to rediscover your pedal power. Start with the tree-lined (and risk-free) pathways of Vondelpark, the wide open green space that's often referred to as the lungs of the city. Once you've taken in the sights and sounds of Amsterdam at play, you'll be ready to survey the fruits of its Golden Age work ethic at the nearby Rijksmuseum, home to one of the most impressive collections of Old Master paintings in the world.
For unbeatable "bike on a bridge" photo candy, make your way to the Jordaan district in the northwest of the city. Once the mainstay of Amsterdam's working class, its chocolate box waterways and hidden hofjes (communal courtyard gardens) are blisteringly picturesque. It's also home to some of the most charming "brown" cafés in Amsterdam -- our recommendation is Papeneiland, where they serve salted, hard-boiled eggs alongside the beers and, er, other stuff.
For a quick glimpse of the Jordaan district, cycle round the knot of streets just below the center of the city's canal belt from the Prinsengracht to the Lijnbaansgracht and from Rozengracht to Leidsegracht. This area is hot on contemporary art -- Torch Gallery on Lauriergracht is a small, family-run mainstay with a host of loyal international artists on its books.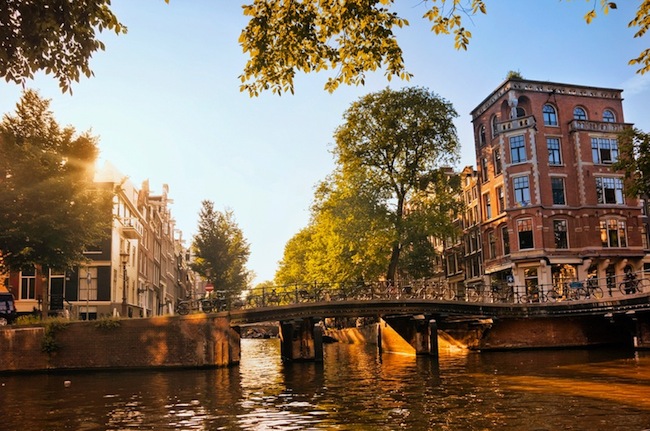 Second Gear: Cutting Edge Amsterdam
April 5 is "Lights, camera, action" for the newly relocated EYE Institute, Amsterdam's blockbuster film museum and the most prominent example of the creative exodus from the city center to the Noord district on the far bank of the IJ (the bay that splits central Amsterdam from its northern part). The light-filled building alone, designed by Viennese architectural firm Delugan Meissl, justifies the (free!) three-minute ferry trip from behind Centraal train station to the once-industrial district of Noord. To get there, look for the boat marked "Builsloterweg," push your bike aboard and leave the city behind.
Once you're there, stay on the north side of the water for an afternoon of exploring the bohemian art spaces of the NDSM wharf, a former shipyard the size of 10 football pitches, followed by dinner at the wildly popular Hotel de Goudfazant. Don't be misled by the name -- it's not actually a hotel, but the buzzy open kitchen and warehouse vibe (there are vintage convertibles parked between tables) will make you want to stick around.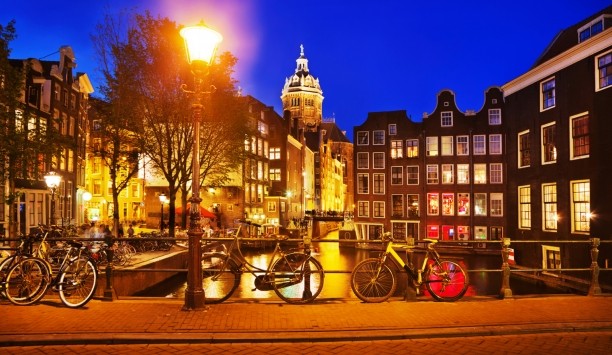 Third Gear: Hedonistic Amsterdam
Yes, Amsterdam has a racy reputation, but it's entirely possible to have a decadent time without losing your scruples or missing your return flight. Forgo the Red Light District in favor of one of the Canal Belt's most decadent dining experiences, Red -- so called because it serves only steak and lobster, often on the same plate.
A short post-dinner cycle toward the eastern reaches of the Old Center will bring you to Hiding in Plain Sight, a brand new speakeasy-type bar that's already getting something of a reputation for its lethal Walking Dead cocktail, which is set on fire and served in a skull-shaped glass (there's a limit of one per customer, such is its strength). And if you really must get naked during your time in Amsterdam, check out the sprawling "wellness complex" Spa Zuiver, on the edge of the Amsterdamse Bos woods, a 15-minute ride southwest of the city. With countless tranquil pools, light therapy rooms and steam cabins, it's the perfect place to recover from the thigh-punishing weekend.
SUBSCRIBE AND FOLLOW
Get top stories and blog posts emailed to me each day. Newsletters may offer personalized content or advertisements.
Learn more