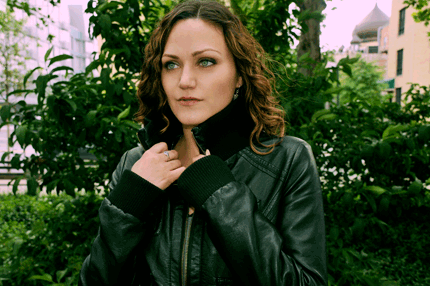 Photo credit: Shervin Lainez
New Jersey singer-songwriter Allie Moss regularly plays lead guitar for indie-folk pop singer Ingrid Michaelson. But, Moss is currently on a solo tour of the U.K. to promote her new album, Late Bloomer, to be released in the U.S. on June 14. She doesn't only love to sing, she's also totally obsessed with sandwiches. So much so that she keeps a blog on the topic, The Magic Sandwich. We caught up with Moss last week to get the low-down on some of her favorite on-the-road treats.
What do you eat before a show?
Usually not much in the two hours before, I prefer to sing on an empty stomach. But sometimes some veggies and hummus, if I'm getting hungry -- you know when you get so hungry you get angry?
What's your favorite thing to get after a show?
I'll often order my dinner before the show so that I can eat it as soon as we're done. We try to be healthy on tour, so a green salad (dressed in olive oil, salt, pepper and cumin, which yes I bring with me -- don't laugh!) with salmon or some roasted chicken is my go-to, and it tastes okay at room temperature.
What's your favorite post-NYC show meal?
If we're in NYC, I definitely get a slice of pizza because it's the best.
What's your favorite post-LA meal?
I love the 101 Diner in Los Angeles -- either late-night egg breakfast or a salmon tandoori sandwich.
Have any groupies ever made you anything and sent it backstage?
The most elaborate thing a fan has made was a cake with each band member on it, made out of icing or something. It was the kind of thing you don't want to cut into, because I know it took her so much time.
Any food that musically inspires you?
Well, we recorded my record up in Maine at an amazing studio my producer Sam Kassirer owns, called Great North Sound Society. You live and record there all at once. It's a bit far from town, so we stockpiled groceries the day before we started. We got into a routine where I would break around 6 to cook while the guys would finish up the task at hand. Then we'd all stop at 7 and eat a meal around a table as a family. I like to believe that's part of what made that time so wonderful -- we ate together, then made music together. There was a synergy. Also, though, I just think human beings function better when we're well-fed.
What are your fondest food memories? Any of them documented in your music?
My German grandmother's red cabbage at Christmas, Lighthouse Italian Ice by the Jersey Shore boardwalk every summer, learning to bake bread from my mom, and roasting my first whole chicken. I don't think I've referenced food in a song... yet!
What's your favorite city for eating before or after you've played a gig?
The one that immediately comes to mind is a Moroccan place called Amanouz Cafe in Northampton, Mass. It's within walking distance from both the Calvin Theatre and Iron Horse, which we have played with Ingrid three or four times in the last few years. I've gone there every time. It's always packed, but worth the wait.
What is your favorite tour bus snack?
Besides the fruits and vegetables, I like to bring almond butter, microwave popcorn, and oatmeal. And occasionally Nutella, but that's very dangerous.
What hometown meal do you miss the most when you are on the road?
Bagels. I'm kind of a bagel snob. I also miss my Blendtec blender, because I like to make whole green juices in it: kale, grapefruit and pineapple is my current favorite.
Who's the pickiest eater in the band? What's his deal?
We all have our health things, but nobody is a diva about it. Maybe me? I don't know. I carry cinnamon in my purse for my coffee, and packets of TrueLemon, Lime and Orange to cover up odd-tasting restaurant water.
Who's the best cook in the band? What's their best dish?
Chris Kuffner (bass/guitar/vocals) makes the best chili on the planet.
Any food favorites of the entire band?
I'll venture to say our favorite order-out cuisine would be Thai or sushi.
Any on-the-road food discoveries, restaurants or roadside vendors? Some hidden gems you've come across?
Monty's Blue Plate Diner in Madison, Wisc., and Voodoo Donuts in Portland, Oreg.
Backstage requests?
Still water and Maker's Mark.

SUBSCRIBE TO & FOLLOW THE MORNING EMAIL
The Morning Email helps you start your workday with everything you need to know: breaking news, entertainment and a dash of fun. Learn more