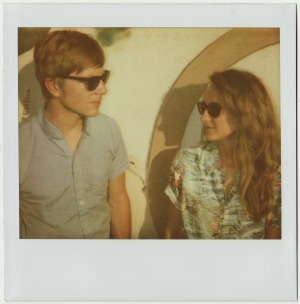 Photo credit: David Bartholow
Patrick Riley and Alaina Moore met while studying philosophy in college. The two agreed that upon graduating they would sell their collective possessions and leave behind their lives in Denver. They planned to buy a small sailboat and spend the next year living aboard and traveling exclusively under sail.
Two years after completing their 2,500 nautical mile North Atlantic voyage, Riley and Moore formed the indie-rock band Tennis. Fat Possum released their album, Cape Dory, in January of this year. All that recording -- and sailing -- has left this duo pretty hungry. Check out some of their top nosh spots across the country.
What do you eat before a show?
We usually take it pretty easy on the food and drink before our show -- there's nothing worse than eating too much before a show.
What's your favorite thing to get after a show?
Booze. Alcohol after a show is like a finish line we run to. If the show was really good, the drinks get fancy. If it was bad, the drinks get desperate. You can pretty much tell what we think about our performance based on what we are drinking at the end of the night.
Does it vary depending on city?
Absolutely, our favorite thing about touring is finding all the "bests." Seattle and NYC have the best cocktails. Denver and most of California has the best beer.
What's your favorite post-NYC show meal?
I don't know if we've ever had a post NYC show meal. Our shows always run so late and by the time we get done we have three parking tickets and a boot on our van so eating doesn't come into play.
What's your favorite post-LA meal?
We've always stuck around the Echo so I'm going to go out on a limb and say The Gold Room: Free tacos and peanuts!
Have any groupies ever made you anything and sent it backstage?
A girl in San Diego knitted a pair of stuffed penguins for us, but I don't think you can eat them.
Any food that musically inspires you?
Breakfast. Alaina and I write the majority of our music in the morning just
after breakfast. We have a routine of waking up, making a big Irish-style breakfast (minus the black pudding), and then writing.
What's your favorite city for eating before or after you've played a gig?
Probably Chicago, we have close friends and family that live there who always introduce us to new great restaurants.
What is your favorite tour bus snack?
Somehow it's always the case that the only thing we have in our van is Sriracha. Sriracha on crackers, chips, bread, finger-tips.
What hometown meal do you miss the most when you are on the road?
Creole breakfast from Luciles in Denver and, later that day, Titan IPA from Great Divide Brewery poured by my friend Colin.
Who's the pickiest eater in the band? What's her deal?
Alaina -- she's picky about food preparation. No five-second rule with this one.
Who's the best cook in the band? What's their best dish?
I'm so glad you asked this one, me [Patrick]. My best dish is either a butternut squash bisque or my crepes. "My bisque or my crepes?" I feel like I say that twice a day.
Any food favorites of the entire band?
We all get excited for a burger and beer.
Any on-the-road food discoveries? Roadside vendors? Hidden gems you've come across?
Alaina and I had great food and even better cocktails at Schillers in Manhattan. They make an amazing Pimm's Cup.
Backstage requests? Have you ever requested 10,000 M&Ms, but none of them brown?
The exact opposite, we request close to nothing in hopes of getting paid better.
SUBSCRIBE TO & FOLLOW THE MORNING EMAIL
The Morning Email helps you start your workday with everything you need to know: breaking news, entertainment and a dash of fun. Learn more