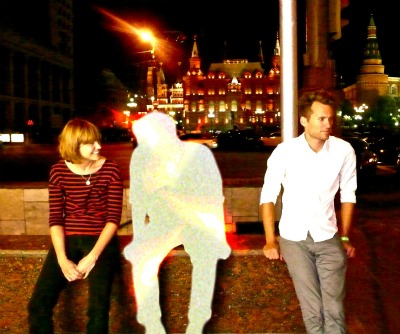 What's cuter than a husband and wife indie rock duo? A husband and pregnant wife indie rock duo. That's David and Meredith Metcalf. They make up the core of Highland Park, Calif.-based Bodies of Water. The two mixed and recorded their recently released album, Twist Again, in their "drafty yet dependable" home studio. Yet, they've been known to perform live with as many as fifteen other musicians playing horns, strings, saxophones, percussion and more.

We recently caught up with David to chat about the pair's on-the-road food picks (think: salmon roe).
What do you eat before a show?
Usually nothing. I heard that famed drummer Terry Bozzio won't eat for four hours before he plays a show so that his mind won't be clouded. Maybe I've inadvertently pursued a similar path, but less by design.
What's your favorite post-L.A. show meal?
We usually go to Del Taco in Atwater, Calif. because it is open all night, and they serve inexpensive breakfast tacos del carbon (scrambled egg tacos) after 11 p.m.

What's your favorite post-NYC show meal?
We have never had a post show meal in NYC, as far as I can remember.

Have any groupies ever made you anything and sent it backstage?
No. Is this something that happens?

Any food that musically inspires you?
Half and half, sparkling water, cruisers

What are your fondest food memories? Any of them documented in your music?
I used to eat a Marie Callender's chicken potpie every Sunday afternoon while I listened to the radio programs My Word and My Music. I think they were on KPCC, the public radio station in L.A. I would also enjoy a tall glass of milk with my pie. This went on for three or four years when I was in high school. Since then, I haven't had a potpie or heard those programs. I don't think they're on the air anymore. As far as I can tell, we've never made reference to any of this in our songs.

What's your favorite city for eating before or after you've played a gig?
We like Los Angeles because we know where to go. I don't like blindly wandering when I'm hungry, it can get dark pretty fast.

What is your favorite tour bus snack?
I've never had the luxury of touring on a bus, but if I did, my favorite snack would be salmon roe.

What hometown meal do you miss the most when you are on the road?
Aside from San Francisco, there is no city I've been to with Mexican or Central American food that I like as much as what's in our neighborhood. The Mexican food in Texas is very different.

Who's the pickiest eater in the band? What's his deal?
Our last drummer Jamie made a vow as a child to never again eat at Burger King. He swore it aloud to his mother, apparently. Anyhow, he broke his vow at one of those toll-highway rest stop complexes somewhere in the Midwest. A BK Veggie was the only palatable option to him at that moment. He has since retaken the vow.

Who's the best cook in the band? What's his/her best dish?
Meredith's massaman curry

Any food favorites of the entire band?
Thai and Indian food -- maybe because they are so friendly to vegetarian ideals. At present, much of our group does not eat meat.

Any on-the-road food discoveries, roadside vendors or hidden gems you've come across?
The best meal we had was in Montreal, at La Sala Rossa. We played there and they served us a free meal before the show in the tapas restaurant downstairs.

Backstage requests?
We request beer, water and a vegetable platter.

Have you ever requested 10,000 M&M's, but none of them brown?
No. I used to love peanut M&Ms, but time has diminished their allure. I know no explanation for this.
Follow Jill Donenfeld on Twitter: www.twitter.com/theculinistas