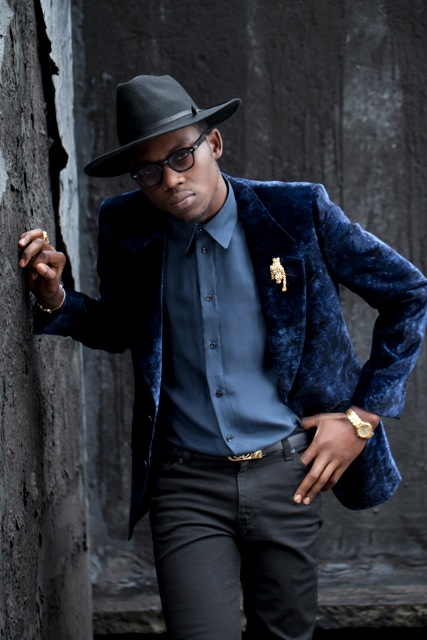 Urban electro-pop artist Theophilous London is set to release his debut LP, Timez Are Weird These Days, on Warner Brothers Records worldwide on July 19. Recorded in NYC, LA and Stockholm, it's a, "wide-open album of original music, genre-bending sound, mesmerizing storytelling and inspired, honest emotion." More than a rapper, London is also a style icon having appeared in GQ, Esquire and Elle. We caught up with him last week to find out what this cutie is getting fed while on the road (besides vodka and burgers).

What do you eat before a show?
I try to go light, like a Greek salad. But most of the time I am not getting that because they give you a buyout and it's just some money for food and all you can get is a burger. Usually there are tons of butterflies in my stomach anyway so I gotta keep it light.

What's your favorite thing to get after a show?
I probably have four people back in my room...definitely vodka and burgers, well done.

Does it vary depending on city?
I don't wanna classify myself as a vodka and burgers guy but in show mode, that's 90 percent of what you're gonna get wherever you are.

What's your favorite post-NYC show meal?
Caribbean food, I am a big fan. There is a new reggae spot owned by the same guy that owns La Esquina. So I go there or Negril for jerk chicken or oxtail and rice.

What's your favorite post-LA meal?
Just the local taco joint, keep it light and get some tacos. There's too much going on in my stomach and my mind after and before a show.

Have any groupies ever made you anything and sent it backstage?
When I was in Vegas my cousin brought some groupies backstage and there were some DJ friends back there and the groupies were eating rice with their hands--it was a bad scene. Kinda crazy. They were getting it all over the carpet. I had to get them to leave. I said they could take all the food with them.

Any food that musically inspires you? You do have a song called "Wine and Chocolates."
Yeah but that's just more to serenade the girls. You girls love chocolates, especially the one in the gold wrapper with a nut in the middle. I drink chocolate espresso though. That's really good.

What are your fondest food memories? Any of them documented in your music?
I fondue sometimes at a place called Honey.

Wait, I am not sure you heard me correctly; I asked what are your FONDest food memories, not FONDUE memories.
Yeah, I heard you correctly--my fondue moments are like the fondest.

What's your favorite city for eating before or after you've played a gig?
Amsterdam was great but then it got redundant. Right now African food in Paris has my heart. There's a place with no windows; Rihanna and Marvin Gay and all those guys go to it--all their pictures are up on the wall. It's like the place for black singers to go in Paris. It's fried chicken with rice and beans and all these different sauces. People get half chickens for themselves. It's like a party in there.

What is your favorite tour bus snack?
Mostly Fritos, they're pretty tight. And, I am into Haribo gummy bears.

What hometown meal do you miss the most when you are on the road?
Rice and beans and steak. It's what I ate for breakfast everyday this week already. I don't get a lot of options in France. Can't wait to be home and get my face in some grease and gravy.

Who's the pickiest eater in your team? What's his deal?
My manager is pretty picky; he doesn't eat meat, only fish. If we go to a place with not too many options like McDonald's, he only gets fries. Everyone else eats everything.

Who's the best cook in the team? What's his best dish?
My cousin, chef Bonaducci, who hails from Bushwick. He's the stage manager now. We are trying to get him to work in a restaurant or open up his own place. He has one dish called "The Sleeper," it's mac and cheese, rice, corn, chicken and so much gravy; (there is so much gravy that you fall asleep right after you eat it) you can only eat it on Sunday.

Any food favorites of the entire band?
We are really into steak, preferably rib eye or porterhouse. A medium steak and oysters to start off or tuna tartare to start off. No one is complaining about tuna tartare.

Any on-the-road food discoveries, restaurants or roadside vendors? Some hidden gems you've come across?
I went to Brazil last year and if you are there, you gotta eat in someone's house. They take care of you so good. They'll bring out three huge platters of fish, rice and all this stuff. Go on a soccer day and eat with the family.

Any crazy backstage requests? Anything crazy on your rider?
No, but there is going to be a lot of crazy sh*t added to my rider when my new album comes out--oysters or sushi before the show but it has to be from Nobu. I'll only play shows where there's a Nobu in town from now on. The next tour should be sponsored by Nobu.


You wouldn't be slumming it: Milan, Vegas, NYC, LA....not a bad tour.

Yeah, Timez are Weird out July 19.

SUBSCRIBE TO & FOLLOW THE MORNING EMAIL
Start your workday the right way with the news that matters most. Learn more