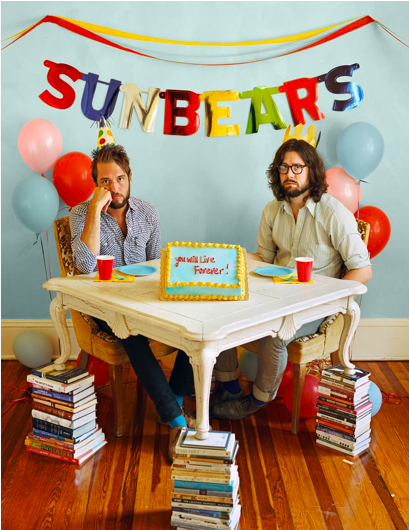 Jonathan Berlin, from the psychedelic electronic pop band Sunbears!, loves his wife more that food. But he also loves food, a lot. We learn a little about what Jonathan as well as his band mate Jared -- one a vegetarian and the other a red meat/kid food eater -- have in common.. besides groovy music.
Your vibe is pretty peace&love... Do your eating habits follow suit?...
Well I have been a vegetarian (pescetarian?) for about 10 years. Eating animals makes my heart hurt, but my wife has recently become pregnant (she was also a veggie) and has developed this CRAVING for chicken... So I have sort of given in for the time being, cooking and eating meals with her and her little chicken dinners. But as soon as that's over, I'm back on the train! Ha! As much as I love animals, my love for my wife comes first!!
What do you eat before a show?
Usually when I'm on tour I try to eat a cool local place, so it varies. Hometown Jacksonville, FL shows Jared and I LOVE Burrito Gallery or La Napolera. But sometimes there is food at the venues for us. Like I said before, I love veggies, so I always try to have a veggie spread back stage!! And if neither of those things happened, chances are that I just got out of my car from driving and I was eating David's Ranch flavored Sunflower Seeds!
What's your favorite thing to get after a show?
A Makers and Coke, truth be told!! I'm usually not very "hungry."
Does it vary depending on city?
Absolutely!!
What's your favorite post-NYC show meal?
I don't know that I've had a POST NYC show meal, but if Dumont Burger in Brooklyn was open real real late, I'd try to get take out from there!!
What's your favorite post-LA meal?
Never been!
Have any groupies ever made you anything and sent it backstage?
Haha! Groupies!? We don't really have "groupies", I don't think... But some of our fans know that we like to have a few drinks... But I make the best Makers and Coke out of anyone I know, aside from Jeremy S.H. Griffith.
Any food that musically inspires you?
Probably going to any decent Sushi/Hibachi bar with a nice atmosphere and cool Japanese music!! I'm kind of obsessed with Japanese culture... And no, I haven't been there... YET.
What are your fondest food memories? Any of them documented in your music?
One of my favorite restaurants is this cool Hookah Lounge called The Casbah in Jacksonville, FL. One of the songs on our new record is "The Uncertainty Paradigm" and I had started recording the demo for it, pretty much everything aside from the Vocals. I had lyrics written and all... Anyway, My friend Ashley, from Orlando, was in town and wanted to have lunch at The Casbah... We met up and had a delicioussss meal, just as expected. I had Falafel, Stuffed Grape Leaves, Hummus and whatever Hookah flavor my favorite server, Cody, recommended that day.
During our meal we got onto the subject of expanse of the Universe and Alternate dimensions... you know... all of that mind bending kind of stuff. After that meal, I went home and completely rewrote the melody and lyrics for Paradigm, changing them to what we had talked about
over that meal!!
What's your favorite city for eating before or after you've played a gig?
NYC hands down
What is your favorite tour bus snack?
David's Ranch flavored Sunflower Seeds!
What hometown meal do you miss the most when you are on the road?
Either eating with my wife, Maria, at Sushi Cafe - Shrimp Hibachi Dinner, or The Casbah - Falafel, Stuffed Grape Leaves, Hummus, with a Hookah and a Strongbow Cider!
Who's the pickiest eater in the band? What's his deal?
Usually it's me... and I'm vegetarian. Ha!
Who's the best cook in the band? what's their best dish?
I don't think Jared cooks. I mean, I know he cooks Corn-dogs, but that's about all I can think of. So I guess it's me. Maria and I cook often when I'm at home. I like to do a baked or grilled Salmon with Sautéed Asparagus and Rosemary Red Petite Potatoes. Maria will do a mixed green Salad with Raspberry Vinaigrette to start the meal off and will sometimes make this Cranberry Apple Cinnamon Baked Brie for dessert. That is our meal that we LOVE to have every now and again: a staple Berlin house supper!
Any food favorites of the entire band?
Oof, I'm not sure! Jared is sort of a Red Meat/Kids food kind of guy... I'm not. Ha! However we both really love PIZZA!!
Any on the road food discoveries or restaurants or roadside vendors...
some hidden gems you've come across?
Whenever we are driving up and Down I-75 through Georgia we like to stop at one of the 3 Magnolia Plantation stores and some of their Pecan Brittle or Pecan Turtles. So good!
Backstage requests?
Nothing crazy... But usually our rider is Chips and Salsa, Veggie Tray, Bread, Lunch Meats, a 12 pack of Corona and a 750ml of Makers and a 2 liter of of Coke Zero!!
Have you ever requested 10,000 M&Ms, but none of them brown?
Can't say that I have!!! Just freaky people in bathing suits that can shoot Olives out of their Navels and into our mouths... Yeah! No....