I confess -- I don't like vertical stripes. Horizontal stripes make me happy. Plaid confuses me -- but that's a different conversation for another day.
Every designer brings their subjective likes and dislikes to a project and my reputation now precedes me. I thought, how wonderful it is to have people who share my dislike of vertical stripes seek me out to be their interior designer!
But, not everyone understands the vertical stripe nausea. I discovered this the expensive way when I recently had two custom-ordered accent chairs upholstered in striped fabric. I made a mistake in assuming that my upholsterer would naturally understand my aversion to vertical stripes.
Please let me clear up any and all misconceptions regarding design mistakes and disasters. There are more than two people in a design relationship beyond just the client and designer. When working with an interior designer, you are also entering into a relationship with an upholsterer, an electrician, a manufacturer and, unfortunately, sometimes an intern who can run the show. Projects can end up becoming a game of telephone, just like the campfire game.
Sometimes the delivered message ends the same as it began, but a lot of times the message gets distorted and changed by the time it reaches the last person. This doesn't mean your designer is a dud; more than likely it's because there are so many hands on one item that a mistake could occur. And catching the error in time or correcting it becomes an entirely separate game.
Back to my mistake: My most favorite client, who has also been with me the longest, just engaged me to work on her second home. We are starting a complete gut renovation of the house any day now, but my client wants two rooms finished immediately so that her family can live in some semblance of order until the project is finished.
One of these rooms is the family room, a creamy blank canvas that we both want to enliven with some personality. We've chosen colorful drapes, bright leather club chairs and a rich, blue velvet sofa. The final elements are two striped upholstered club chairs with the chosen striped fabric, picking up the colors in the drapes.
Because this is Jill Goldberg writing and working, the stripes are to be placed on the chairs horizontally. (This might be a good time to explain that vertical stripes make me think of Greg Brady's pants, so all you psychoanalysts out there can get back to me on that.)
I placed the order for the custom club chairs with the manufacturer and waited the customary eight weeks with a few telephone exchanges in between. When the upholsterer emailed me to announce that the chairs were ready and sent an image, I froze with horror. The fabric was applied with the stripes placed vertically on the chairs: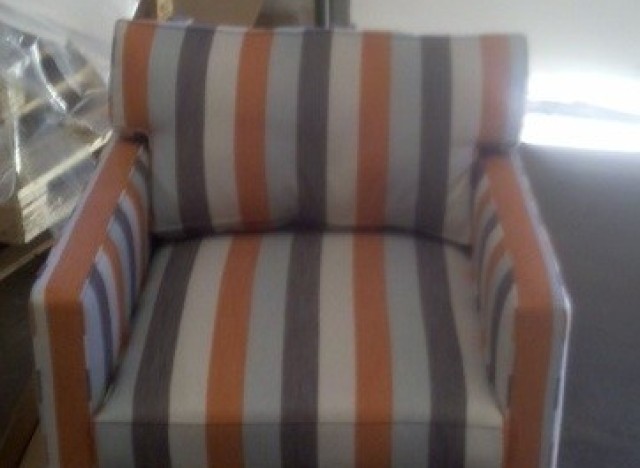 Photograph by Jill Goldberg
I am brutally honest and up front, so I immediately sent the image to my client, in case I had misunderstood. When she replied, "I thought the stripes were supposed to be horizontal?" I was justified in my continued nausea.
Now this is where the game of telephone enters into the equation. I contacted the manufacturer who couldn't find any paperwork that noted the horizontal stripes. It didn't matter at this point that I assumed anyone who knows or works with me knows that I hate lines in that direction. The only reasonable solution was to order all new fabric and absorb the cost of having the chairs reupholstered and redelivered.
The corrected chairs with horizontal stripes were delivered to the home and the client loves them. That is, of course, until I get a phone call from the client telling me that she has decided to reupholster the chairs -- in plaid.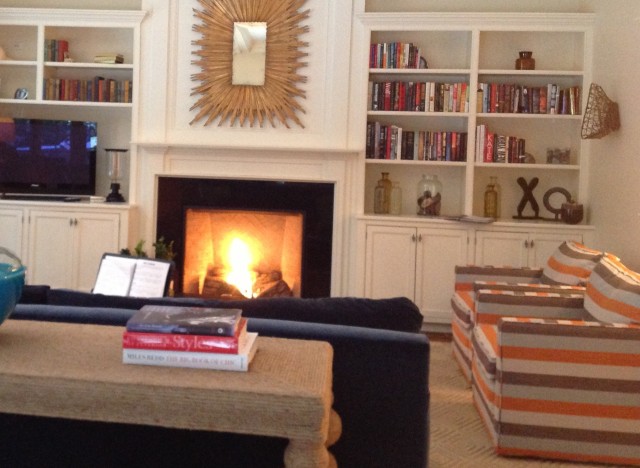 Photograph by Jill Goldberg
To see photos of Goldberg's design shop Hudson Interiors in Boston, be sure to click through our slideshow below.
Jill Goldberg opened HUDSON, her home furnishings and decor destination on Shawmut Street in Boston's historic South End in September 2006 and it quickly became the area's premiere home boutique. In September 2011, after five successful years, winning accolades and several "Best of" awards and garnering national media attention, Jill has moved around the corner to a larger location.

The store's floor plan included a loft space which has now been transformed with the inclusion of a custom-made, Chinese-influenced fretwork railing. Now the loft is an inviting transitional space to display Hudson's expanded collection for children.

Additional subtle renovations to the space, such as replacing the existing, flat interior doors with stylish louver doors, upgrade the new space and provide the appropriate background for the expanded collection of furnishings which include the introduction of ducduc Furniture and a new Jill Goldberg designed collection of table-top canisters designed in partnership with Jill Rosenwald. In addition, Hudson's successful introduction of Verellen and Bernhardt furnishings will be expanded and Hudson's trademark vintage art and accessories offerings will have room to grow.

Hudson's larger location also heralds Jill's latest role as an interior designer. A natural progression from selecting merchandise for the store has been Jill's return to her first love which is designing interior decor for her clients' homes.

Goldberg's intention was to have the design of the dining room make sense in comparison to the adjoining sitting room so she selected a beautiful green for the walls.

In addition, she kept the decor simple and elegant with traditional table and chairs.

The Kravet upholstered wing chairs, the multiple arm chandelier and the blue painted pagoda lamps on the breakfront add a touch of whimsy and unexpected color in the space.

A design challenge because of the odd angles and the fact that the client wanted a grand bed. The 4-poster bed from Somerset Bay Home is grand with some restraint. Once in place, we designed the room around the bed.

A gorgeous flat wool rug with a great design, simple wool drapes, and vintage chairs which I had reupholstered. To finish the look Goldberg included a great chest of drawers that she found in New Bedford, Massachusetts.

Mrs. Athanasia wanted a more traditional office, separate from her husband's office, but not so masculine. Goldberg selected a modern color palette of blues and browns and reupholstered a current chair and ottoman in a luscious linen.

Mrs. Athanasia wanted color but in an elegant and sophisticated way. Goldberg's intention was to also inject a bit of fun and levity. Goldberg selected billowing silk curtains from F. Schumacher with a reupholstered Oly sofa. Goldberg played with textures introducing silk, velvet, duck twill, and velvet. The accent chairs in brown Kravet Couture stand out as a design feature. The walls were painted in a high gloss oil from Farrow & Ball.
Have something to say? Check out HuffPost Home on Twitter, Facebook, Pinterest, Tumblr and Instagram.
**
Do you have a home story idea or tip? Email us at homesubmissions@huffingtonpost.com. (PR pitches sent to this address will be ignored.)