Starting at 3:35 Coordinated Universal Time (UTC) today (6:35am local time), Renesys observed that approximately two-thirds of all Syrian networks became unreachable from the global Internet. Over the course of roughly half an hour, the routes to 40 of 59 networks were withdrawn from the global routing table.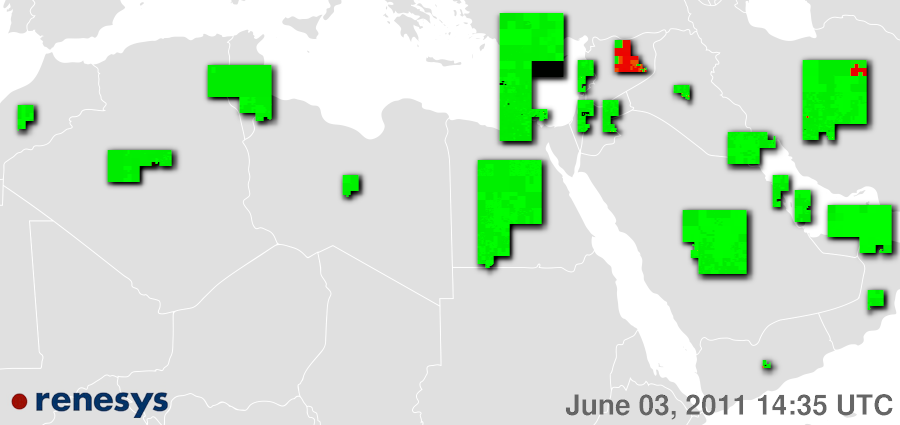 The Internet in Syria (at right, in red) basically depends on one domestic provider, state-owned SyriaTel (AS29256 and AS29386). They buy most of their Internet transit from Turk Telekom and Deutsche Telekom, with some contribution from PCCW, Tata, and Telecom Italia. Connectivity has historically come in over submarine cable from Cyprus; activation of new terrestrial fiber connections to Turkey have been delayed by this year's political unrest.
The network prefixes that remain reachable include those belonging to the Syrian government, although many government websites are slow to respond or down. The Oil Ministry is up, for example, and Syrian Telecom's official page, but the Ministry of Education is down, as is the Damascus city government page, and the Syrian Customs website.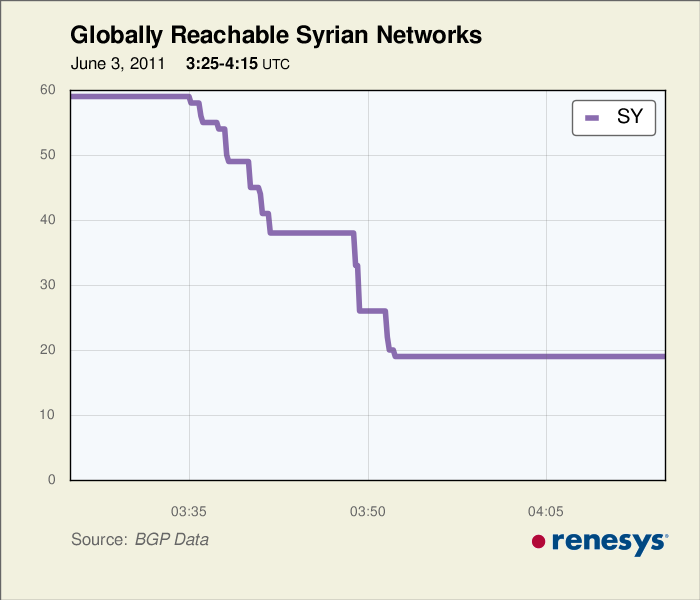 The networks that are not reachable include, substantially, all of the prefixes reserved for SyriaTel's 3G mobile data networks, and smaller downstream ISPs including Sawa, INET, and Runnet.
We'll update when we have more information. We don't know yet how the outage was coordinated, or what specific regions or cities may be affected more than others. News is filtering out of Syria very slowly. If Egypt and Libya's Internet outages are any guide, one might conclude that events on the street in Syria are reaching a tipping point.
Credit: Renesys Blog (http://www.renesys.com/blog)