You'd think -- what with getting the revival of Jekyll & Hyde ready for its 13 week-long, limited engagement at the Marquis Theater -- that director Jeff Calhoun wouldn't have any time left for his other Broadway show, Disney's Newsies.
But that's where you'd be wrong. Last month while he was out-of-town with this Frank Wildhorn musical in Chicago, Jeff used his one day off from "Hyde" to nip off to NYC's Nederlander Theatre to go check up on Newsies. Making sure that this Tony Award-winner remained in tip-top shape as it began its second year on Broadway.
"We've had a lot of new kids come into the show over the past few months. So I've made a point of regularly going by the Nederlander Theatre to work with the cast," Calhoun explained. "I want to make sure that the newer members of Newsiescast are just as sharp, just as well-rehearsed as the original members of this cast were."
Mind you, for Jeff, going back to the Nederlander is kind of like Old Home Week. Back when Calhoun worked with Tommy Tune, that Broadway legend used to rehearse all of his shows in that then-all-but-abandoned theater.
"That was something that Tommy was famous for. If you hired him to direct your show, Tommy wasn't going to work in some bland rehearsal hall. He always had to work inside a theater. So that he could then see what a scene might actually look like when it was up on a real stage as he was still shaping & modeling that show," Jeff continued. "So we rehearsed 'The Will Rogers Follies,' 'Busker Alley,' 'Grease,' even 'Tommy Tune Tonite!' there. I've spent an awful lot of the past 20 years in and around the Nederlander Theatre."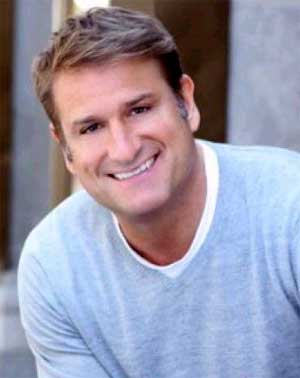 Of course, what's kind of ironic about Newsies now doing eight performances a week at Calhoun's old stomping grounds is that this particular Walt Disney Theatrical production was never ever supposed to go to Broadway.
"I swear to God. The original plan for Newsieswas that we were just going to do the pilot production at the Paper Mill Playhouse. Prove that the stage version of this Disney movie actually worked with audiences and then just make the show available for licensing for regional productions," Jeff insisted. "Disney Theatrical had had so many inquiries from high school & colleges about whether there was a script available for a stage version of Newsiesthat this pilot production at the Paper Mill Playhouse was just supposed to be a means to an end. A way for Disney to meet that demand."
But even back when Calhoun & this show's creative team were just getting Newsies up on its feet, back when the temporary sets which the cast was pushing around that empty rehearsal space were made out of unpainted plywood, Jeff sensed that this pilot production had some real potential.
"Now you have to understand that I had never seen the movie version of Newsies.Even now, I still haven't. I really have to get around to seeing that movie someday," Calhoun laughed. "Anyway ... Even when I was seeing the stage version of Newsiesin its rawest possible form, there was something so cinematic about this show. Something so dynamic about the guys as they stood there in that rehearsal space singing Alan Menken & Jack Feldman's songs and performing Chris Gattelli's choreographer that I thought to myself: Maybe this pilot production could go further than the Paper Mill Playhouse."
"In this business, you just never know. There's always more heartache than there is success. But with this particular production -- and the very smart way that Disney Theatrical had put the whole thing together -- right from the get-go, Newsieshad the potential to be something special," Jeff continued. "And at each stop along the way -- from the weeks we spent in that rehearsal hall to the month we were out in front of an audience at the Paper Mill Playhouse right up until we opened on Broadway -- the creative team kept writing new lines, adding songs, tightening scenes. Always looking for ways to improve this show."
As for which member of the Newsiescreative team was the most responsible for this show's success ... Well, while Calhoun doesn't like to play favorites, he was quick to credit Tony Award-winner Harvey Fierstein with the clever way that he took Bob Tzudiker & Noni White's original screenplay and reimagined it for the stage.
"So much of what makes Newsieswork on Broadway can be traced straight back to Harvey. He was the one who came up with the idea of book-ending Act One with 'Santa Fe.' Harvey was also the one who decided to change Jack's original love interest -- who used to be David & Les's sister in the movie -- and then turning her into this pioneering girl reporter. Which -- if I'm remembering correctly -- Harvey based on a real person, Nellie Bly," Calhoun stated. "And every one of those changes, those new story choices that Harvey made just make Newsiesa better & stronger vehicle for the stage."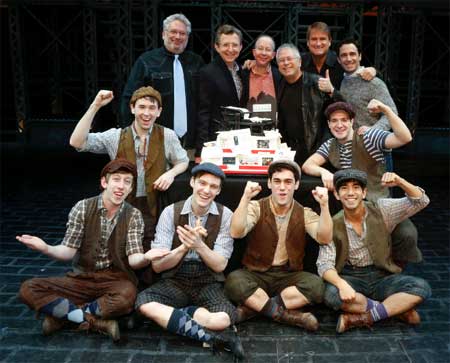 But if Jeff had to pick the main reason that Newsieshas become such a big hit on Broadway, to his way of thinking, it's all due to the talented teenagers & young adults who make up the cast of this show.
"When we initially opened at the Nederlander in March of 2011, we had 27 actors who were making their Broadway debuts," Calhoun stated. "So while the Newsies cast may not have been long on stage experience, they more than made up it with energy & enthusiasm. And that just comes rolling off the stage each night and energized the audiences who are watching this show."
This is why -- in order to make sure that Newsies maintains its high energy & enthusiasm levels -- Jeff has kept a close eye on how this show has been recast. Making sure that each singer/dancer who leaves this Disney Theatrical Production is replaced by an equally talented performer.
"Now what's been kind of interesting is that -- as Newsieshas been going along and we've brought in replacement performers -- the ages of the kids that we've been casting has been skewing younger & younger. We're now hiring 18 & 19 year-olds," Calhoun explained. "Which was the age that a lot of the newsboys were when they went out on strike in 1899. So in a weird sort of way, because we've now got more age-appropriate performers appearing in this show, Newsies is actually more authentic now than when it initially opened on Broadway."
This sort of interesting factoid clearly tickled Jeff. But to Calhoun's way of thinking, the very best part of being associated with Newsies is the impact that this Disney Theatrical production is having far beyond Broadway.
"For my generation, what made us dream of going to Broadway was the original production of 'A Chorus Line.' When I was growing up in Pittsburgh, I'd catch clips of that Michael Bennett musical on television and think: That's what I want to do with my life," Jeff recalled. "And when you think about how good Disney Theatrical has been about getting Newsies out there on television -- whether it's on 'Dancing with the Stars' or on the Macy's Thanksgiving Day pre-parade show or earlier this month on 'Good Morning America' -- you gotta wonder how many kids are seeing our cast dance on television and then thinking: That's what I want to do with my life. I want to go to Broadway and dance. I'd kill to know what's going on in dance schools all over the country right now. How many young guys are coming through the door and signing up for classes, all because they've seen Newsies on television and dream of someday dancing in a show like that."
Which then begs the question: Given that Calhoun is obviously so proud to be associated with Newsies, does it bother him that -- given all of his outside commitments these days (EX: getting this "ekyll & Hyde revival ready for its limited Broadway engagement) -- he's only able to get over to the Nederlander Theatre once or twice a month now?
"Not really," Jeff said with a smile. "One of the lessons that Tommy Tune taught me is that you never break up a winning team. So when I went off to work on Jekyll & Hyde, I took a lot of the Newsies design team with me. So even when I'll be at the Marquis working on my new show, it will still feel & sound like I'm right back at the Nederlander."
Jim Hill is an award-winning entertainment writer who lives in New Boston, NH. Over the past 30 years, he has interviewed hundreds of veterans of the animation & themed entertainment industry and written extensively about The Walt Disney Company.
Jim is currently working on a behind-the-scene history of the development & construction of Disneyland. For his more immediate musings on movies, TV shows, books and theme parks, please check out his blog, jimhillmedia.com.
SUBSCRIBE TO & FOLLOW ENTERTAINMENT
THE spot for your favorite fan theories and the best Netflix recs. Learn more