Starting tomorrow, Disney fans from around the world will be pouring into the Anaheim Convention Center, eager to sample all of the wonders that the Mouse will be unveiling at this year's D23 EXPO, a trade show / Comic-Con clone that the company presents biannually.
"What sort of wonders?" you ask. These will range from relatively intimate, heartfelt affairs -- like that panel Disney author Dave Bossert will be hosting on Friday afternoon which then pays tribute to the late Roy E. Disney -- to celebrity-filled extravaganzas which will be presented inside of the cavernous Anaheim Arena. Which is where Pixar Animation Studios, Walt Disney Animation Studios and Walt Disney Pictures will all be offering sneak peeks at upcoming projects at these elaborate presentations which will be held on Friday & Saturday morning respectively.
Mind you, when there are 45,000 die-hard Disney fans who are expected to take part in this three day-long event and your biggest onsite venue only seats 4000, there are bound to be some disappointed people who get turned away. So what has the Official Disney Fan Club done out ahead of this year's event in an attempt to mitigate that disappointment? As Steven Clark -- the head of D23 -- explained in a recent interview, his organization has taken the hard lessons that it learned at the first two EXPOs to heart. Which is why -- for the third go-round of this Ultimate Disney Fan Event -- D23 has put a number of changes in place that it hopes will lead to a better overall guest experience for EXPO attendees.
"One of the great things about the team at D23 is we really do listen to feedback from our members. This year we added a 2,000-seat overflow theater for the D23 Expo Arena so a guest who may not make it into an arena presentation will still be able to see these spectacular events such as Disney Legends, the presentations from The Walt Disney Studios and 'The Disney Songbook' concert with Richard Sherman and Alan Menken," Clark stated. "We also expanded the capacities for Stage 23 and Stage 28. To help alleviate lines, we create StagePass this year, which works similar to FASTPASS and will allow guests to pick up tickets for presentations in Stages 23 and 28. And we created a more dynamic D23 Expo mobile app with complete schedules, talent bios, a show floor map, trivia and much more."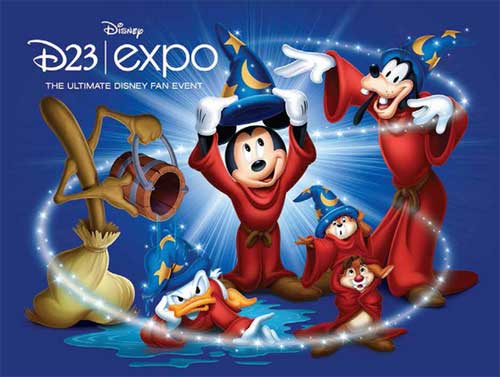 So will these changes be enough to placate D23 members, who are among the most passionate & dedicated Disney fans on the planet? Who, more to the point, were very quick to jump on Twitter and Facebook back in 2009 and 2011 and then complain bitterly about how they were being forced to stand in a lengthy queue in order to see a particular panel or presentation. This is why Clark and his team decided to developed StagePass, which will allow event attendees to obtain free tickets that then guarantee them a spot in many panels ahead of time. Provided -- of course -- that they actually show up 20 minutes ahead of when these presentations are supposed to begin.
And once these D23 members no longer have to wait in hours'-long lines in order to guarantee themselves a seat at a particular panel or a presentation... well, it's hoped that these people will now go off and explore the show floor, where they'll then discover some of the real treasures hidden there. Take -- for example -- the collector's forum, which is where much beloved fan artists like James Silvani and Amy Mebberson will be selling prints and doing sketches over the course of the show.
Of course, if you're really looking to make the most of your time during this three-day-long event, Clark suggests that you plan ahead. Take advantage of the EXPO schedule, which D23 has posted online, as well as that free D23 mobile app to then form some sort of strategy when it comes to which presentations you really, really need to see and which panels you can then take a pass on.
Just please keep in mind that the D23 EXPO is a dynamic event and its schedule in ever-changing. Take -- for example -- that Marvel's Agents of S.H.I.E.L.D. screening, which will now help close out the show on Sunday afternoon. The screening of this highly anticipated ABC pilot was only just added to the EXPO's schedule this past Tuesday.
So with the help of StagePass and that new mobile app, Clark and his team are hoping that the third time really will be the charm for the D23 EXPO, which officially gets underway tomorrow morning at 8:30 a.m. out on the Grand Plaza in front of the Anaheim Convention Center, which is when Disney will be unveiling Dr. Doofenshmirtz's most evil "inator" yet, the Waffle-inator.
Yes. You read that right. A Waffle-inator. Ask your family's resident Phineas & Ferb fan. They'll be able to explain it to you.
Jim Hill is an award-winning entertainment writer who lives in New Boston, NH. Over the past 30 years, he has interviewed hundreds of veterans of the animation & themed entertainment industry and written extensively about The Walt Disney Company.
Jim is currently working on a behind-the-scene history of the development & construction of Disneyland. For his more immediate musings on movies, TV shows, books and theme parks, please check out his blog, jimhillmedia.com.