THE BLOG
Disney's 'Winnie The Pooh": Bobby Lopez, Kristen Anderson-Lopez Tells How A Horrible Summer Vacation Led To A Really Funny Song
All around the country, vacations are being ruined by this hellish heat wave.
Which is why it's a shame that we all can't do what Tony Award-winner Bobby Lopez and his talented wife, Kristen Anderson-Lopez did. Which is take a pretty awful vacation experience and then use it as the inspiration for a really funny song.
Picture this: It's the Summer of 2009. And Bobby is in multi-tasking mode. By that I mean: Lopez is not only working with Trey Parker & Matt Stone on "Book of Mormon," but Bobby & Kristen have just been hired by Walt Disney Animation Studios to write some songs for "Winnie the Pooh."
So - to celebrate - the Lopezes decide to splurge and rent a house on Fire Island for a few weeks. So that these two - along with their then-4-year-daughter Katie and her newborn sister Annie - can then have a real family vacation down by the beach.
"Only as soon as we move into the place on Fire Island, Annie - who'd been such a good baby up until this point - suddenly stops sleeping through the night," Kristen remembers. "She'd wake up every hour or so and then start to cry. Which meant that no one else in the house could sleep either."
And about this same time, Bobby gets a call from the folks at Disney Feature Animation. Who tell him that they need a new song for their "Winnie the Pooh" movie. More importantly, that they need Lopez and his wife to knock out this tune as quickly as possible so that they can then present it to the WDAS brass the following week.
"I told them that Kristen and I were on vacation. What's more, we were staying in a house that didn't have a piano," Bobby continued. "Their response was 'Well, could you find a piano? Because we really need this song ASAP.' "
So bleary as they are from their lack of sleep as well as that constantly-crying baby, the Lopezes ask around. And they then discover that the local church has a piano. After a brief negotiation, the pastor agrees to give Bobby & Kristen access to the church and its piano during the early morning hours.
"So we get to the church. And it's got this high altar in its sanctuary area so that the minister could look down upon his congregation and then frighten them with sermons about damnation," Kristen said. "And then we get some concept art from Disney Studios of the Backson. Which is this horrible creature that's supposedly kidnapped Christopher Robin."
And everything that was going in the Lopezes' life at this point - the crying baby that wouldn't allow them to sleep, Disney's demand that Bobby & Kristen immediately interrupt their vacation so that they could then write a new song for the "Winnie the Pooh" movie PLUS the weird place that these two had to write this tune in (i.e. the empty church with its big, scary altar) - that stuff all kind of found its way into "The Backson Song" (which you can watch here).
"That song really reflects everything that Kristen and I were going through at that moment," Bobby laughed. "There are lyrics in there about how the Backson is this horrible monster who 'wakes up babies at one and three' and 'steals your youth.' And Owl - when he's telling Pooh and his friends about the Backson - is totally behaving like some minister who's trying to motivate his congregations by telling them scary stories about damnation."
So the Lopezes send "The Backson Song" off to Walt Disney Animation Studios. And the "Winnie the Pooh" production team quickly gets back to them. Saying that they absolutely love this tune, that it reminds them of the "Heffalumps and Woozles" number that the Sherman Brothers wrote for "Winnie the Pooh and the Blustery Day" back in the late 1960s.
"Which we considered to be a huge compliment," Kristen enthused. "You see, Bobby and I are huge fans of the Sherman Brothers' work. The songs that they wrote for Walt Disney Studios were all so deceptively simple, yet so beautifully crafted. You never ever caught them writing. Everything that the Shermans did for Disney was transparent and pure. That's why it was a such a huge honor to have our work compared to theirs."
So, in spite of the somewhat nightmarish circumstances that the Lopezes wrote "The Backson Song" under, Bobby & Kristen still loved working on "Winnie the Pooh."
"I was an enormous Winnie the Pooh fan growing up," Kristen admitted. "I actually slept with an Eeyore plush 'til I was 21. And I was reading and re-reading the original A.A. Milne books well into my 20s."
In fact, it was her intimate knowledge of "Winnie-the-Pooh" and "The House at Pooh Corner" - in particular how Milne would sometimes capitalize certain words in his text so that the reader would then give them extra emphasis - that provided inspiration for yet another song that the Lopezes wrote for "Winnie the Pooh."
"Milne would title the chapters for his Pooh books in very specific ways, saying things like this is the one 'In Which Piglet Does a Very Grand Thing,' " Kristen continued. "And I thought - for the moment in the movie where Christopher Robin is gathering up everyone up to come help with Eeyore's tale - that we should have a song that echoed this sort of feeling. Which is where 'A Very Important Thing to Do' came from."
Mind you, the Lopezes didn't just write songs for "Winnie the Pooh." They also voiced characters in this new Walt Disney Feature Animation production, with Kristen speaking for Kanga and Bobby voicing this film's villain. Which is Pooh's stomach.
"It's Pooh's search for food, his desire to find some honey that really drives the story in this entire movie," Bobby explained. "So when Kristen and I wrote 'The Tummy Song' -- which is basically this duet between Winnie the Pooh and his stomach -- I did the gurgling stomach part of this song for the test recording. Which the folks of Disney liked so much that they then made the official 'voice' of Pooh's tummy in this movie."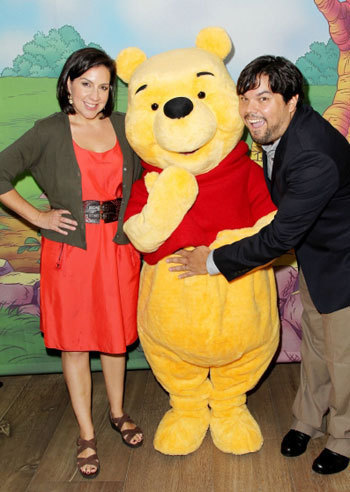 Kristen Anderson-Lopez, Winnie the Pooh and Bobby Lopez. Copyright Disney Enterprises, Inc. All rights reserved
And speaking of voices ... I couldn't help but notice- as I was talking on the phone with the Lopezes last week - that Bobby & Kristen were speaking very softly. When I asked why ... Well, it seems that - in spite of having a hit show on Broadway as well as a well-reviewed animated feature in theaters right now - that not all that much has changed for these two over the past two years.
"We're deliberately keeping our voices down because we just put Annie down for a nap. And we're kind of hoping that - if we stay quiet - that she might actually manage to stay asleep this time around," Kristen concluded.
Jim Hill is an award-winning entertainment writer who lives in New Boston, NH. Over the past 30 years, he has interviewed hundreds of veterans of the animation & themed entertainment industry and written extensively about The Walt Disney Company.
For his more immediate musings on movies, TV shows, books and theme parks, please check out his blog, jimhillmedia.com.