Last winter I had the joy of hearing Aileen Morgan for the first time and her melodic voice has flowed through my memories ever since. Aileen offered to donate her time and talent to Orphans International Worldwide's Haiti Relief Benefit at Webster Hall in February of 2010 and her performance powerfully connected to the cause (OIWW). As founder of OIWW, I recently had an opportunity to reconnect with Aileen about her music and how she sees her passion for music impacting the globe. Here are some powerfully moving snippets of our interview.
Photo courtesy of Bob Carey. Bob Carey copyright 2010.
JL: Many of your songs are about love and healing. How do you see your music playing a role in the global arena of healing suffering and fostering love?

AM: I consider music an essential element of human nourishment and since melody and percussion are capable of evoking a broad spectrum of emotions, they have the potential to be a supremely powerful tool. On a more personal level, feelings of peace, growth, connection, and joy are themes that I often strive to incorporate within my songs. I believe that they have the ability to touch people with healing, particularly those who need it most.

JL: Both Orphans International Worldwide (OIWW) and The Jim Luce Stewardship Report embrace global citizenship as a way to personally invest in addressing global pain and suffering, how do you define "global citizens?"

AM: We have reached a point in time where, if we choose, can travel the world in a matter of moments, thanks to the web. The saying "we are all one" has truly come to be a tangible, viable statement, rather than a more elusive "new age-y" idea. In essence, our community is no longer our own backyards and townships, but our earth. There is no excuse anymore for thinking that we cannot make a difference on the other side of the world, or that what happens on other continents will not directly effect us. We are truly all connected.

JL: Could you speak a bit about the powerful role of creativity and the arts on local and global politics?

AM: I believe that due to the emotional connection that people experience when opening their hearts to creativity and the arts, art and music have the ability to draw people, strangers, and even those in conflict toward a common experience. Common experience in turn creates connection. I realize that this sounds almost circuitous and in a way it is. There is an energy that flows through art, music, and emotion that creates connection. Yet, it would be quite difficult to identify where and when that energy begins. It's just powerfully there.

It only takes a single bonding moment to see someone as more of a friend, to create caring and compassion amongst those we otherwise would not feel connected to. From there, anything is possible. I believe a significant step toward peace and healing is possible through the arts.

JL: You and I have spoken in depth about your desire to travel to Haiti to work with the extremely talented musicians there and reach out to the children living there through your music, what charity and non-profit work have you been involved in in the past?

AM: Being a part of local and global change by partnering with various non-profits is very important to me. I absolutely loved working with you and Orphans International Worldwide.

A few of my other opportunities to contribute from my heart have been: working with PranicHealing.org and their distribution of food to the homeless and less fortunate, performing with Musicians On Call bringing music to those suffering in New York City hospitals, performing with SavvyLadies.org, an organization that helps empower women through financial education, and performing at the World March for Peace.

However, I have to say that one of my most life changing partnerships was when I performed with RESTORE, a non-profit based in N.Y.C. dedicated to helping women who have been enslaved by the sex trade by providing safe housing and services to restore their physical, emotional, and spiritual health. I also joyously sponsor two children through Children International.

JL: I know that contributing your time and talents to particular causes in the past has been an important part of your musical and artistic connection to those in need both here and abroad, what are your future plans in terms of working with non-profit organizations?

AM:I am very excited to continue my work with Musicians On Call and Savvy Ladies. I am also working on planning a trip to Haiti, perhaps with you, if my timing fits with your trip schedule. Having become much more aware of the ongoing struggles in Haiti, I have an incredible passion to be a part of the healing there.

My goal is to connect with the Haitian people, the children, the musicians, and culture and to allow that experience to speak through my music. I know that my time there will change my life and I hope and pray that I can help to change their lives too. Ultimately, I'd love to co-create a number of songs with the Haitian musicians that could be shared with the world to bring better understanding to all global citizens of the struggles that remain there, as well as the insurmountable joy. Ultimately I want to share the joy of Haiti with the world.

JL: Lastly, a powerful aspect of The Jim Luce Stewardship Report is Connecting Goodness, how would you define that?

AM: I see connecting to goodness as the conscious effort to uplift and bring joy and betterment to others. I am a firm believer in karma, which I define as investing. Invest your energy, your time, your life in what you want to see grow. Being as compassionate, helpful and loving as possible in each and every moment will bear the best fruit, will bring the richest life experiences to all of us.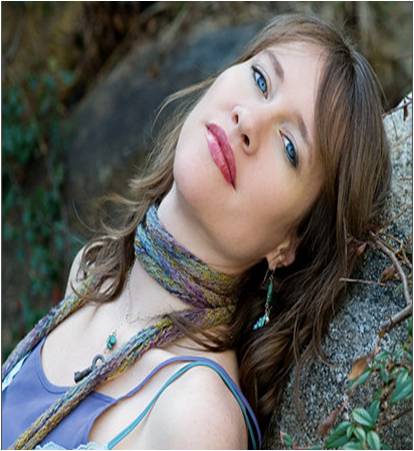 Photo courtesy of Kate Jackson. Kate Jackson copyright 2010.
Aileen began her formal music education in voice in the mountains of West Ireland at the age of eleven. She then earned a vocal scholarship to attend the University of South Carolina. Later, while living in Charleston, she absorbed and interpreted the new sounds and styles of music around her, in a fashion that has continuously marked her musical career.
Aileen went on to teach herself the guitar and to write music and perform with bluegrass artist Seth Morrison. She has studied with renowned jazz guitarist Bucky Pizzarelli and record with Southern folk phenomenon Frank Carlier. I find the songs from this early period in her songwriting astounding, often epic works of emotion that demonstrate an innate ability to communicate ideas and feelings through song. Most recently, she has performed with Edie Carey and Melissa Ferrick, and is currently recording with award winning producer and composer Michael Whalen.
Her music may be described as pop, folk, blues, or rock - but behind the inevitable labels there is a music distinctly her own that is formed by her own experiences.
Orphans International has just opened our first project specifically to match music and children - OIWW Madagascar (story). I warmly welcome Aileen Morgan -- thought leader and global citizen -- to become involved with bettering the lives of our beautiful children in Haiti!
SUBSCRIBE AND FOLLOW
Get top stories and blog posts emailed to me each day. Newsletters may offer personalized content or advertisements.
Learn more