I first heard about the Adaptive Design Association (ADA) over dinner from a friend of a friend -- the best way to learn of things in New York City. She told me about an acquaintance who founded an organization that helps children with special physical needs "adapt" to ordinary home and classroom situations using "green" technology -- cardboard constructions -- and, in the process, employing women leaving prison or other "at risk" settings, providing valuable job skills for an amazingly good cause.
ADA is beginning to work with Tangible Symbol Cue production for child communication.
Photo courtesy of Adaptive Design Association.
As the originator of a network of global orphan care focused on treating our kids like everyone else, I could relate. No kid should be forced to feel different. And doing it with the environment and job training as key elements -- I had to investigate!
A few weeks later, I met the two women who have been taking the vision of Adaptive Design Association to new and increasingly inventive levels since 1998, Alex Truesdell and Antoinette LaSorsa. Located just north of Macy's in Midtown Manhattan, ADA's cheerful storefront window immediately engages the passer-by with its colorful cardboard chairs and other equipment of varying shapes and sizes. Once inside, photographs tell the amazing story of how ADA engages families, schools and communities in the process of designing and building inventive devices and modifications that allow kids with disabilities (often profound) to be at home in their worlds.

Director Alex Truesdell wants to level the playing field for children from the Bronx to Bhutan.
Photo courtesy of Adaptive Design Association.
Upstairs, Antoinette showed me around the busy workshop where the designs come to life. It hums with activity -- cutting, shaping, assembling, painting cardboard and other simple and readily available materials -- finished products with a mission. I met the ADA administrative team as well -- every organization should have such wonderful and dedicated people!
I learned that ADA also provides fabrication training to students in Occupational and Physical Therapy and has developed a curriculum for K-12 students teaching problem-solving skills and sensitivity to individual differences and needs.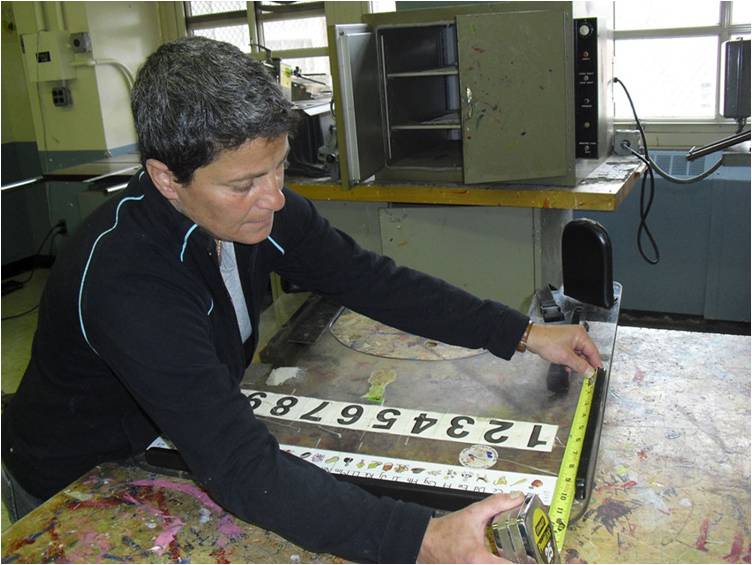 Managing Director Antoinette LaSorsa has been with Adaptive Design since inception.
Photo courtesy of Adaptive Design Association.
Alex reminds me that ADA's collaborative goal is also a simple one that aims to help kids from birth to 12 years old, with any kind of disability achieve their full developmental, social, and academic potential, in conjunction with those who relate to them everyday. "We envision a day when customized equipment is being produced quickly, affordably, and locally because adaptive-design services are widely recognized as an indispensable resource for children and all people with disabilities," Alex told me.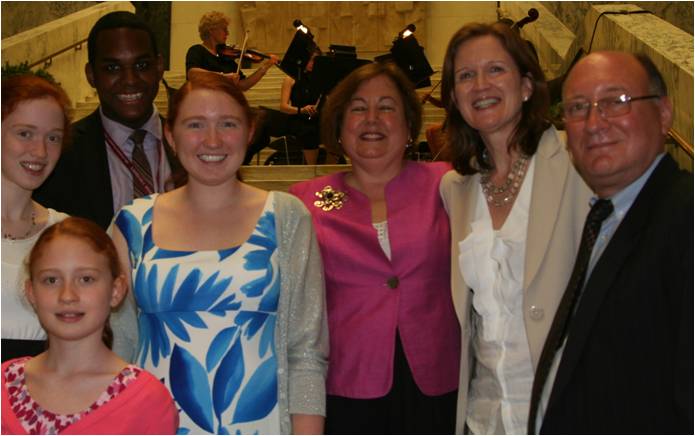 ADA honored State Senator Liz Krueger, middle, for her passionate support of kids.
Photo courtesy of the Office of State Senator Liz Krueger.
ADA believes that no one should go without customized equipment. Whether the equipment is a stroller seat insert for an infant with cerebral palsy, an adapted toothbrush handle for a woman with paralyzed hands, or a tactile communication board for an adolescent who is deaf-blind, the benefits are extraordinary for the recipient and for the team of individuals who create, design, and build the equipment.
Alex, ADA's founding director, is a true thought leader and global citizen. ADA grew from her vision as founder and coordinator of the Assistive Device Center at the internationally recognized Perkins School for the Blind in Watertown, Massachusetts. She has taught hundreds of adaptive design courses over the past 25 years and has trained educators, therapists and parents around the globe. She holds Master's degrees in Teaching the Visually Impaired and Curriculum Development and co-authored the book Creative Constructions about adaptive technologies that are accessible, affordable and inclusive.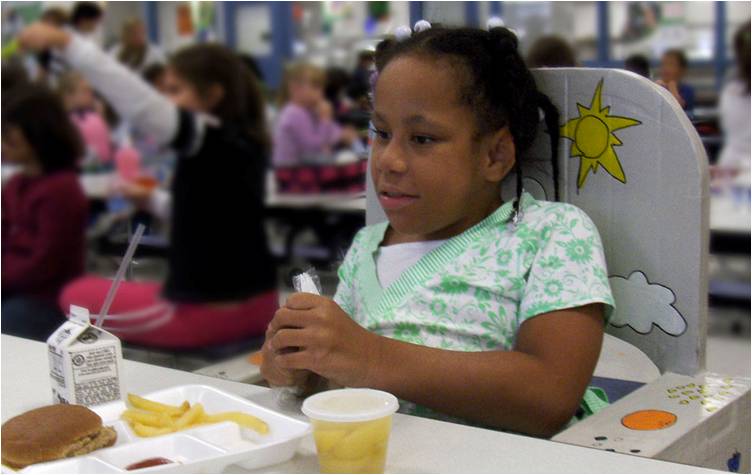 The cafeteria adaptation for Raven, a child without fully developed legs, provides the support
and height she needs for eating and socializing, and it fits over any bench in the lunchroom.
Photo courtesy of Adaptive Design Association.
A 1996 fellowship from Partners of the Americas and the W.K. Kellogg Foundation allowed her to further her vision. "The goal is simple, but the need is great and growing," Alex observed as she described her teaching sojourns to Argentina in 1995, 1997 and 2010. Her hands-on classes have led to adaptive devices such as a rocking boat made from a divided olive barrel that remained in use for many years. She wants to see adaptive-design workshops established and flourishing in schools, agencies and communities across the nation and around the world.
Although ADA serves children of all ethnicities and income levels in all five New York City boroughs, Alex wants to expand the leveled playing field for children from New York to Bhutan to Buenos Aries. Currently scheduled are training and teaching ventures at Ryerson University in Toronto, FUNDAL in Guatemala sponsored by the Perkins School, and in Ecuador and Nicaragua sponsored by other groups with a global vision.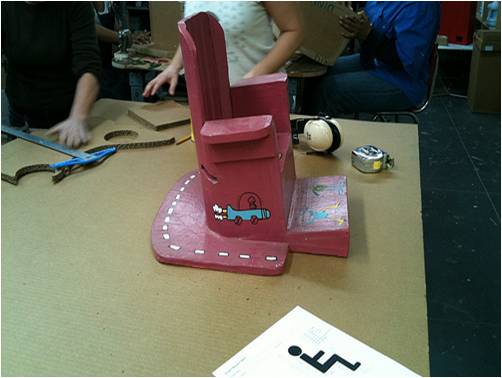 Adaptive Design takes common sense designs and builds them into reality for children.
Photo courtesy of Adaptive Design Association.
A recent return trip to Argentina led to expanded classes and a local adaptive design workshop, sponsored by an ADA micro-grant of $400 to purchase tools and do basic volunteer training. Alex emphasizes that the challenges are great, but the rewards incalculable.
Kit Frank, an Occupational Therapist from Ithaca, and her husband Bob have been sharing their expertise in prosthetics and seating in the Imbabura Province of Ecuador over the last 20 years. Kit writes:
In our prosthetics and orthotics workshop in Ibarra I made several seats and a standing table for kids. When I started with my cardboard, glue, and knife, I got a lot of doubtful looks and comments, especially from our machinist/technician. He begged me to let him do it right.
On one seat, I did let him make it out of wood and metal. It took a long time, was more costly, and eventually was not used because it was too hard. Over time, I got amazement and respect.
Also, I did not have to rely on the guys "letting" me use their power tools. After a few successes, the machinist started to study the details and to help me out. We have a lot of patients and their families in the clinic waiting for their legs and arms to be ready, and many like to decorate the equipment.
Occupational Therapist Kit Frank from Ithaca has been volunteering in Ecuador. She has
taken what she learned at ADA and applies it to her work in Ecuador, as shown here.
Photo courtesy of Adaptive Design Association.
I came away inspired and excited. Needs and ideas have no limits. Adaptive Design Association is making heroic and creative efforts to meet these needs despite daunting logistical and funding challenges. Children with disabilities the world over need specialized equipment -- items that make it possible to leave home, get an education, pursue a meaningful career and participate fully in everyday family and social life.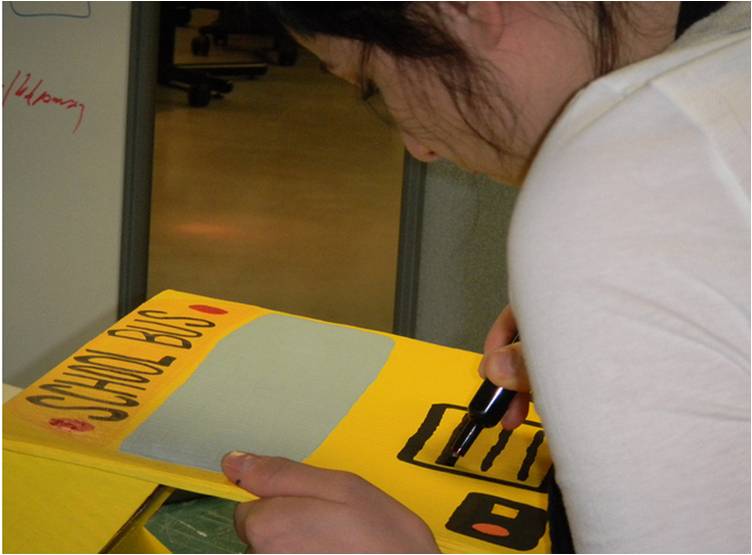 What appeals to me most is the fun personalization possible with the adaptive furnishings.
Photo courtesy of Adaptive Design Association.
I see this on every trip to Haiti. With hand-tools, materials costing almost nothing, basic skills training and creativity, family members, school staff and community volunteers anywhere can learn to build child-specific adaptations. ADA's potential to meet these needs is evident. This is cost-effective technology with a big heart in service of the highest ideals.
As the founder of Orphans International Worldwide (OIWW) in 1999, and in the process of founding the International University Center Haiti, I think there may be ways I could help create a branch of Adaptive Design in Haiti. I know first-hand how bad the plight for the majority of disabled children in Haiti. In Haiti, being physically disabled almost always means being shut up the rest of your life as there are no sidewalks, no ramps and very few programs.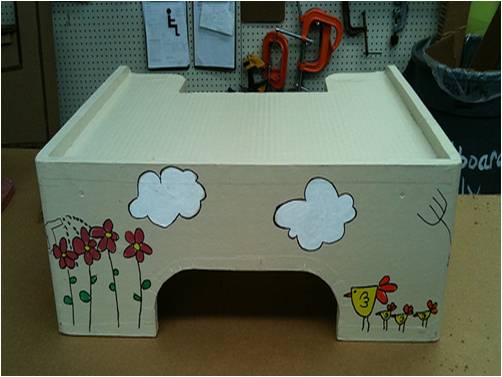 The childhood of a differently-abled child may be transformed by one piece of adaptive design.
Photo courtesy of Adaptive Design Association.
In regards to Haiti, Alex told me:
If we can find decent quality corrugated in Haiti it would, without doubt, be a hugely successful and wonderful project -- to create much-needed products for everyday life, hands-on (real shop class) for schools and community centers, and concurrently, building user-specific adaptations for children (and adults) with disabilities.
Thinking about it, I realize the Amercian Embassy in Port-au-Prince must throw out massive amounts of boxes that could be used, and that one of my tasks is to help set up a vocational school to train Haitian high school students how to make a living. If we could combine such elements with the obvious needs present in post-earthquake Haiti, we could make an enormous impact for little money. I know Alex has committed her life to making a difference in the lives of children. I can only do my best to play a role in helping this organization and its thought leader expand their reach and services.
SUBSCRIBE TO & FOLLOW TRUMP'S FIRST 100 DAYS
How will Donald Trump's first 100 days impact YOU? Subscribe, choose the community that you most identify with or want to learn more about and we'll send you the news that matters most once a week throughout Trump's first 100 days in office. Learn more