The latest offering from the Annabella Gonzalez Dance Troup (AGDT), Juntos ('United'), was triumphant. I was particularly impressed with the strength of the troupe's male performers.
Despite a rainy weekend, the packed audiences were rewarded for their soggy efforts by the spectacularly hot performances.
In the words of two international audience members:
"I had the opportunity to see Annabella's dancers preview during her 2009 fundraiser, the dancers tell a thousand stories through movements; graceful, intense and captivating!" - John Lee

"Annabella constantly pushes herself and her dancers to the limits. Always very contemporary, and narrative, almost poetic at the same time. Her performances are getting better and better every season, also due to a more technically trained group of dancers." - Giovanna Federico
The first pieces was entitled Encuentros (Encounters; 2008). Danced by Marcos Emanuel de Jesus, Jorge Fuentes, and Eric Vlach with the musical piece Transformations No. 3 by Max Lifchitz with marimba played by Frank Cassara.
"The Passage" included (l-r) dancers Eric Vlach, Jorge Fuentes, Heather Panikkar,
Lucia Campoy, and Marcos de Jesus. Photo: Richard Grimm.
This stark, animated set was particularly physical. With human elements of cruising, fighting, embracing, there was a balance and fluidity present I found both intense and incredible.
At times flying like angels, the dancers of this choreographed romance portrayed a chain of human relationships. Two-somes followed by three-somes, breaking down to two-somes, and then single dancers once again.
Beautifully choreographed, this piece was unlike anything I have ever seen before. Humorous and amorous, it exhibited perfect specimens of the human body, male and female.
Encuentros (Encounters) ending with the dancers - humanity - collapsed in exhaustion but in embrace.
I spoke to one of the dancers, Eric, after the performance. Originally from Portland, Oregon, Eric moved to New York City to pursue dance at N.Y.U.'s Tisch School of the Arts, graduating with a B.F.A. in 2005.
Since then, Eric has performed across the country, appearing as a guest artist with the Portland Festival Ballet in Oregon, Jerboa Dance in Seattle, and Benjamin Briones Ballet in N.Y.C. In addition to AGDT, Eric can be seen this season dancing with Lydia Johnson Dance and with the Eglevsky Ballet. Eric joined AGDT on tour in Mexico last year. Eric explained:
I did not like history or math or science in high school - I liked dancing. So I went to the public arts high school and learned dance. I enjoy using my body to work, and feel that I have had a thorough education through dancing.
Composer Max Lifchitz, born in Mexico City, has resided in New York since 1966. A graduate from Juilliard and Harvard, Max is the Founder and Director of North/South Consonance, Inc., an organization devoted to the performance and promotion of music from the Americas.
Max has appeared as pianist and composer throughout Latin America, Europe, and the U.S. His performances and compositions may be heard on more than 50 compact disc albums released by the North/South Recordings label. Max has collaborated with AGDT for a number of years.
The second piece, Chrome Waters 2, was its premiere. It was danced by Lucia Campoy and Jorge Fuentes to Franz Schubert's German Dances.
This graceful, farcical, original dance was both stylized and erotic. Beautifully executed and precise, with much embracing, the dance will be performed for years to come. Costumes for Chrome Waters 2 were designed by Benjamin Briones.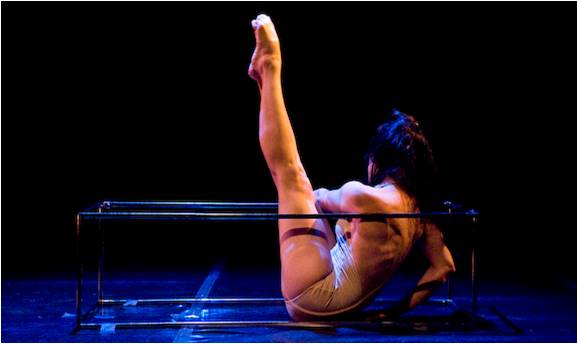 Chrome Waters 2. Dancer: Lucia Campoy. Photo: Rachel Neville.
Dancer Jorge Fuentes, a native of Tamaulipas, Mexico, attended Booker Washington High School for the Performing and Visual Arts. He received honorable mention in choreography -- folklorico and modern -- from the National Foundation for the Advancement in the Arts.
Since graduating, Jorge has performed as a guest dancer throughout the U.S. He lives in N.Y.C. and has danced for the New York Baroque Dance Society, Calpulli Danza Mexicana, and Akjun Ballet Theatre. This was his AGDT Spring Series debut.
Jorge spoke to me after the performance:
Since I was a child, all that I have had to share with others is my ability to dance. Dance for me is an escape, but instead of leaving with it, I attempt to share it with others.
The third piece, Liebes Tanz (Love Dance; 1992), was performed to the music of Beethoven's Ich Liebe Dich and Adelaide, as sung by Peter Schreier and played by Matthew Shetler. Dancers for this piece were Lucia Campoy, Marcos Emanuel de Jesus, Heather Panikkar, and Eric Vlach.
I found Liebes Tanz to be more classical, yet simultaneously avant-garde. With intensely colorful and interesting costumes by Akosua, the piece was playful yet intense.
The dance reflected universal themes of human bonding, very German - and perfectly synchronized.
Lucia Campoy has danced with AGDT since 2005. She is from Spain, where she started to dance at the age of eight and earned her Diploma at the Conservatorio Superior de Arte Dramatico y Danza.
In New York, her dancing has developed greatly working with BYA, Lonne Moreton, Val Loukiano, Ursula Verduzco, Benjamin Briones, Metropolitan Repertory Ballet, and the Northern Ballet Theater.
I spoke with Lucia about the importance of dance in her life:
I just know dancing - it is my first love. My husband says that he comes second. I could not live if I could not dance. We have been working together as a troupe for several years now and we have matured. We put a lot of enthusiasm and hard work into our performances.
Dancer Heather Panikkar currently performs and teaches in New York City and has toured nationally and internationally. She has performed works under the direction of Chet Walker, Derik Grant, Charles Moulten, Rhonda Miller, and J.T. Jenkins.
Heather's other credits include Carousel, Rigoletta, Giselle, Hansel and Gretel, The Little Mermaid, The Nutcracker, Norwegian Cruise and Texas the Musical. Companies include The Illinois Ballet, Notes in Motion, Steps Ensemble, and Kimberling Dance. She joined AGDT in 2005.
The fourth dance, Blue Ink, was also a premiere by choreographer Maxine Steinman. Danced by Heather Panikkar and Zalman Raffael to the music Waxoff, Earopener ll, and Softness by the group Jogujo Circuit as played by Joakim Froystein, Gunner Halle, and Jon Meinild.
Choreographer Maxine Steinman has danced with Eleo Pomare, Denishawn Repertory Dancers, Mafata Dance Company, Robin Becker, Regina Larkin, Sue Bernhard, and with the Jose Limon Dance Company in the Limon Initiative Nurturing Kids
Maxine has taught, choreographed and performed her work in Taiwan, Brazil, Mexico, Spain, Japan, and Cyprus, and presented it in the tri-state New York area and at the 2006 92nd Street Y Harkness Dance Festival at the Ailey Citigroup Theater.
Maxine teaches at the Limon Institute, Ailey School, Montclair State University, Hofstra University, and Marymount Manhattan College. She has a B.F.A. from Adelphi University and an M.A. from Columbia University Teachers College.
This modern, Latin, and feline movement spoke to me of issues of control, as well as the tensions between love and hate. With occasional robotic disco movements followed by jazz elements, the piece struck me as both provocative and intellectual.
Guest Dancer Zalman Raffael of New York spent his early days training at the School of American Ballet. Upon completing his time spent at the School, he was asked to come and dance for the Carolina Ballet under the direction of Robert Weiss. Zalman worked for Carolina Ballet for the next three years. This was his first performance with AGDT.
The fifth dance, Cantare (I will sing; 2009) was danced solo by Marcos Emanuel De Jesus to his own beautiful music, entitled Cantare mi Bomba and performed by Guagua Electrica.
This Spanish solo performance was full of meringue movements and was a cross between ballet and balable. Marcos is incredibly talented. The dance was both folk and futuristic bomba. Truly wonderful. This was dancer and musician Marcos Emanuel de Jesus' third season with AGDT.
Marcos studied at the University of Wisconsin-Milwaukee, the Ailey School, La Escuela de Bomba y Plena Don Rafael Cepeda in Villa Palmeras in Puerto Rico, as well as at the Martha Graham School under scholarship. Credits include Errol Grimes Dance Group, Neville Dance, NDT Arts, and Foothold Dance.
Marcos spoke with me following the show:
I grew up in an artistic family and form an early age had exposure to all forms of artistic expression - except dance. My parents enrolled my sister in dance lessons, but not me. I began to dance at 19, and became comfortable with myself and started serious dance lessons at 21. The semester I spent in Puerto Rico studying Afro-Caribbean music and movement greatly influenced my piece tonight.
The sixth piece, Exit (1980) continued the existentialist human themes of the evening. Danced by the troupe's founder, Annabella Gonzalez, to music played on pre-Columbian Mexican instruments.
It was riveting. A single hand -- hers -- extends out of a lumpy sack center stage. The hand, spot lit, is the center of attention and riveting. Eventually, kabuki-like, the prima dama of modern Latin ballet in New York emerges.
Exhibiting humanity stuck in place, a reflection of our lives, this existentialist piece suggested that there is no escape and yet a quiet, human dignity despite all obstacles. In this, the piece spoke to me of the suffering of the Haitian people, down but not out, triumphant over nature.
Given the driving rain outside and the coming of spring, I also imagined bulbs deep in the cold earth about to burst forward in new life. Humanity triumphant over death. Easter. Passover.
The last dance, The Passage, was yet another premiere. The piece featured dancers Lucia Campoy, Marcos Emanuel de Jesus, Jorge Fuentes, Heather Panikkar, and Eric Vlach, with costumes by Ursula Verduzco.
Cutting Loose, a concerto for trumpet, percussion and string by Stefania de Kenessey conducted by Richard Auldon Clark with Chris Gekker on trumpet, performed by the Manhattan Chamber Orchestra, was chosen for music.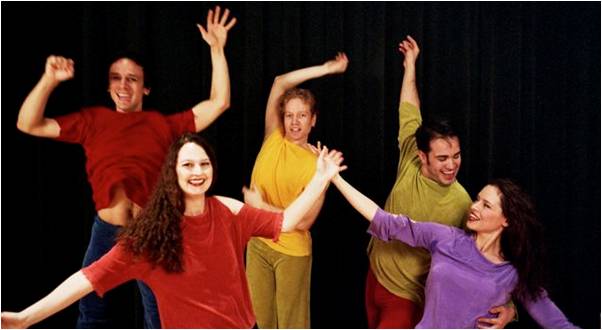 Juntos featured the premiere of "The Passage," composed by Stefania de Kenessey.
Composer Stefania de Kenessey is a leading figure in the revival of neoclassicism. Her CD Shades of Light, Shades of Dark received rave reviews as "fully worthy to share a program or disc with the masterpieces by Mozart or Brahms" (Fanfare).
This premiere of The Passage, a setting of her concerto Cutting Loose, continues a happy series of collaborations with the composer working with choreographer Annabella Gonzalez and AGDT.
The Annabella Gonzalez Dance Theater, now in its 33rd year, now has a multi-style repertoire of over 65 abstract, theatrical, and comedic dances with classical American and European, nature sounds, and Mexican pre-Columbian music.
Critically acclaimed by major newspapers, AGDT has performed and taught for scores of thousands nationally, appeared on stages such as the Brooklyn Academy of Music and Carnegie Hall, and performed in prestigious festivals including Joseph Papp's Latin Festival in New York and Lincoln Center Out-of-Doors.
It led a U.S. State Department seminar in the Dominican Republic and offers educational programs under the New York City Public Library and independently on styles ranging from traditional Mexican dance to choreography.
Juntos was supported, in part, by public funds from the New York City Department of Cultural Affairs and by public funds from the Fund for Creative Communities, supported by the New York State Council on the Arts, and administered by the Lower Manhattan Cultural Council. Additional support was provided by Mayab Happy Tacos and other anonymous patrons.
Lighting Designer Philippe Bachy, a native of Paris, has traveled the world working with renowned artists such as Alabina & Ishtar, Enrico Macias, and Calvin Russell. Since moving to New York, he has worked on countless shows with many artists, at venues such as the Beacon Theater, Hammerstein Ballroom, and Madison Square Garden, to name a few. He is also the resident L.D. and Technical Director at the Manhattan Movement and Arts Center, and the Manhattan Youth Ballet.
Founder, Director, Dancer Annabella Gonzalez was born in Mexico City, performed with Atelier de Danse in Geneva, and co-directed The New Choreographers Ensemble in New York before launching AGDT.
She studied ballet with Vladimir Dokoudovsky and Dick Andros, modern dance with Bertram Ross, music with Ted Dalbotten, and acting at HB Studio. She has choreographed for theater companies and lectures nationally on traditional Mexican dance and masks.
Annabella holds a B.A. in Art History from the University of Minnesota, language degrees from the University of Geneva, and an M.A. in Dance Education from Columbia University Teachers College where she has taught Traditional Mexican Dance.
I founded Orphans International Worldwide (OIWW) ten years ago to raise orphaned children as global citizens. I have insisted that our children around the world be given cultural opportunities, including dance, to inspire them to become well-rounded.
It is because the Arts are so important that Annabella Gonzalez was recently presented one of the 100 Global Citizenship Awards for Helping Humanity by Orphans International Worldwide.
In the world of modern Latin dance she is a true and internationally respected Thought Leader and Global Citizen.
SUBSCRIBE AND FOLLOW
Get top stories and blog posts emailed to me each day. Newsletters may offer personalized content or advertisements.
Learn more