The just-launched Jim Luce Stewardship Report has just endorsed its first two candidates for the New York State Assembly -- and is throwing a party to celebrate their upcoming victories at the gallery of hip-hop mogul Damon Dash's Tribeca Gallery at 172 Duane Street in New York City. These candidates share something in common: progressive Democrats who are both lawyers dedicated to helping humanity.
The candidates, whom I have covered for years, are Jeremiah Frei-Pearson and Bryan Pu-Folkes, running for the New York State Assembly Districts 36 and 39. This is essentially Western Queens (Woodside, Sunnyside, Astoria, Long Island City) for Jeremiah, and Central Queens (Jackson Heights, Corona, Elmhurst) for Bryan. This is their only joint campaign event in Manhattan.
The Stewardship Report Endorsement party will be at the Damon Dash Gallery in Tribeca.
I have written about both Jeremiah (NYC Lawyer, Humanitarian) and Bryan (Jackson Heights Festival). John Lee, a partner of The Stewardship Report, states, "We know Jeremiah and Bryan for years and believe they have what it takes to clean up Albany, bring same-sex marriage to New York State, and represent the best of humanity in the New York State Assembly."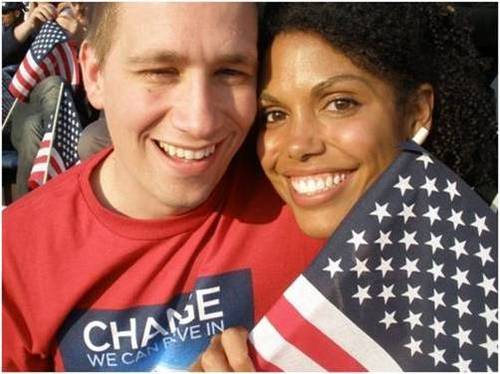 Jeremiah is a civil rights lawyer who lives in Queens with his wife, Karla Mosley.
Jeremiah is a civil rights lawyer who lives in Queens with his wife, Karla Mosley, and their two cats, Scooby and Scrappy. Jeremiah has lived in Astoria since graduating from law school. His father has lived in Queens for more than a decade, and Jeremiah spent part of his childhood there. His commitment to serving Queens -- and his perspectives on how best to do so -- grow from his roots and his experiences as an active participant in the life and politics of the community.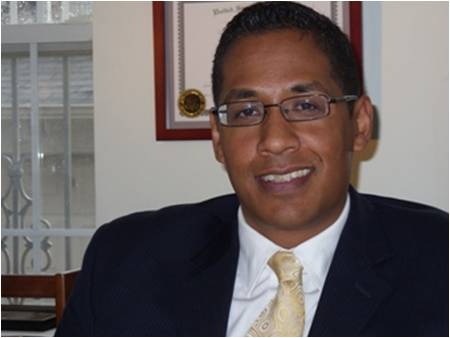 I have known Bryan Pu-Folkes for years and believe him to be as good as they get.
Bryan's background is in organizing working class people to receive the rights, respect and services that all need and deserve. He is an attorney and law partner specializing in immigration law and has fought hard to help hundreds of immigrants receive lawful status so that their families can remain together in the United States.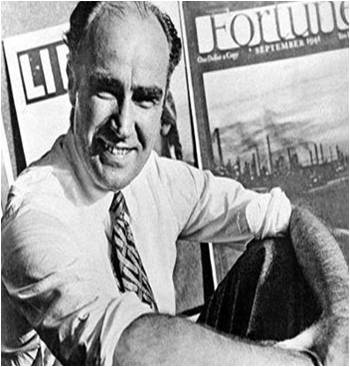 Time-Life founder Harry Luce was a tad more conservative than I am.
I realize that as the new side of the Luce family, though new media such as The Jim Luce Stewardship Report, I am quite different from Harry Luce and Time-Life. He was a "Rockefeller Republican" - socially liberal but fiscally conservative. I myself am a Progressive Democrat and therefore endorse two men I have known and admired for years, my friends Jeremiah Frei-Pearson and Bryan Pu-Folkes.
I have only recently met Damon Dash. Born and raised in Harlem, this music producer and executive founded both Dash Entertainment and the Roc-A-Fella record label in partnership with Kareem "Biggs" Burke, Jay-Z, and Def Jam Records. Bucking a hip-hop trend, I understand Damon has attempted not to glorify urban sex and violence.
Our endorsement event is set for Thursday, April 29, from 7 to 9pm, at the Damon Dash Gallery at 172 Duane Street in Tribeca, New York City. There is a $50 suggested contribution which will be divided between the two campaigns.
Other Political Stories by Jim Luce:

U.S. Congresmember Maloney on Abhorrent Anti-Gay Legislation in Uganda (HuffPo)

Mark Green Runs Again - and Will Win (Daily Kos)

Micah Kellner: Harvey Milk Lives -- in Albany (HuffPo)

My Favorite Member of Congress: U.S. Rep. Carolyn B. Maloney (HuffPo)

Recalling Jan. 19, 2007 - When I Endorsed Barack Obama (Blogspot)

Let's Say Thank You to NYC Councilmember Jessica Lappin! (Blogspot)

Bob Zuckerman: Saving Small Businesses, The Brooklyn Way (HuffPo)

Pressing the Flesh with Politicians of all Stripes (Blogspot) .
Special thanks to Morgan Freeman of The Stewardship Report for his assistance in creating our first endorsement event - one of many to follow.