Haitian artist and writer Franketienne has been designated UNESCO Artist for Peace.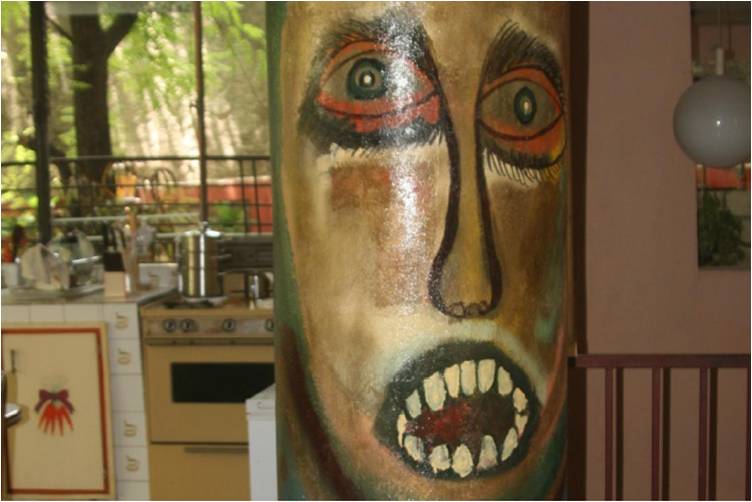 Haunting imagery, surrounded often in red and blue, adorns the walls of his home.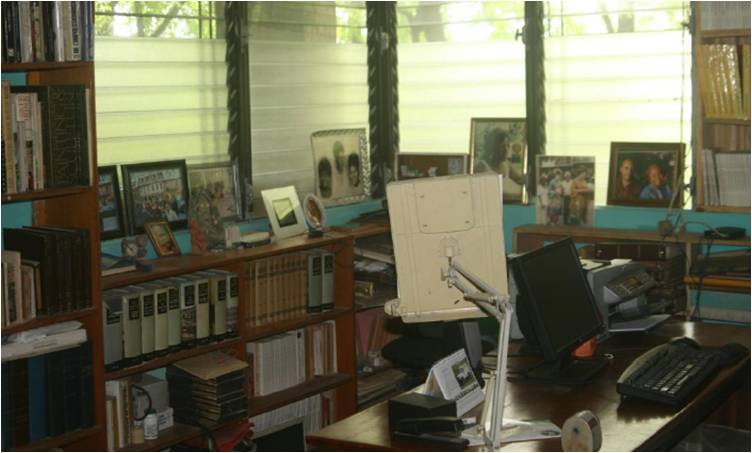 Inside the master's study, although he writes in a tiny space in a small bedroom.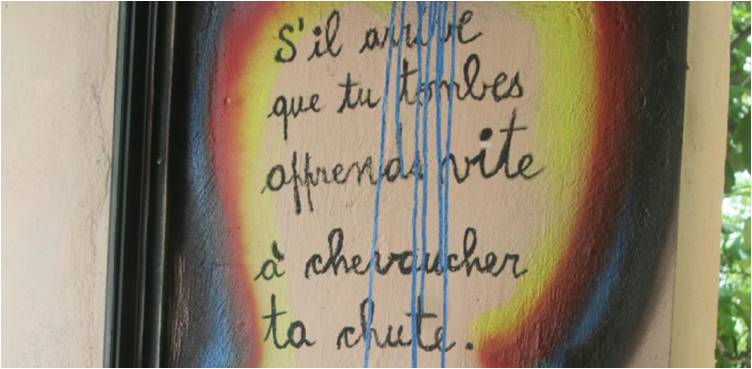 The author has painted or otherwise decorated every remaining surface in his home.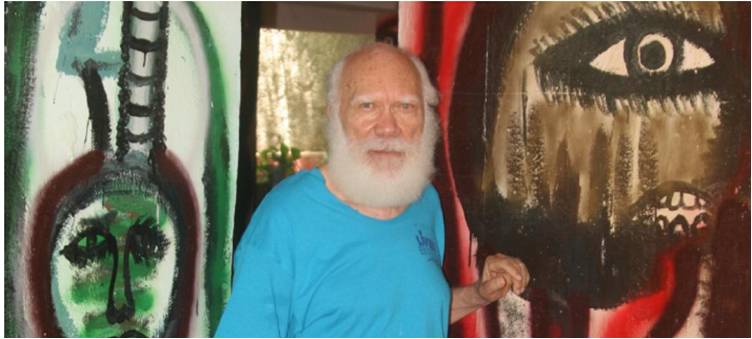 Transplanting into theatrical language the phantasmatic world of the artist living under the Duvalier regime, the poet/actor has produced an apocalyptic scenario where deformed creatures and power-hungry voices taunt the playwright and drive him mad, evoking an encounter with Death - the Baron Samedi, a spirit of the Vodou pantheon. Like the gangs of "good for nothings who roam the streets of Port-au-Prince." Evil spirits - the "Gran makout" - take control of the torturer, the sadistic and uncultured, and sexually-ravenous brute who wants to silence the artist.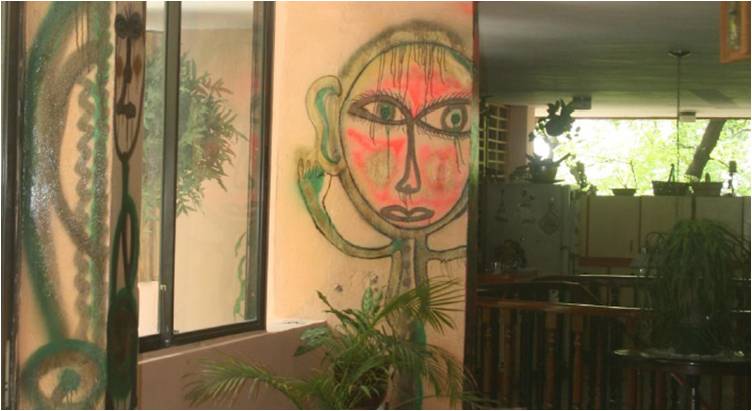 With much spitting and swearing, the actor playing the sex-crazed tyrant spreads his legs, not only to show the power in his muscular appendages, but also to show that he has enormous and powerful "balls" (grennplen), and as he spews out long lists of expressions indicating male genitals, he simultaneously swells out his chest, swivels his hips and moves forward making rhythmic motions imitating sexual thrusting (kouutfoul) as he taunts the artist who is the "un-masculine" figure with the squashed balls, he who is effeminate and fragile and overpowered by other men.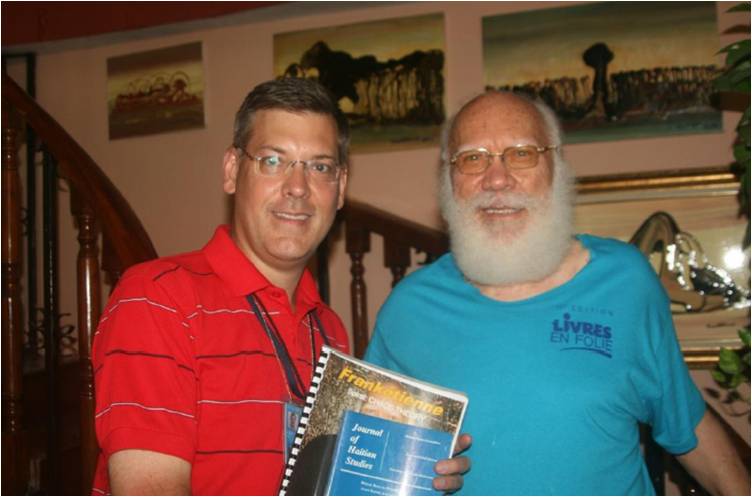 An introduction to Franketienne, I feel, may lead to a lifetime odyssey to understand.
Not long after meeting you at the Brooklyn Public Library, before Franketienne's recent performance of Melovivi, I discovered you were the "connecting goodness" man. I was delighted to learn that you are the son of Stanford Luce, whom I had met through our mutual research on the work of Louis-Ferdinand Celine, another writer of explosive and highly inventive language; Franketienne is one of the few, in French language today who gives such life to the language, with energetic explosions of assonant, colorful neologisms.
Once I had decided to work on Franketienne for my thesis, what initially interested me in his work was his use of Vodou as an aesthetic system. What I mean by that is that at least my first association with Vodou was as a religion. In academic disciplines, Vodou is often studied in the fields of anthropology or religious studies. As someone who loves literature, my interest in Vodou grew out of Franketienne's treatment of it as an aesthetic.

Right now, I am working with the conferences that Andre Breton gave when he spent time in Haiti in 1945-1946. Breton sees affinities between Vodou and Surrealism--and where Franketienne puts an accent on the aesthetics of Vodou, Breton talks about the "secular ideals" of "rapprochement" between peoples; he sees Vodou and Surrealism as forms that give way to "liberty and affirmation of dignity."

It's been over sixty years since Breton's visit to Haiti--and Surrealism is no longer the "movement" that it had been in the earlier part of the century, yet that said, in reading Breton's conferences immediately after seeing Franketienne read and perform in New York, I was reminded of Franketienne's own words: his emphasis on the role of the youth and the importance of aligning the material reality of modern society with a respect and awareness of the human condition.

One of the lines that I've heard Franketienne repeat over and over, and we even heard a version of it today, is "S'il arrive que tu tombes relève-toi vite, il faut savoir tomber pour apprendre à se relever. Et même s'il advient que tombes souvent, evertue-toi à chevaucher ta chute" -- "If it happens that you fall, get back up quickly, you must know how to fall in order to stand back up. And even if you fall often, try your best to sidestep your own fall."

In the 2005 version of Fleurs d'insomnie--Flowers of Insomnia, Franketienne writes: "Nous escaladons d'audace les risques majeurs, les perils secrets soutenus par les piliers du silence" -- "We scale with audacity, the major risks, the secret perils sustained by pillars of silence [...]."

It is Franketienne's audacity in his writing - his charming ability to calmly bring his interlocutor into his initially terrifying world, it is an audacity to imbue the material, whether it be his poetry, his painting or his theatre, with a sense of the urgency of humanity - which makes him such an incredible writer and persona.
Melovivi or The Trap is a play which was written almost two months before the earthquake struck Haiti. It's an almost spookily premonitory play, and it ties in with what has always been a crucial strand of Franketienne's writing: his focus on natural disaster in Haiti. Environmental disaster has been a constant theme of his work which highlights the ever-worsening environmental situation.

In this play, as in all of Franketienne's work, the landscape/the environment are represented as a dystopian, desecrated, and nightmarish apocalypse. Natural forces, such as hurricanes, landslides, and floods are always depicted as ferociously attacking the Haitian people, as wreaking destruction on Haiti.

This widespread degradation is made particularly prominent in this play by the plethora of strings of words which all mean the same thing. Cumulatively, this pleonasm builds up an impression of complete and utter destruction, for example, different words for 'rubbish' are accumulated. Everything is described here as being awash with mud, filth, and excrement, and so repetition of similar words make the piles of rubbish grow even higher.

There are no specific references in this play to a particular natural disaster -- it could refer to any of them. It's also appropriate that the speakers remain anonymous (designated only here as "Speaker A" and "Speaker B") because they represent the nameless and faceless who die every year when Haiti is hit harder than other Caribbean islands by natural disasters.
SUBSCRIBE AND FOLLOW
Get top stories and blog posts emailed to me each day. Newsletters may offer personalized content or advertisements.
Learn more