The PIKADON project event featured a was live feed between Hiroshima,
Tokyo and New York. Photo courtesy of Keiko Tsuyama.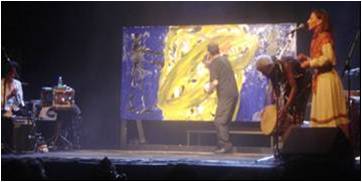 Seitaro Kuroda's signature event "Live Painting" has been featured by international media
and is the subject of the film "White Light/ Black Rain" directed by Steven Okazaki.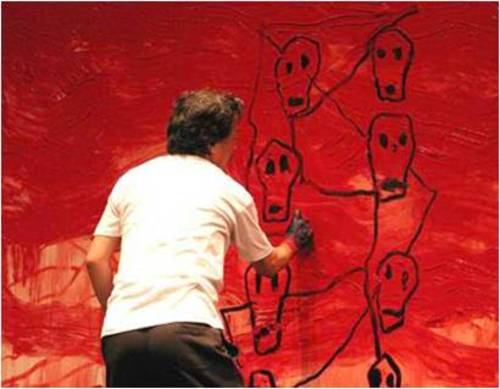 Seitaro Kuroda is probably Japan's most famous illustrator.
His drawings appear in scores of Japanese books and magazines.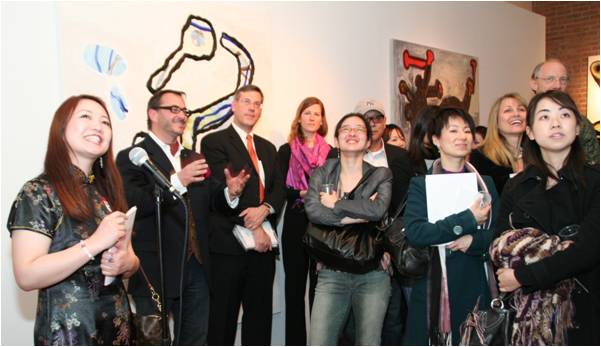 The PIKADON event in New York was connected live to Tokyo and Hiroshima.
Photo courtesy of Keiko Tsuyama.
Reciting from an art book illustrated by Kuroda-san on the
Hiroshima-Nagasaki Protocol. Photo courtesy Keiko Tsuyama.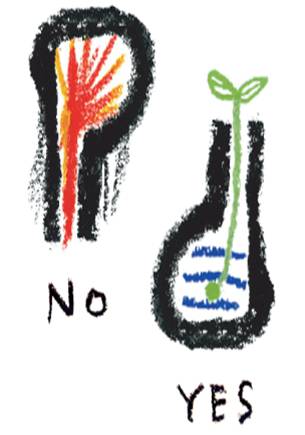 Kuroda-san feels poignancy in the contrast between his own nescient development in those six years to that of nuclear weaponry- a force with the power to destroy the entire planet. When smoke darkened the Manhattan skies on September 11th, 2001, it reawakened Mr. Kuroda's memories of the nuclear blasts. Since then, he has increasingly focused his attention on promoting awareness in issues of nuclear disarmament and world peace. Similar to the visionary architect-designer Buckminster Fuller's call for society to move from "weaponry" to "living-ry," Kuroda-san urges us to turn upside down the "mushroom cloud," a symbol of nuclear destruction, and turn it into a vessel that nurtures life. The project was conceived in 2004 in Japan ahead of the 60th anniversary of the atomic bombings, featuring artwork by Mr. Kuroda, a celebrated illustrator whose trademark mushroom cloud is unique because it features two depictions -- the familiar black one of destruction and an inverse of the image. It was only after living through the terrorist attacks on the World Trade Center's twin towers in New York on Sept. 11, 2001, and watching the black smoke billowing over the buildings that he had a revelation. He came to realize that the black smoke was just like the mushroom cloud. Sometime later, however, he thought about how the image in reverse could be seen as a vessel from which life sprouts forth.

Mr. Kuroda has been very helpful to the organization I founded,
Orphans International Worldwide
. We have one of his paintings for sale to help the orphaned children of Haiti. It is because of his determination to better our world, Orphans International Worldwide is acknowledging Mr. Kuroda efforts by presenting him with our 2010 Global Citizenship Award For Leadership In Helping Humanity at a
benefit
for Haitian orphans on Sunday, Feb. 28, at historic Webster Hall in New York's East Village.
For more information about PIKADON, contact Mr. Taku Nishimae.

Related Stories by Jim Luce

2,870 Mayors for Peace: Does Yours Belong? (Huffington Post)

Keiko Tsuyama: Japanese Woman of the World (Huffington Post)

Meet the Alliance for Peacebuilding's Thought Leader Chic Dambach (Daily Kos)

Rotary International Addresses Root Causes of Conflict and War (Huffington Post)

Spectacular Chinese Performance at World Peace Gala in Chicago (Huffington Post)
FOLLOW HUFFPOST