Mayors for Peace, headed by the Mayor of Hiroshima, Tadatoshi Akiba, got a boost this week during the five-yearly review of the Nuclear Non-Proliferation Treaty (NPT) at the United Nations. Hosted by John and Margo Catsimatidis in their beautiful Fifth Avenue home, Michael Douglas and Yoko Ono Lennon joined their voices to the global call for nuclear disarmament by 2020.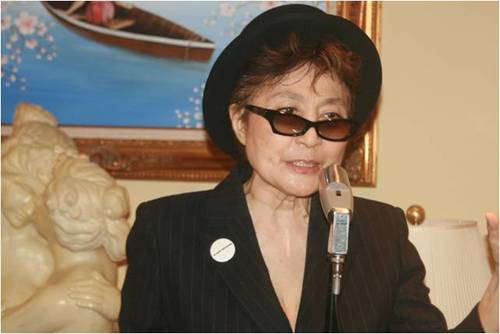 Yoko Ono Lennon has helped Mayors for Peace since 2004, including speaking at the U.N.
Michael Douglas, a U.N. Messenger of Peace, told me, "I am a long supporter if nuclear disarmament in general. This has been my issue for 40 years. I was born in 1944, before the first explosion happened. Year later, in school, I was told that if there was a bright, white flash to crawl under the desk. My ancestral home in Belarus is no longer there as it was downwind from Chernobyl. The issue about nuclear disarmament by 2020 is so important - we are racing against time."
Michael Douglas is a U.N. Messenger of Peace. So are Yo-Yo Ma and Elie Wiesel.
Other U.N. Messengers of Peace include Stevie Wonder, George Clooney, Yo-Yo Ma, Elie Wiesel, and Her Royal Highness Princess Haya Bint Al Hussein of Jordan.
Steven Leeper, chairman of the Hiroshima Peace Culture Foundation in Hiroshima, served as M.C. This organization houses the secretariat of Mayors for Peace, headed by Mayor Akiba. He introduced Mayor Akiba, who said, "To remember the past, in the words of Pope John Paul, is to commit ourselves to the future. We need to get rid of nuclear weapons by 2020."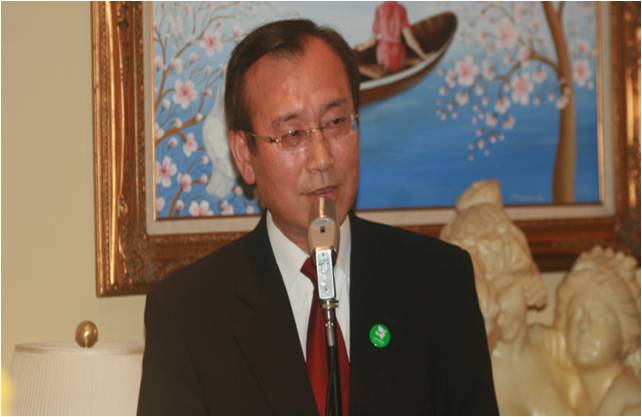 Mayors for Peace is headed by the Mayor of Hiroshima, the Hon. Tadatoshi Akiba.
Yoko Ono Lennon has dedicated her life towards peace. Yoko spoke eloquently on the needs to disarm in a speech she entitled "Power to the People":
We are gathering here this evening with one concern all of us have. What can we do to stop Hiroshima and Nagasaki from being repeated again to destroy the lives on this planet? This time, it will not be two cities. It will be the world.

It seems the choices we have are either to blow up the planet with all its lives, or stay alive maimed, and slowly die from cancer or other unpronounceable ailments we don't have the cure for yet. Of course, there is another choice. A good one, the one we are all hoping for. But it's up to us to do something about it. There is no big powers we can count on.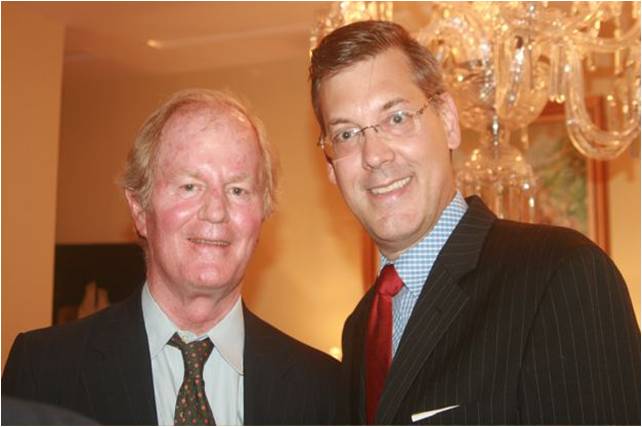 The famed academic activist Jonathan Schell was also present for the evening.
The governments of the world owe their very existence to the backing of powerful corporations, so, sadly, their initial allegiance will have to be to the corporations, not to the people.

Remember Mad Cow disease? It was covered up for ten years in the United Kingdom, while people were dying from it and not knowing why.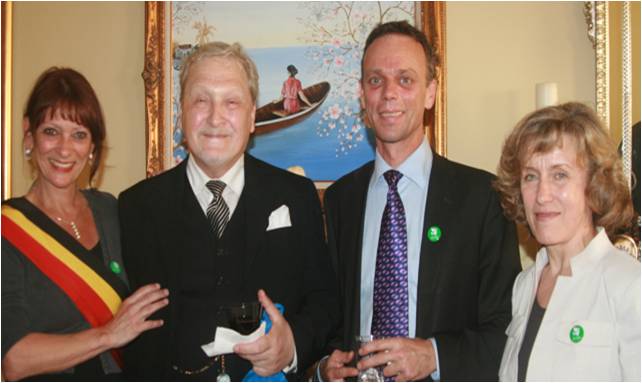 Mayors from across the world - including these European mayors - are in NYC for the NPT.
At the midst of it, a minister demonstrated on TV to show how it was safe for him and his son to eat beef. This was made as a strong gesture of assurance to the people! People were in a shock, watching that program on TV, still not wanting to believe that a minister of a powerful position may have to comply to the wishes of corporations even at the risk of endangering people's lives - and in this case, his son's. Yes. All of us are good at burying our heads in the sand.

I've read a very interesting article a few years ago by Michael Fitzgerald called Militarism. Fitzgerald spoke of being the son of a working class Navy man, and has realized how millions of Americans depended on the permanent war economy for their livelihoods - not limited to people in the military, but people who worked as defense contractors and their employees.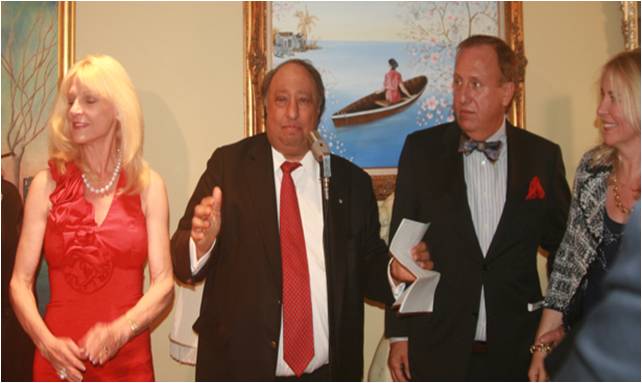 Margo and John Catsimatidis co-hosted this important and exciting event.
"A person cannot be elected to be the President of the country, unless they are supported and voted by the military and defense Industries," he says. Therefore, "if the President does not take the nation to war, he will not be able to stay President."

The article refers to the fact that Lyndon Johnson said, privately, he feared impeachment if he pulled out of Vietnam. Well, that's a hell of a statement. If some people immediately wished to bury their heads in the sand again, I understood why.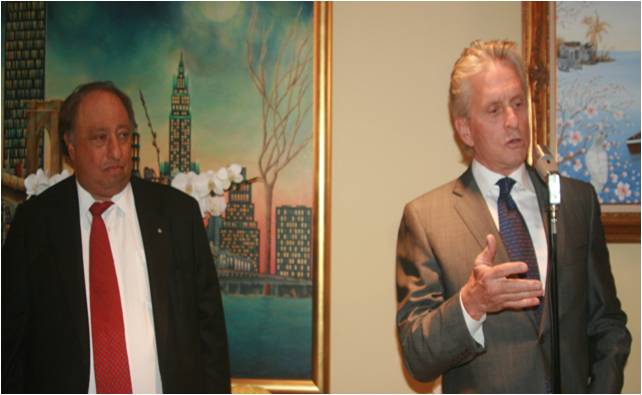 Michael Douglas is a U.N. Messenger of Peace. So are Yo-Yo Ma and Elie Wiesel.
Most recently, last week, to be exact, the State of Arizona shocked the world by announcing a new law, which seemed predictably, to point to a very grave future of this country, and for the people who are still holding on to the American dream. The American dream once was a dream for all world citizens. And this announcement from Arizona confirmed the worst to us.

John Cory immediately hit back with a strong article called "Story in Six Words." He mentioned that there was a legend that a colleague once bet Hemingway he could not write a story in ten words or less. Hemingway used six: "For sale. Baby shoes. Never used." John Cory wrote his own six words at the end of his article. For sale - By owner - American Dream.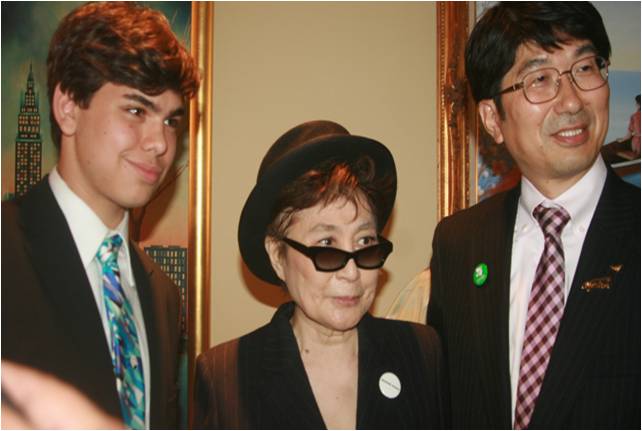 The new generation with Yoko Ono and Nagasaki Mayor Tomihisa Taue.
But, when it was at the darkest, something incredible happened. Our dream was not over yet! It took such a sad situation for people of America to stand up. But we did. An ocean of people protested Arizona's new law on May Day in every American city right after the law was announced. One light, a big one, was lit in the world of darkness. Now we know where we are going - towards the light, together. No more burying our heads in the sand!

In such a historical moment, it is very important that the tragedy of Hiroshima and Nagasaki be brought up again as a reminder of what can happen to the world if we forget, and fall back to the world of darkness.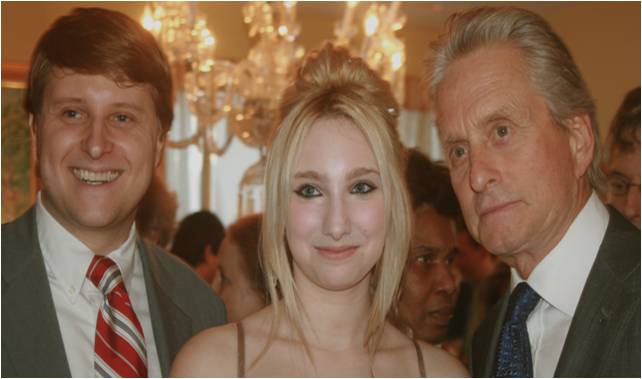 Chris Cox, grandson of Richard Nixon, with Andrea Catsimatidis and Michael Douglas.
Mayors of the World, Thank you for being here in this room, at this very historical moment in America, to encourage and inspire all of us - that we can do it! What the big power of the government can't do, we can.

We of this planet are still in our embryonic stage. But with your efforts and the strong wishes of the people of the world, I know we can and we will create a peaceful world for ourselves and for this planet.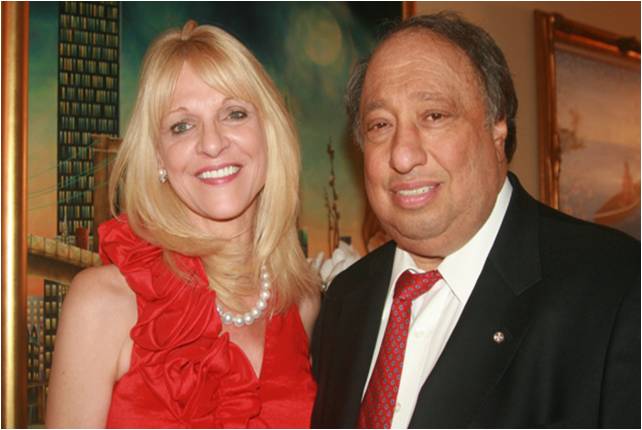 The benefit was hosted by John and Margo Catsimatidis in their Fifth Avenue home.
One day, not too far in the future, we will see ourselves living peacefully and having fun together on this planet without War. Let's look forward to that day and start working intelligently, to make it happen. Clearly, if the whole world stood up and spoke out for World Peace, we'll get it.

Please pass my message to the people of your towns and the cities - I say to them that we can do it. We can do it together. With your help, with the help of the mayors of the world, our voice will be made still stronger. We are the Family of Peace.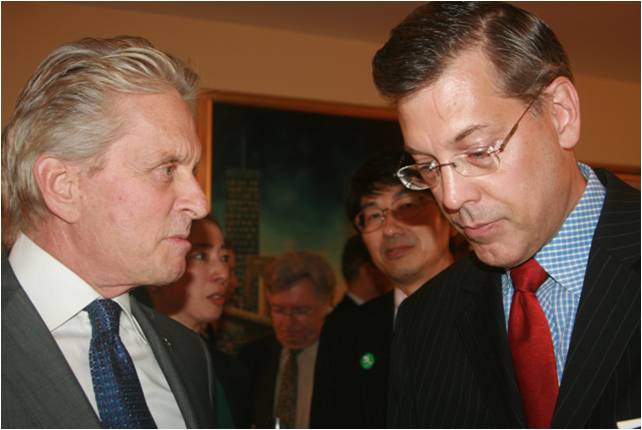 Michael Douglas spoke to me about 2020 as Nagasaki Mayor Tomihisa Taue looked on.
Ladies and Gentlemen, Thank you again, for your wisdom and courage to speak out as the Mayors of the World. You are opening the door to many professional people who will learn from your stand. Let's all stay well till we achieve World Peace. Power to the People!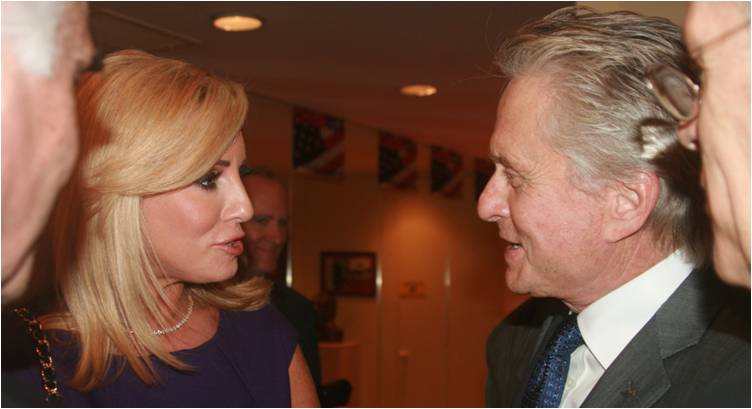 Former CNN correspondent Jamie Colby, now with FOX, chats with Michael Douglas.
The famed academic activist Jonathan Schell was also present for the evening. In the 1980s, Jonathan wrote a series of articles in The New Yorker (subsequently published as The Fate of the Earth), which were instrumental in raising public awareness about the dangers of the nuclear arms race. He has been a persistent advocate for disarmament, and a world free of nuclear weapons. The Fate of the Earth received the Los Angeles Times Book Prize. He is a Distinguished Fellow at the Henry R. Luce Hall at the Yale Center for the Study of Globalization.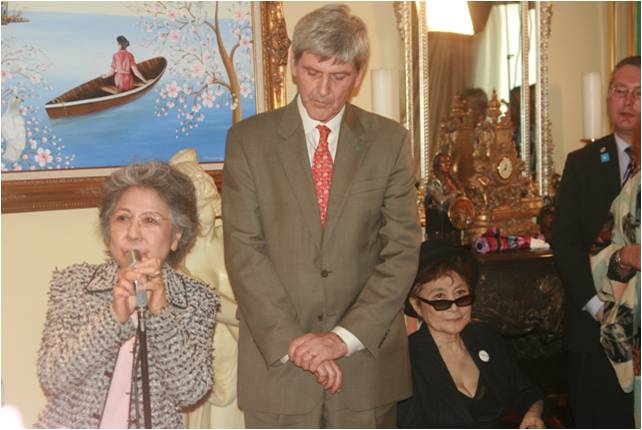 Steve Leeper and Yoko Ono listened quietly as an Atomic bomb survivor told her story.
Other speakers were less famous, but even more poignant. One Hibakusha - atomic bomb survivor - by the name of Shigeko Sasemori told the standing-room only crowd why we must abolish nuclear weapons now. She was one of the 25 girls known as the "Hiroshima Maidens" brought to New York by Norman Cousins for reconstructive surgery. She told us:
I saw the airplane. There was a beautiful blue sky. Then I felt a force that knocked me down. None of us could breath. All of our clothes blew off. One-fourth of my body was burned, but I felt nothing. I was in shock.

Then I saw how horrible everyone was around me. Such horrible stories. It still makes me cry to talk about it. My friend was alive but half of her body was buried by a burning home. Her mother could not save her and had to say goodbye to go save her other two children.

I have so many stories. Bodies all over. The smell was terrible. It was a miracle I survived. Afterwards, I was able to come to America. I had been told the Americans we monsters, but they were very kind to me. They looked different, but their hearts were the same.

So many Americans apologized to me, but I said, For what? You did not do this to me! Don't be sorry.

The world is so dangerous now. Thank God I was given life to tell others, Never let a bomb drop on humans again!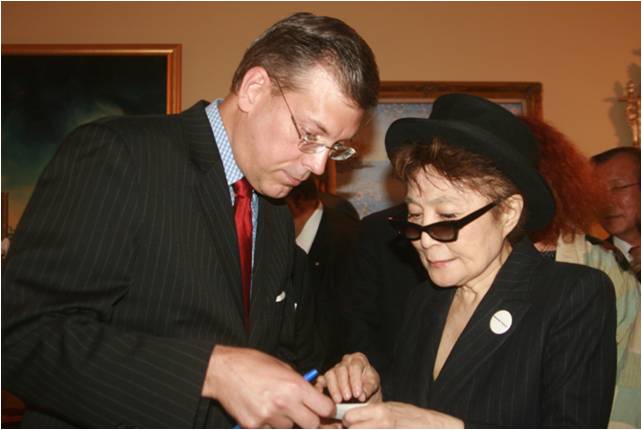 Yoko Ono graciously agreed to provide the text of her speech to The Huffington Post.
The world is headed for destruction if we cannot abolish nuclear weapons. Thanks to Mayors for Peace headed by Mayor Akiba -- with support from thought leaders such as John Catsimatidis, Michael Douglas, and Yoko Ono Lennon -- we have a chance. Give peace a chance. Join their voices in the call for nuclear disarmament by 2020!
Photos by John Lee of The Stewardship Report.
The Luce Index™
99 - Henry R. Luce
99 - Yo-Yo Ma
98 - George Clooney
98 - Haya Bint Al Hussein
98 - Michael Douglas
97 - Elie Wiesel
97 - Tadatoshi Akiba
96 - Stevie Wonder
96 - Yoko Ono
93 - John Catsimatidis
91 - Jonathan Schell
91 - Steven Leeper
84 - Pope John Paul
SUBSCRIBE TO & FOLLOW THE MORNING EMAIL
Start your workday the right way with the news that matters most. Learn more