Maggie Doyne is your typical girl
from New Jersey. She happens to live in Nepal caring for 27 orphans - in an orphanage she built herself.
I met
with her recently to hear about her incredible journey.
I was introduced to her by Tony award winning producer Brian Swibel. Maggie was in town to accept the $100,000 grant
award from the Do Something Foundation for her work.
In 2005, Maggie graduated from high
school and took a year off to travel, unlike many of her peers who went on to
college. As she trekked through Asia, she came upon an
orphanage, Ramana's Garden, in Rishikesh, India.
She fell in love with the children
and spent the rest of the year volunteering and it was during this time, that Maggie
formed many close relationships with Nepalese refugees. They were mostly
children who had fled Nepal during the Maoist insurgency that began in 1997.
One of those refugees, a 12 year
old girl, longed to travel back to her Nepalese home to find her parents.
Maggie volunteered to be her chaperone and after a three day trek, they reached
their destination. It was there where Maggie encountered upon
hundreds of kids living on the streets.
These children were all displaced due to
the civil conflict which began 10 years ago. Both the Maoist rebels and
the Nepalese government
were responsible for countless
human rights abuses and the main victims in this
conflict, were unfortunately children.
Maggie was
amazed by the effects of the war: the
burned temples, ransacked homes, and destroyed schools. What bothered her
most were the conditions of the children,
majority of them orphans.
After observing all this, Maggie chose to make a difference in these
children's' lives by creating a community home.
"I had, I guess what you'd call, an epiphany, as I was trekking
through these villages stumbling upon so many kids that needed a home and just
really basic things like clean water, food and schooling."
"I remember this one meeting I had with a principal. I was
just like "so why do you think there are just so many kids out of school and living on the streets?" He told me that in
Nepal, education isn't free. Children have to pay an admission fee. They have to buy a uniform
and their books."
"Alright well how much do all of these things cost?" I thought to
myself. That's when I started to do the math… admission fee: $5, uniform: $7, books: $8. I decided that with such little effort, I could really make a
difference."
So for the next two years, Maggie
traveled back and forth from the United States and Nepal to fundraise for these
children and bring her vision to life.
She spoke with NGOs
(non-government affiliated organizations), peace organizations, government
officials and resident villagers in the border region of Nepal to ensure a successful launch for her orphanage.
"I began to talk to everyone I knew (and people I didn't know
too!), about my project and my plans and my dream for the land and vision for
the children.
I remember talking to a Girl Scout troop of third graders and them
just being so blown away when I told them that they could actually enroll and child into school
for less than $5! One girl even blurted out "hey that's less than a webkinz!!"
"When I was collecting money to build the home, I broke things
down into smaller increments that people could really grasp and
understand. Families could buy a bed with warm blankets, and pillows and
mosquito netting for $50, or a chicken that would provide our children with
fresh nutritious eggs for $10.
"It made donors feel really good to know,
that with such little effort, they could really make a difference for our home
and the everyday lives of our kids."
"It is interesting to note that up until then, I had always been
kind of afraid of money. Through this process I've realized that when you
have a clear vision, a goal and dreams - that money and all the rest of that
other complicated stuff really just falls into place."
"I started going into schools and talking to kids in classrooms
and assemblies. Before I knew it, kids in my community were taking on projects
of their own. A local Girl Scout troop collected enough hats and mittens
for children in an entire village for me to take back with me!"
"The middle school that I went to hosted a talent show and donated
the profits to my project. I was amazed at how my community really came and
rallied to support me."
By May 2007, with her babysitting money from high school and funds
raised by her NJ community, Maggie purchased a small piece of land in
Surkhet, Nepal, where she decided it was the
most strategic and needful area of the country.
Along with a core group of local Nepalese, ready and willing to
help, Maggie registered her NGO within Nepal, and began constructing Kopila
Valley Children's Home.
In the Nepali language, kopila means bud. The idea of the
name being that, when brought up in a loving and nurturing environment, the
children would blossom from buds to flowers.
Maggie now manages the Kopila Valley
Children's Home full-time with her staff of 4 and cares for 27 kids, while sending 60 others to school and assisting in the
placement of over 700 orphans in the region, eighteen hours north of the capital and three hours north of the Indian
border.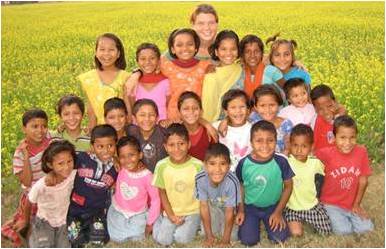 Maggie has given shelter to 26 kids and sent 60 others to school.
"The home is located in a small trading-post city at the foothills
of the Himalayas. Most of the people in our village work as subsistence farmers
or as laborers."
"When I was creating the home, I wanted it to be built for and by the local community. 230 members from the community have taken part in its
construction."
"This included architects, masons, electricians, plumbers,
carpenters, and many local women who carried the materials and worked to build
the actual house itself. I drew up the plan for the house with a Nepali
architect, and designed it myself."
"There were a lot of decisions involved… everything from
the colors of the walls to where the septic tank would go, to the measurements
of the windows. I also tried to make the house as environmentally sustainable
as possible."
"I really wanted to be sure
that this wasn't about me -- a foreigner -- coming in and
telling these people what was best for them! I listened. By this
time, I had learned Nepali, knocking down the language barrier."
"I really talked to people. I wanted to hear what the local
people themselves saw as the needs in their community. I made a lot of friends and learned a lot from the people of my village."
"A lot of days the kids and I worked right alongside the laborers
carrying cement and bricks! It became really fun for all of us (see
video). The kids and the whole community/village now take ownership and
feels proud of the home we all worked to build together."
Maggie has
tackled human rights issues in the region, improving the lives of children
affected by violence, child labor, sex trafficking, and poverty.
She had heard of me from Peter Yarrow of Peter, Paul and Mary who
has performed several times on behalf of my kids' organizations, Orphans
International Worldwide.
Maggie is the girl-next-door. "I did this with my
babysitting money," she told me. "I am not from a rich family, and I was
educated in the public schools."
Maggie is also very Gen X. "Guys,
we can really do this – we can change the world," she tells her friends.
"How cool is this that we have this amazing power to change things."
"None of my friends want to make money anymore. They want to
save the world," she explained.
"It is exciting when you take a child and suddenly they are not
orphans but little people who are going places," Maggie explained.
Maggie's objectives in Nepal are extensive:
Create a loving home, school and community base for orphaned,
street children, child laborers, ex-child conscripted soldiers, and abused
children, thus offering them a sense of safety and security.
Offer the children nutritious food, clean water, medical care,
clothing, and a warm bed.
Provide the children with a multidimensional educational
experience that both embodies and reaches beyond the traditional classroom.
This will ultimately include art, music, world religion, sustainability and
human values education.
Provide vocational training skills to develop self-sufficiency
(i.e. sewing, cooking, gardening, husbandry, community outreach, computer
skills).
Teach the children to grow and develop in an age of globalization
while instilling a strong sense of cultural identity and connection to their
heritage.
Establish a relationship with the local community, raise local
awareness, and stress community influence. Change the social perspective
towards the poor and lower castes.
Conduct programs for widows, socially vulnerable and destitute
women within the community thus encouraging women's welfare, empowerment, and
gender equality as well as positive community relations.
"I only accept parentless children or kids that have been victims
of serious abuse. Kids who I accept into Kopila Valley have no family, no home,
are not enrolled in school, and have no means of support."
'I try to choose the children who I think will have a really hard
time surviving without our home. There are so, so many kids that fit this profile."
"For every child that I take or enroll into school there are at
least 100 others that I have to say no to. That's the hard part."
"I also work with the local government and police who sometimes
refer me to children. It can be really hard to get documentation on a lot of
the kids. None of them know their birthdays or have birth records."
"I know one little boy who didn't even know his last name.
It takes a full investigation to get to the bottom of some of their
stories. Every day is different from the next. I try to find the
best most sustainable solutions for the local people in the community."
"Some children are on the streets and are in desperate need of a
home, others are working to feed their families and they don't have the time or
the money to go to school, others need medical care or an urgent operation."
"There are an estimated 45,000 orphan children in Nepal. I find
them everywhere and sometimes they find me. Read the entries from my
blog, about two of the children, Karma, and Bhukta, and how I found them."
"I consider this my full-time job right now although I'm still officially
working as a volunteer. I've been in Nepal for the last two years, with
two breaks in the US, fundraising, meeting with my board of directors, and
taking care of other business for both the children, and BlinkNow."
"As news of Kopila Valley has spread, and I have a year under my
belt, I have also begun to speak to kids, teens, and adults about my project."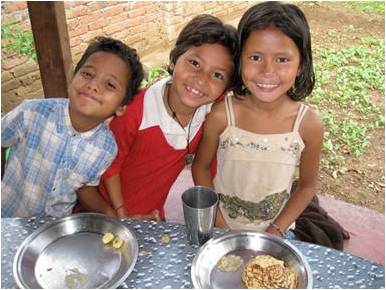 "I've met some of the most amazing young people through my journey, many
of which have guided and supported me. After visiting schools in my hometown
and beyond, I am now more certain than ever that young people do care! We want to change
things. Sometimes it's just hard to know how to help and what to do."
"When telling my story it's really important for me to stress that
this has just been my path, but that change and service can come in all
different forms, even in just our everyday interactions with each other."
"The BlinkNow Foundation -- our American non-profit entity that
funds the orphanage – hopes to share my ideas with other young people,
especially children in the U.S. I believe that in the blink of an eye, we can
all make a difference."
"My hope is that my blog and the BlinkNow site, keeps young people
connected with my story and the everyday realities of the world."
"When going through this process -- especially all the
nitty-gritty registration stuff -- I realized that there really wasn't too much
info out there to guide me!"
"I had felt so empowered and gained so many insights from what I
was doing that I wanted inspire and motivate other young people to do the same."
"I created a website with a thorough guide focusing on the "How
to" of creating your own organization, on either a community or global level
with suggested readings and special tips that I learned from starting my own
organizations."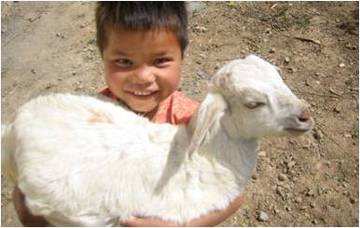 "One of my dreams is to create safe homes and communities for
children all over the world in need of refuge. In order to do this I know
I still have tons to learn."
"In the near future, I plan on enrolling in a four-year U.S.
university where I will study international development, social entrepreneurship,
and micro-financing."
"I have come so far from that girl, with the backpack, but most of
all, now more than ever, I know that anything is possible. My heart is
full and the future is exciting. There is so much, still, to do."
"I think Nepal is where I am going to be," Maggie told me.
If you want to reach out to her, you can do so by e-mail.
SUBSCRIBE TO & FOLLOW WORLD POST