More than 200 of the South Asian community's Who's Who in New York City, as well as special dignitaries and performers from India and around the world, crowded into last week's Remit 2 India's Light of India Awards at the historic Waldorf-Astoria on Park Avenue. The event -- the first of such awards - was conceptualized and created by Sapnna Vats and Evolve Entertainment. It will be broadcast via Sony Entertainment Television, Asia, to more than 150 countries around the world.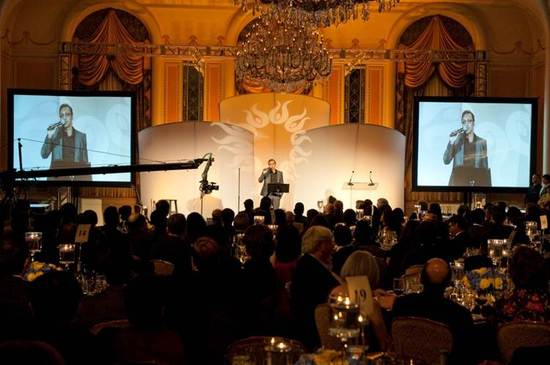 The Waldorf-Astoria ballroom was electric as comedian Aasif Mandvi performed.
Remit2India's Light of India Awards was a simple concept for Non-Resident Indians (NRIs): "You loved their ideas, followed their journey, respected their vision -- now help honor them by choosing among them the best." Thousands of Non-Resident Indians (NRIs) did just that -- presenting their global leadership across the fields of Business, Corporate, Politics, Arts & Entertainment, Science & Technology, and Journalism & Literature.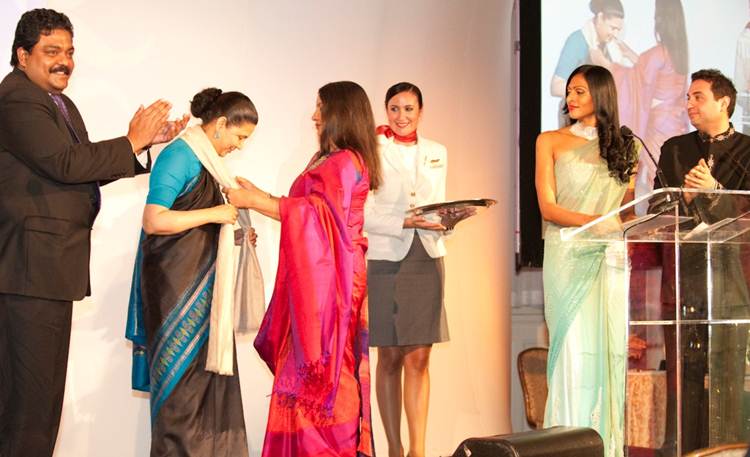 TimesofMoney President Avijit Nanda applauds as actor Shabana Azmi felicitates Her Excellency
The Awards were announced at a black-tie event here in New York with the Indian Ambassador to the U.S., the Hon. Mrs. Meera Shankar, as the Chief Guest. The well-organized award show was electric, with music and celebration, hosted by the charming high society set of television personalities Nina Manuel and Jitin Hingorani.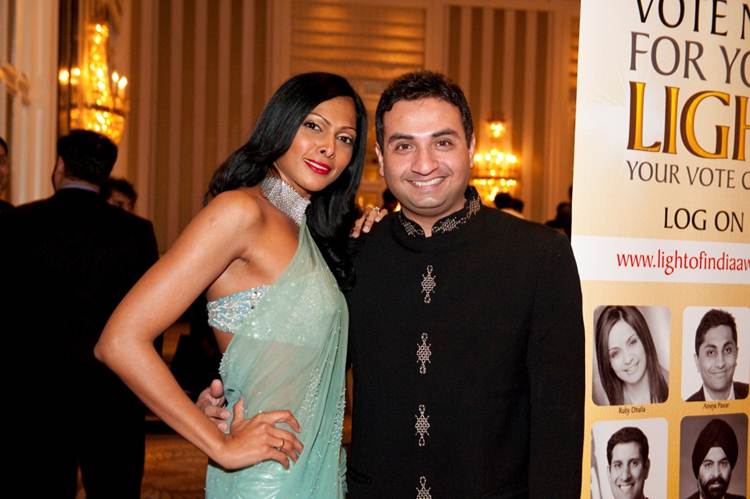 The show was co-hosted by television host and model Nina Manuel and television
personality Jitin Hingorani.
As the India Times wrote recently on the importance of the Indian diaspora:
Over the years, the Indian community abroad has contributed significantly not only to their country of residence but also to the Indian economy back home. Worldwide, Indians are recognized as the most valued ethnic community in terms of their intellectual capital.

Their efforts in infusing capital, ideas and international practices have also contributed significantly to the Indian economy apart from keeping alive the Indian traditions and culture far and wide. Indians today have done the country proud through their contribution in various fields like art, science, technology, and politics the world over.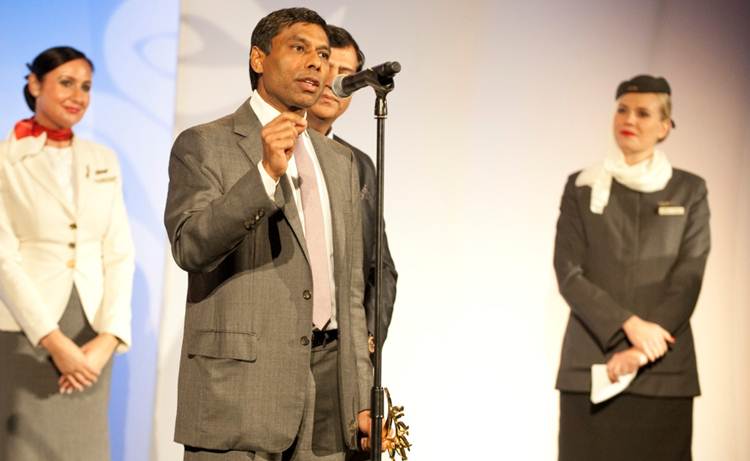 Naveen Jain is a philanthropist, entrepreneur and technology pioneer.
Recognition in Business Leadership
Jury Award: Vinod Khosla, Chief Executive Officer, Khosla Ventures
People's Choice Award: Naveen Jain, Founder of InfoSpace and Intelius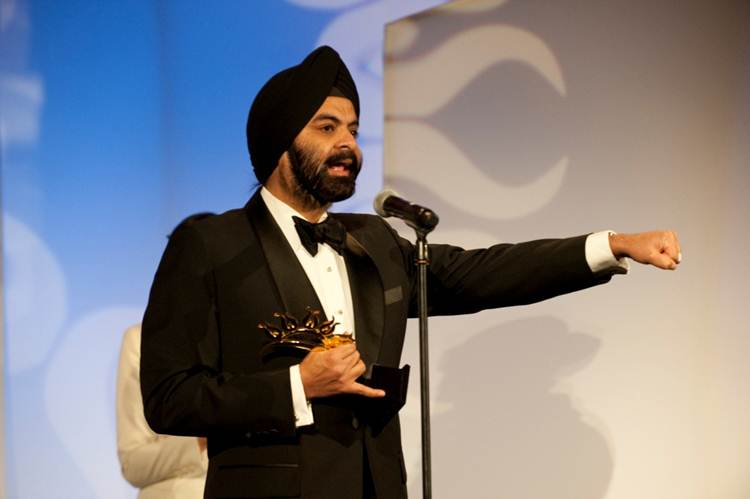 Highly respected Indian-American Ajay Banga is president and CEO of MasterCard.
Recognition in Corporate Leadership
Jury Award: Ajay Banga, President and Chief Executive Officer, MasterCard
People's Choice Award: Vikram Pandit, Chief Executive Officer, Citigroup
Vikram Pandit, CEO of Citigroup, moved to the U.S. at 16.
Recognition in Political Leadership

Recognition in Science & Technology
Jury Award & People's Choice Award: Vinod Dham, CEO, Silicon Spice
Power of Influence Award: Narasimha Chari, Chief Tech Officer & Founder, Tropos Networks
Extraordinary Contribution in Research & Innovation in Medical Sciences:
Shiladitya Sengupta, Assist. Prof., Medicine & Health Sciences, Harvard Medical School
One of the most distinguished inventors, entrepreneurs and venture capitalists in the world, Vinod Dham is known for being the 'father of the Pentium chip.'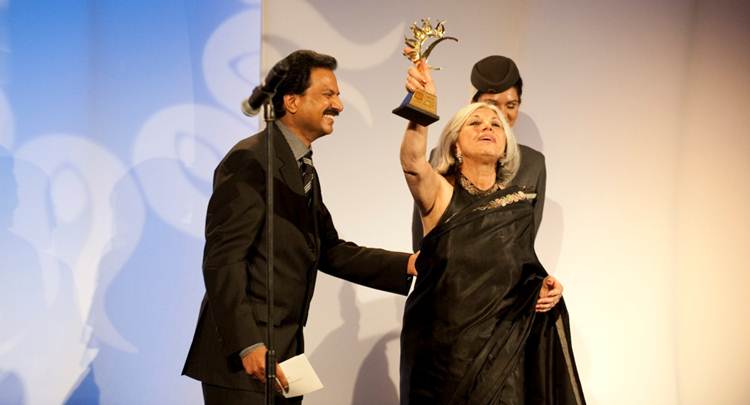 Aroon Shivdasani accepting the award for Mira Nair in her characteristically
Recognition in Arts & Entertainment
Jury Award & People's Choice Award: Mira Nair, Film Director & Producer
I wrote about Mira Nair the first time I met her here. Mira debuted her first feature film, Salaam Bombay! in 1988. As founder of Orphans International Worldwide (OIWW), I am deeply impressed that Mira has used the proceeds of this film to establish an organization for street children, called the Salaam Baalak Trust in India. Her other films of note include Kama Sutra: A Tale of Love and Mississippi Masala.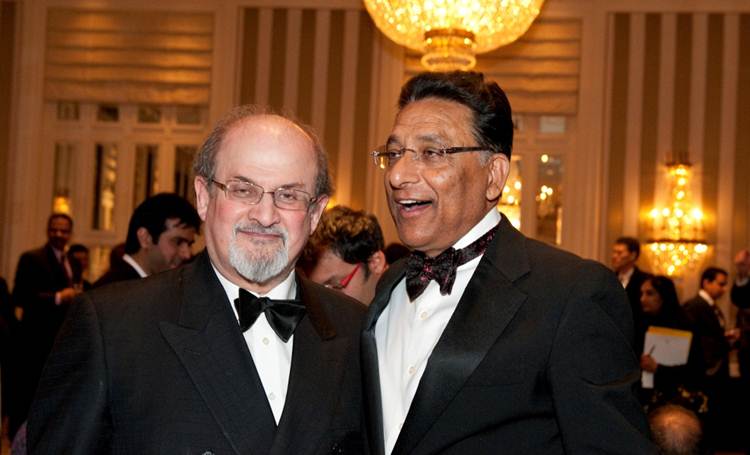 Salman Rushdie with Vinod Dham. Salman is author of eleven novels including The Satanic Verses. Vinod won both the Jury and People's Choice Award winner in the
Science and Technology category.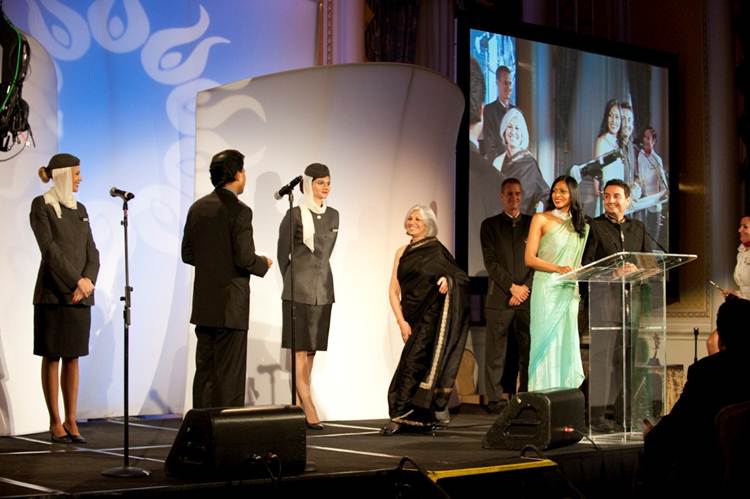 The event, with exclusive television partner Sony TV Asia, is being carried to
living rooms in 150 countries.
Key corporate partners to the event include Sony Entertainment Television, Asia as the Exclusive Television Partner, Etihad Airways as the International Travel Partner, TimesofIndia.com as the online partner, Comcast, and Goa Tourism as Associate Sponsors.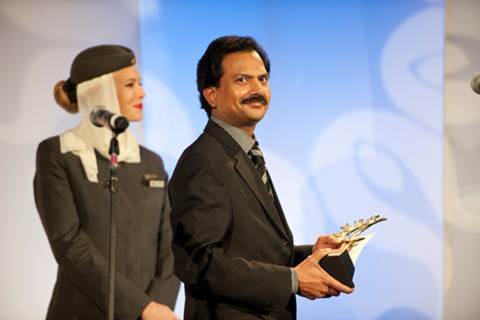 Jaideep Janakiram, Head of North America for Sony Entertainment Television, Asia.
Photo courtesy of JINGO Media by Nan Melville.
Jury members included Javed Akhtar (Hindi/Urdu poet, lyricist, screenwriter), Shabana Azmi (Indian actress, social activist), Pranay Gupte (journalist, author), Prasoon Joshi (Executive Chairman, McCann World Group India), Sulajja Firodia Motwani (Managing Director, Kinetic Motors India), Priya Paul (Chair, Apeejay Park Hotels), Mahesh Dattani (Indian director, playwright, actor), Madhu Trehan (journalist), and Shiv Khera (author, educator, consultant, entrepreneur).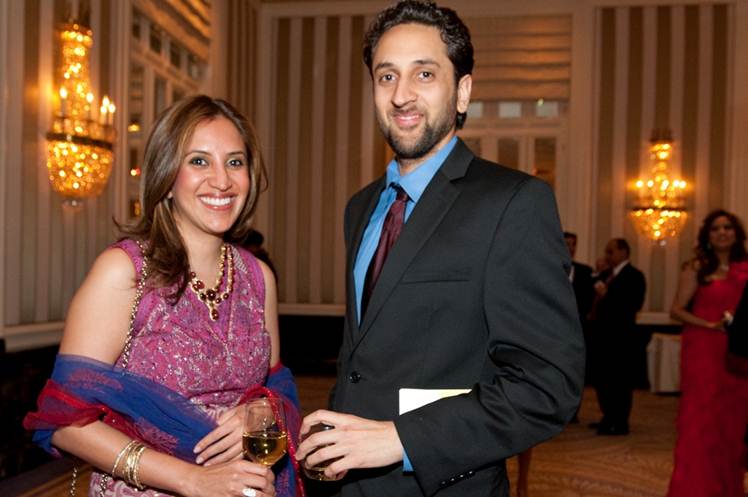 The swell and elegant of Indo-American society were out in force. Here,
the lovely jewelry designer Amrita Singh with her brother Herman Singh.
The Northeast U.S. Advisory Board for Remit 2 India's The Light of India Awards included Aroon Shivdasani, who is the Executive Director of the Indo-American Arts Council, Jaswant Lalwani of the Corcoran Real Estate Group, Sunnil Hali (chairman and publisher, CineMaya Media), and Amrita Singh (accessories and fashion designer). Amrita designed exclusive jewelry for the gift bags from her company Amrita Singh Jewelry.
Aasif Mandvi, a correspondent to The Jon Stewart Show covering
"Islam and Brown People," added a touch of great humor to the
Remit2India is a Western Union-like company that owned by the Times Group in India that allows over a million NRIs in 23 countries around the world to send money home. I often write on corporate social responsibility (CSR) in the U.S. and believe it is vital for multinational companies to give back to society -- so often these multi-nationals are bigger than countries themselves. I have written on the good things being done by MetLife, the Cushman Group of MorganStanley SmithBarney, NBC's Brian Williams, and Goldman Sachs. My hat is tipped to Remit2India and the Times Group of India for their lead in CSR in South Asia.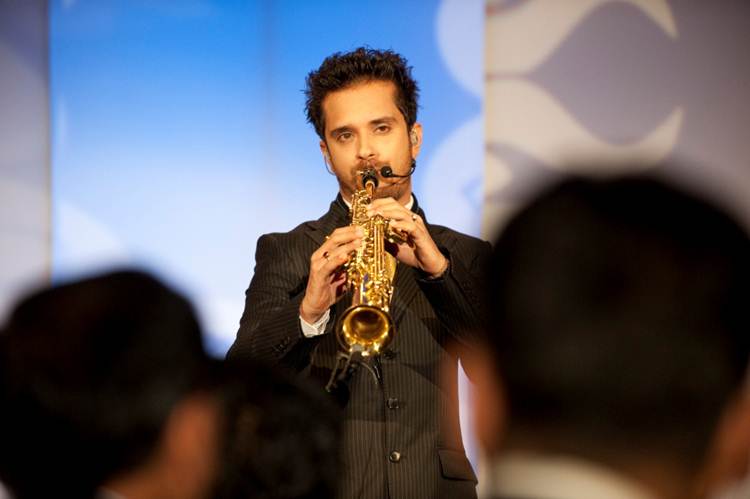 Exquisite Indian musician and singer Raghav Sachar flew in from Bombay to
participate in the Awards show.
Attending the Light of India Awards, I was excited to be able to educate myself further on this dynamic nation and its cultural emissaries -- the great India and the many extraordinary Non-Resident Indians. I am impressed by how many thought leaders and global citizens there are in the world that are not even on my own tiny radar. My take-home from the event: Americans in general, this one included, need to continue to increase the size of our internal radar ranges.

All photos courtesy of JINGO Media by Nan Melville.
SUBSCRIBE AND FOLLOW
Get top stories and blog posts emailed to me each day. Newsletters may offer personalized content or advertisements.
Learn more