Multi-tasking is de rigueur these days, so it comes as no surprise that renewable energy expert and conflict resolution specialist Steve Smith has his hands full. His specialty comes from years of practice.
It all began during his days as a Peace Corp volunteer to French-speaking Zaire in 1984. Zaire was renamed the Democratic Republic of the Congo (D.R.C.) in 1997 when Laurent-Desire Kabila, with the assistance of Rwanda, overthrew then-President Mobutu Sese Seko.
Luckily, Steve - who grew up in Ohio - has studied French since the age of 14 and speaks it fluently today. Steve has also studied renewable energy and has always been fascinated by conflict resolution.
After the Peace Corps, Steve transitioned to providing services to Fortune 500 companies and major utilities in the U.S. His projects included energy retrofits for Chevron's corporate headquarters and radiant cooling for commercial buildings using advanced roofing systems.
But simple energy efficiency and large-scale project management was, eventually, not enough for Steve. He began to focus on the links between conflict and natural resources - in places like the Congo, Rwanda, and today in the Sudan.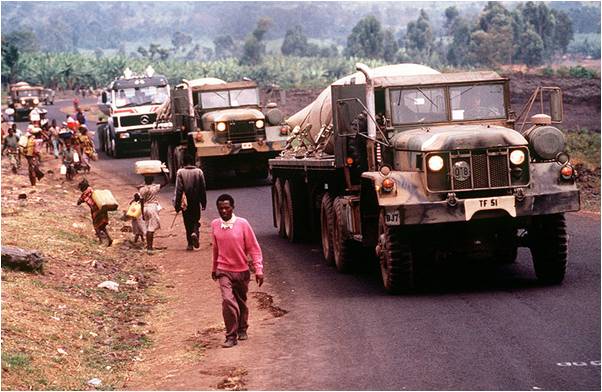 A convoy of fresh water for Rwandan refugees located at Camp Kimbumba, Zaire.
Photo: TSgt. Marv Krause.
In 1994, as the genocide in Rwanda ("Eastern Congo") unfolded, Steve returned to Africa through the National Peace Corp Association. The Association at that time was run by Chic Dambach, who I recently profiled.
Hundreds of former Peace Corp volunteers watched the Hutu-Tutsi genocide unfold over a few short weeks from the U.S., wanting to return and help. To do something other than watch helplessly from the U.S.
These former Peace Corp workers had each lived and labored at the village level in the Congo region - in Zaire (D.R.C.) and Rwanda - for two years. They had each built intimate relationships with the people and had an inside understanding and knowledge of the country.
U.N. agencies are stepping up efforts to assist hundreds of thousands of people displaced
by violence in eastern Democratic Republic of Congo, as in Mugunga Camp, near Goma.
Photo: MONUC / Marie Frechon.
They had worked in education, agriculture and health. They knew French and the local tribal languages such as Kinyarwanda and ki-Swahili - and they knew the people who were being slaughtered. They had taught thousands of Congolese, and had the confidence of the people who knew them.
The U.S. government seemed at a loss on how to respond to the genocide between the Hutus and the Tutsis. Then president Bill Clinton was reluctant to get involved in the aftermath of the U.S. Blackhawk helicopter down in Somalia and American bodies dragged though the streets there.
Madeline Albright, Hillary Clinton's predecessor, advised against sending more troops in. Just a few hundred troops night have been able to prevent 800,000 deaths. Bill Clinton now says that was perhaps the worst decision he ever made.
There had been conflicts between the Hutus and Tutsis for generations, but the Hutu's crossed the line when they vowed to exterminate every Tutsi in Rwanda - about one million of them. This was accurately portrayed in the award-winning film Hotel Rwanda.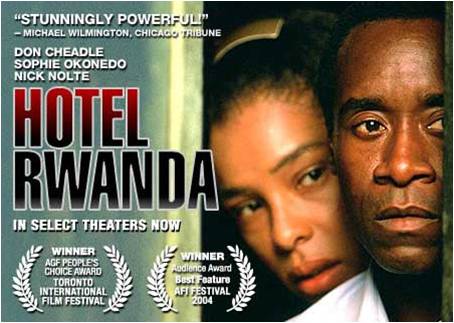 Hotel Rwanda accurately portrayed the genocide between the Hutus and Tutsis in 1994.
Wikipedia explains the background between the Hutus and Tutsis:
The Belgian (colonialists) used an expedient method of classification based on the number of cattle a person owned.
Anyone with ten or more cattle was considered a member of the aristocratic Tutsi class. From 1935 on, "Tutsi," "Hutu," and "Twa" were indicated on identity cards.

The Roman Catholic Church, being the primary educator in the country, subscribed to and reinforced the differences between Hutu and Tutsi, developing separate educational systems for each.

In the 1940's and 1950's the vast majority of students were Tutsi.
Steve wanted to be involved to use his understanding of the Congo region to help heal the country. He first flew to Washington to speak with as many ex-Peace Corps colleagues as he could, and ended up meeting with USAID staff. Jimmy Carter even called in to offer his support.
Steve then flew on to meet with U.N. staff in Geneva, to explain to them that ex-Peace Corps volunteers were standing by to help. By the time Steve and his colleagues arrived in Rwanda, the 100-day genocide was over, but the situation remained critical.
Approximately two million Hutus, both participants in the genocide and bystanders, fled from Rwanda, to Burundi, Tanzania, Uganda, and for the most part Zaire. Camps were set up across the region for the refugees.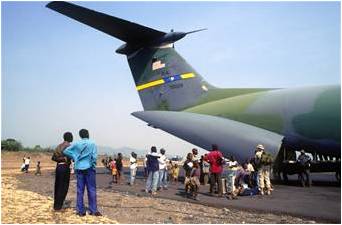 The U.S. staged Operation Support Hope airlift from July to September 1994 to
stabilize the situation in the camps. Photo: U.S. Air Force Reserve Command.
Thousands of them died in epidemics of diseases common to the squalor of refugee camps, such as cholera and dysentery. The U.S. staged Operation Support Hope airlift from July to September 1994 to stabilize the situation in the camps.
Refugee camp for Rwandans located in what is now the eastern
Democratic Republic of the Congo following the Rwandan Genocide.
Steve led a team of former Peace Corps volunteers and conflict resolution specialists that worked behind the scenes, in the camps and the community, to assist the parties to the conflict in dialogue and to find common ground.
At the time, the United Nations was deploying Human Rights monitors straight out of law school. Many of these inexperienced staffers were sent straight to Africa. Many of these staffers hoped the former Peace Corps volunteers would provide valuable assistance.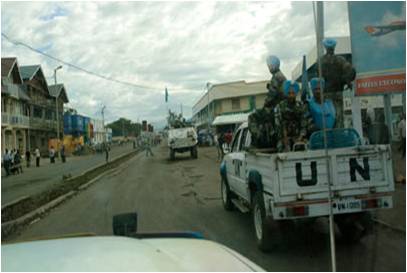 MONUC Peacekeepers patrol the streets of Goma early on 30 October to maintain a fragile
calm in the city, which had been besieged by rebel forces. Photo: MONUC / Marie Frechon.
In 1999, Steve returned to Africa where arrived in the D.R. Congo to work with Refugees International. Shortly after arriving, while working in the forest of Zaire, he was arrested and thrown into a primitive jail in the nation's capital, Kinshasa (Leopoldville).
"I was in jail one week in Kinshasa. The week prior to that I was under house arrest in Mbandaka in Equateur province up country. I returned to Kinshasa under military escort and was put in prison there. It took the American embassy about two hours to find me once they knew what had happened," Steve told me.
Advising the U.N., USAID, and a number of non-governmental organizations including Refugees International, Steve continued to help resolve conflicts and move countries towards recovery and economic growth.
Steve then led the effort to establish a post-conflict program in Rwanda for USAID's Office of Transition Initiatives.
This work led to the creation of the Women in Transition program that targeted widows and young women impacted by the Rwandan conflict. Women involved in the program have played a major role in Rwanda's move towards peace and reconciliation since 1995.
Through the efforts of many ex-Peace Corp volunteers including Steve, the parties to the conflict had a number of significant private meetings that lent support to the formal peace process.
In addition, the team worked to reduce violence at the local level through negotiations among the various factions operating in Eastern D.R. Congo.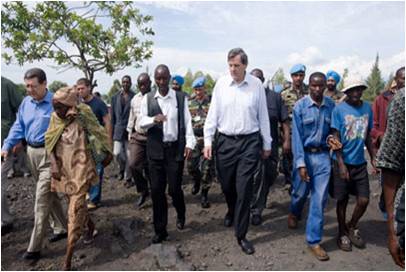 USG for Peacekeeping Operations Alain Le Roy (center) and Alan Doss (left) visit
Mugunga Camp for the internally displaced, near Goma. Photo: MONUC / Marie Frechon.
I met Steve for a cup of coffee as he passed through New York City last week, en route back to Darfur in the Sudan. He is on assignment as the early recovery adviser for Darfur with the U.N. Development Program's Bureau of Crisis Prevention and Recovery (website).
The U.N. Development Program is chaired by the incredible Helen Clark.
What does a multi-tasker like Steve plan to do with his future? My guess is that he will eventually retire from often-brutal development work in Africa to return to his native Ohio and become involved with retro fitting residential and commercial properties to be green.
"There would be fewer conflicts around the world over resources if everyone around the world worked harder to conserve them," Steve told me. With a Masters degree in Physics, Steve Smith is both a thought leader and global citizen.
SUBSCRIBE AND FOLLOW
Get top stories and blog posts emailed to me each day. Newsletters may offer personalized content or advertisements.
Learn more