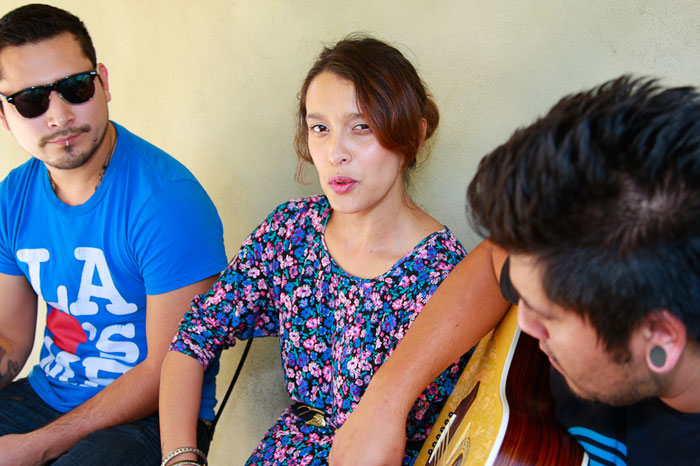 Los Hollywood (Photo L to R: Gustavo Mojica, Heidy Flores, Jesus "Chuy" Garcia)
Heidy and her band Los Hollywood have been together three years and released just one five-song EP. But personally, I'm ready to call this one: by rights, this girl should become a star.
Others have noticed already. In 2008, fans the of San Diego-based Los Hollywood voted the band into the My Space Latino Battle of the Bands. In shows before a panel of judges here in LA, they were picked over 15 other finalists as the winner for the LA region.
Although she often sings in Spanish (or "Spanglish" -- a hybrid of English and Spanish common to Southern California), Heidy is an American. She was born in San Diego and went to San Diego High. Her gifted songwriting partner Marcos Mondragon was born in Mexico City and is currently living in Tijuana. Twice a month the band members cross the border to work with Marcos on their new album as he waits for his visa to be renewed.
As a new Mexican-American (living less than an hour's drive from the border), Heidy is passionately proud of her Mexican heritage. She grew up listening to ranchera music, but one of her favorite bands is the Beatles. And her favorite female singer is Alanis Morissette (a Canadian).
As for Heidy herself, there have been whispers for some time now that she might be "the Latina Gwen Stefani." I can't make that call, but I will state that her song "Nobody Knows" is a hit single waiting to happen. I wish someone would put it on the radio so we could watch this young singer take off.
You can hear more of their music here.
Los Hollywood will be playing at the La Fonda Theatre, in L.A., Nov. 14.