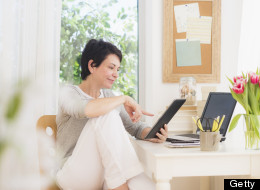 Dear Savvy Senior,
What are the best websites for finding reliable health information on the Internet? I usually do a Google search on a symptom, drug or health condition when I want to research something, but with so much information out there I'm not sure what I can trust.
--Untrusting Senior
Dear Untrusting,
You're wise not to believe everything you read, especially when it comes to health and medical information on the World Wide Web. To help you sort through the online clutter and locate reliable, trustworthy medical information, here are a few tips to follow, along with some top-rated sites you can always turn to with confidence.
How to Verify
As a general rule, health and medical information websites sponsored by the U.S. government, not-for-profit health or medical organizations, and university medical centers are the most reliable resources on the Internet. While sites supported by for-profit companies, such as drug or insurance companies who may be trying to sell you their products, are usually not your best option.
To find out who's sponsoring a site and where the information came from, click on the "About Us" tab on the site's home page.
Also look for the red and blue "HONcode" seal at the bottom of each page, which means the site has credible information and is certified by the Health On the Net Foundation. However, government sponsored health sites don't have the seal.
Also be aware that good health and medical information changes all the time so check the date that information was published to make sure it's current. And, if you're doing research online before seeing a doctor, print your findings out on paper, including the site you got your information from, so you can review it together.
Top Health Sites
While there are dozens of great websites that provide reliable, trustworthy, unbiased health and medical information, here are two of the best all-purpose sites that are easy to use.
Medlineplus.gov: Sponsored by the National Institutes of Health and managed by the U.S. National Library of Medicine, MedlinePlus provides information on more than 900 diseases and conditions in their "Health Topics" section, and links to other trusted resources.
It also provides a directory of hospitals, clinics and healthcare providers, a medical encyclopedia and medical dictionary, tutorials on common conditions, tests, and treatments, extensive information on prescription drugs, supplements and herbs, and links to thousands of clinical trials. It even offers a senior specific health site (nihseniorhealth.gov) that makes age-related health information easier to get.
MayoClinic.com: Owned by the Mayo Foundation for Medical Education and Research, this site is produced by more than 3,300 physicians, scientists and researchers from Mayo Clinic, and provides in-depth, easy-to-understand information on hundreds of diseases and conditions, drugs and supplements, tests and procedures. It also offers a nifty "Symptom Checker" tool and "First-Aid Guide" for fast answers to all types of health conditions, along with medical blogs, expert answers, videos and links to additional resources.
Disease Specific Sites
There are also dozens of other sites dedicated to specific diseases and conditions. Here are some top-rated sites as listed by the Medical Library Association on cancer, heart disease, diabetes and Alzheimer's disease.
Cancer: American Cancer Society (cancer.org), National Cancer Institute (cancer.gov), Association of Cancer Online Resources (acor.org) and Cancer Care (cancercare.org).
Heart disease: American Heart Association (americanheart.org), National Heart, Lung and Blood Institute (www.nhlbi.nih.gov) and Congenital Heart Information Network (tchin.org).
Diabetes: American Diabetes Association (diabetes.org), National Diabetes Education Program (ndep.nih.gov), Joslin Diabetes Center (www.joslin.harvard.edu), and Diabetes Monitor (diabetesmonitor.com).
Alzheimer's disease: Alzheimer's Association (alz.org), Fisher Center for Alzheimer's Research Foundation (alzinfo.org), and Alzheimers.gov.
Send your senior questions to: Savvy Senior, P.O. Box 5443, Norman, OK 73070, or visit SavvySenior.org. Jim Miller is a contributor to the NBC Today show and author of "The Savvy Senior" book.
Earlier on Huff/Post50:
8 Ways Baby Boomers Are Transforming The Health Care System
Technology has placed mountains of medical information at our fingertips. Knowledge is power, even if your doctor thinks a little knowledge (yours, not his) can be a dangerous thing. The reality is that being able to learn things on our own alters the balance of power in the doctor-patient relationship. We can do our own research and ask our doctors more questions. We are getting second, third and fourth opinions online from other patients who have walked down these same illness paths before us. Heck, we can even sign up for alerts on our medications and be the first to know when a generic for the all-mighty (and all-expensive) Lipitor is available.

Remember that joke that asks, "What do you call the guy who graduated at the bottom of his medical school class?" The answer is "doctor." Let's just say it: Not all doctors are created equal. And as the boomer bubble swells into the next stage of our lives, chances are, we are going to insist on the best. We have formed online communities to recommend hotels, electronics and pretty much everything else. You can expect to see an uptick on online communities that recommend doctors and hospitals.

There are sites like PatientsLikeMe that hook you up with others who share your diagnosis. This site, with about 1,000 diseases covered, is especially noteworthy, says Harvard's Herzlinger because it just organized the first patient-run clinical test. Clinical tests have remained the purview of drug companies who hope to market a profitable product. In this case, it was a bunch of patients who wanted to test lithium's effectiveness in treating Lou Gerhig's disease (ALS). They found it wasn't, but the world learned in the process that patients can take things into their own hands and not wait for Big Pharma to figure things out for them.

Baby boomers like convenience, which is why the house call movement is picking up steam. Also watch for increased evening and weekend office hours by doctors. Pharmacies already stay open late; why not your doctor?

Walgreens just opened a two-story, 27,000-sq.-ft. downtown Chicago store that represents the future of pharmacy. It offers a health clinic offering a wide range of services including vaccinations, health tests, physicals and treatments for common illnesses and minor injuries. The pharmacy also features an "Ask Your Pharmacist" desk, consultation rooms, a Health Corner space to host health and wellness community events and Express Rx kiosks for swift checkout. (There's a sushi bar and mini-spa to boot.)

Telemedicine enables patients to "see" their doctors using video conferencing or services like Skype. It eliminates distance barriers and could bring a higher level of care to those living in rural areas. It also could just make patients' lives a whole lot simpler. The doctor calls at a pre-arranged time. You can download your glucose readings straight from your hand-held meter into the computer for him to see. Herzlinger says that a phone call appointment with the doctor is in the not-too-distant future for minor health events, which would cost $30 to $50, she said.

Keeping medical records online may have made the life of your doctor's office manager easier, but up until now, they haven't done much for patient health. The reason is that there are more than 2,000 IT systems in place tracking patients and those systems, unbelievably, don't talk to each other. Watch for a common IT system that enables all your doctors to have the same information on you. No more faxing test results between offices and having things lost.

Employers are already implementing programs that reward workers with prizes and low health care premiums for maintaining a health lifestyle, such as Virgin's Healthmiles program. A website called HealthPrize collects daily compliance data from users, verifies their prescription refills, and rewards them for adherence with prizes. In the future, expect to see your insurance premiums go down if you agree to have your retina scanned when you go to the gym and wear a device that measures how much oxygen you have flowing through your blood to make sure you aren't just sitting on that exercise bike reading a book.