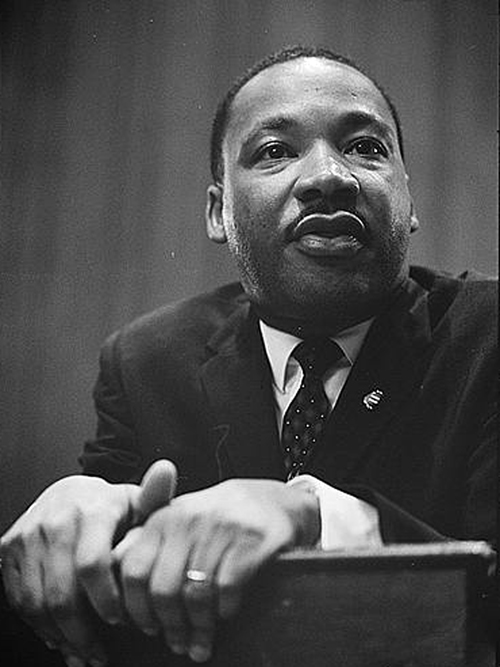 Public Domain: Library of Congress, Prints & Photographs Division, U.S. News & World Report Magazine Collection, LC-DIG-ppmsc-01269
Fortunately for a post on "legal" holidays, Dr. King's I Have a Dream speech begins with very legalistic metaphors: the ideals of our Constitution and Declaration of Independence are a promissory note issued to the people of our country, yet payments on that note to people of color are being returned for insufficient funds. Dr. King, however, refuses to believe the bank of justice is bankrupt, and without asking for or accepting excuses, demands an appropriate cure; he calls on our nation to "rise up and live out the true meaning of its creed: 'We hold these truths to be self-evident: that all men are created equal.'"
We have made progress toward Dr. King's dream; the first non-white-male president of the United States is one clear indication. I see another indicator in my family. As a high school freshman, I was bused under court order to integrate a traditionally-black inner-city school in Virginia to overcome decades of Plessy v. Ferguson's separate-but-equal failings. Today, my daughter is a freshman in an inner-city, racially-diverse high school in Denver, by choice. Yet, lingering achievement gaps among racial and economic groups in her school and Colorado schools generally remind us that we have more work to do.
Today, Denver holds a "Marade," one of the largest King Day celebrations in the country. A Marade, a term coined by Wilma Webb, former State Representative, former First Lady of Denver, and founder of the King Holiday in Colorado, is both march and parade, both demonstration and celebration, her way of reminding us that in civil rights, human rights, no matter our accomplishments, ongoing attention is required.
FOLLOW HUFFPOST