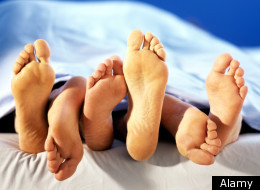 Sometimes I lie about the first time I kissed a girl.
I kissed a Rockette in Nashville after meeting her in a gay club. She was performing as Mrs. Claus at the Grand Ole Opry's Rockette Spectacular, and we danced together at a local lesbian hangout and then made out in her parked car on the street. I like to pretend that she is the first woman I kissed, because the real story is too embarrassing. But I'm embracing the truth and letting go of my sexual shame, so I will now reveal that my actual first kiss happened during a threesome. In a sex club. Mom, if you are reading this, stop right now.
I've had a lot of threesomes. I've had some foursomes, too. I've gained a lot of wisdom from my idiot mistakes. I'm going to share with you some tips to help you avoid the potential problems that can arise out of a ménage à trois, thereby maximizing enjoyment for all parties involved. This helpful advice is geared more toward lesbians who want to explore new territory. However, to be really honest, I had multi-partner sex with men, as well, and the same rules apply. This information can be useful for anyone, regardless of sexual orientation.
As adults we are in control of our bodies and our destinies. Go enjoy yours.
P.S. Next week I'm diving into the history of porn with the gorgeous and dynamic sex educator Carlin Ross. See you then, sweethearts.
How to Have the Perfect Ménage à Trois
Don't have a threesome just because your girlfriend has never had sex with a man and you want her to try it. I did this -- twice. It did not end well. In addition to making me feel jealous, watching my girlfriend get boned brought out my competitive nature. Trust me, it's not fun to have a contest with some straight dude over who is better in the sack.

Don't drink too much and then have a threesome. Counterintuitive, right? Drinking heavily has a tendency to make you feel more comfortable with sex, but it will also lead you to make decisions without thinking about the consequences. Like the fact that the girl you just slept with is your good friend's girlfriend. Oops. Sex is complicated enough as it is, but when you bring together three sets of feelings and mix them in a big cocktail shaker with vodka, it can make a giant mess. It's a better idea to keep it clean, and to make a plan instead of flying by the seat of your drunken underpants. Image by passer-by on Flickr.com

Speaking of planning, if the idea of a threesome is titillating to you, it's a good idea to put a little engineering in place to make your fantasy happen. Being open about fantasies is the first step in making them come true. If you have a lover or a partner, expressing to them your honest desire to have hot, nasty sex with a third party could bring a new dimension of fun into the bedroom. However, if your loved one takes issue with the idea, don't push it... otherwise you will end up with the same situation as in Tip #1.

This piece of advice will sound really stupid, but it isn't: Only sleep with people to whom you are attracted. Just like in non-threesome sex, if you are not attracted to the people you have sex with, the sex will not be good. You would be surprised how many people will sacrifice attraction simply for the experience of a three-way. For instance, at a certain point in my early 20s, I was experimenting with women in the "swinger lifestyle," and I found that, on the whole, if women "in the scene" were ready, willing, and able, then sex would happen regardless of attraction. For many reasons, it was not good sex. I'm not only speaking of physical attraction here; there are many things that attract us to the people we find sexy.

Whether you sleep with friends, people you meet online, or just folks you meet at a sex club, keep in mind that in a threesome, all parties don't have to be actively engaged in sex the whole time. It's not like, "Hey, you take that boob, I'll take this one!" A good thing to do in this situation is to do quick boundary checks. A few suggestions: "Do you like that?" "Does that feel good?" "Is this all right?" Obviously, you don't have to conduct yourself like a nurse in an examination room. By all means explore and have a good time. Integrate the boundary checking into your dirty talk, so that you don't feel like it becomes awkward or stops the sexy flow of your mojo.

As I mentioned before, sometimes threesomes can bring insecurities and fears into focus. It's important to communicate afterwards, especially if you are involved in a monogamous relationship. Jealousy can easily lead to resentment, but the way to avoid that is by sharing your feelings and listening to the feelings of your partner. A threesome can be a really beautiful, wonderful experience. I think that the movies always portray a very bad image of threesomes, since the fictitious relationships typically end or break down in some way, like in Summer Lovers or 9½ Weeks. Ignore the movies. We are so programmed to believe that sex is bad, and that if you enjoy sex you will be punished; it's crap. You can have a super sexy adventure, and why shouldn't you? For some people the taste of a threesome can lead to a great thirst to explore polyamory, and that's cool, too. I plan to cover polyamory and non-monogamous relationships in another column.
Follow Jincey Lumpkin on Twitter: www.twitter.com/juicyjincey