THE BLOG
Where There's a Will, There's a Way
These days every week brings new tragedies, as did this week with the victims in Penn State, storms in Alaska, kidnap of the Washington National's catcher, financial chaos in Italy, volatile stock market -- and oh so much more. No wonder our energy can get so zapped that we're too tired to tackle our own meaningful messes. It's easier to complain, get frustrated and then lose the courage to turn around to face life's most painful challenges. Problem is there's a cost to this behavior.
Can you count on yourself to do what you need to do?
Can others count on you to do what they need you to do?
If your answer to either one of these questions is "No" (or even "Yes and No"), then you're making these times even tougher for yourself and those who depend on you. Now more than ever we must stay aware of whether we're living our lives as a victim of circumstances or a master of our own destiny.
I've sure been stuck lately, letting myself settle for the reasons I can't do something, instead of just getting on with what I know I need to do -- like writing my weekly HuffPost article. I mean really, you wouldn't believe how busy I've been and how much has been going on in my life -- and the lives of those around me. So I woke up this morning remembering this old English proverb and said today's the day. So, here I am writing after 2 months!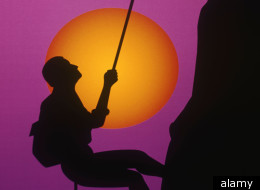 My Mom often reminded us that "Where there's a will, there's a way," starting when we had first learned to say, "I can't." We rarely got away with it -- and when it comes to the big stuff we're avoiding, we shouldn't be any easier on ourselves than she was on us. The cost is too great, first to ourselves. When we don't keep our promises to exercise, meditate, pray, get the overdue project done, write the thank-you note or call Mom, we lose confidence and respect for ourselves. But even more painful is the cost to others when we don't keep our promises with them.
Imagine the cost to:
The man who's not doing the tough stuff to keep his business going, even though his family is depending on him.
The mother who is so exhausted and stressed that she can't find time to exercise and meditate, and then takes it out on the kids.
The college student who's started skipping classes because he's thinking he "won't be able to get a job anyway".
The quarterback who loses confidence in the 4th quarter and stops giving it his all.
What would happen to each of these folks if they shifted their mindset to, "where there's a will there's a way"?
Here are some who have done so, many times.
I'm sure there are many times in your life when you found the strength to do things that you thought were too difficult or impossible, right? Take a moment to remember just one time and then another minute to answer the following quick questions:
Which of your unmet challenges has the highest cost for your loved ones and for you? Example: My failure to stay in touch with my family.
What's the outcome you want? Example: A sense of well-being that comes from their knowing that I care about them and they can count on me.
What's the next step? Example: Call my Dad today.
After you've talked with him, ask yourself, what's the next step?
May sound simple, but I guarantee that if you take this discipline seriously, you'll be back in the driver's seat of your own life -- and an inspiration to others. Where there's a will, there's a way.
Here's the inspiration for my article -- a message from 2-year-old Ryan:
Please leave a comment or question here. Let us know how you're doing. By doing so you'll inspire the rest of us. Or you can email me at jinny@bestyearyet.com.
This Blogger's Books and Other Items from...