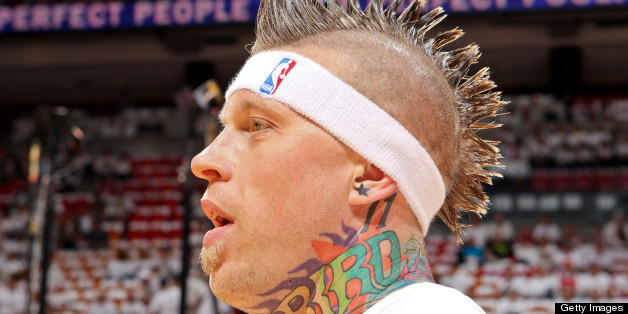 In honor of the Heat's quest towards its 2nd consecutive title, I'd like to compose a column on our squad's unsung heroes. There are 9 weeks until the Finals conclude. This is the first in the series and will focus on Chris 'Birdman" Andersen.

When the Heat first signed Birdman to a 10-day contract in January, the first thing that entered my mind was "Okay, we just signed the white Dennis Rodman -- cool." We needed help with rebounding, another big body in the paint couldn't hurt and his style and energy figured to be a well-needed boost off the bench and also entertaining and fun. All have turned out to be true and now with his conditioning in full form, dividends are paying off.
The Heat had their eye on Bird for years and his biggest champion was Coach Spoelstra himself. According to Pat Riley, Coach Spo wouldn't let the topic go. "If I got another text from (Spoelstra) about getting Chris Andersen, I was going to put my hands around his neck."
Another interesting tidbit about Chris Andersen is his checkered past.
Having been expelled from the league for two years after violating the league's (rather harsh) drug policy, the Birdman had something to prove. He was hungry, motivated and deserving of a second chance. There is no story in the human condition more fulfilling and rewarding than that of redemption. We all deserve a second chance.
If you read up on the Birdman's past, it's as colorful as the ink on his body. Born in the street smart city of Long Beach outside L.A., he was abandoned by his mom, neglected by his dad, and raised in an orphanage outside Dallas, Texas. Part cowboy, part rebel, he paid his dues playing ball in the Chinese Basketball Association, before catching on in the NBA with the Denver Nuggets. During a tumultuous NBA career, the Birdman has been displaced by Hurricane Katrina and accused of a heinous crime at the hands of extortionists. Andersen's definitely a little rough around the edges, but he's found a home in Miami. His energy coming off-the-bench inspires the whole team; his chemistry with LeBron is growing, and Andersen's consistently soaring above the rim.
I still compare Chris Andersen to Dennis Rodman, who won five NBA titles in his career. But the difference between Andersen and Rodman is this: a bird eats a worm every time.
Ca- Caw-w-w!