When GQ recently published its list of the "40 Worst Dressed Cities in America" naming cities from Manhattan (#5) to Portland (#36), I wasn't sure what I should be upset by the most. Austin, the city I live in, was 18th, just ahead of (or was it just behind?) Jersey Shore at number 19. Boston ranked number one on the list, while Omaha, Neb., ranked 32nd begging the question of which city is GQ saying dresses more dreadfully? Is it really possible that people in Brooklyn dress worse than people in Boulder, Colo., or is it just that the dichotomy from good to bad dressers is more severe? I'm still not sure.
Regardless, what I'm trying to say is that I was confused. If you're going to take the time to have a dozen or more writers and editors contribute to a piece about fashionable cities, you should at least come to some digestible conclusion. Listing every major city in America and saying that Boston, Chicago and New York are in the top (or bottom) five doesn't tell us anything at all. We're back where we started.
Thankfully, I've been taking mental notes -- while shopping in local boutiques, meeting local designers and tastemakers and visiting cities across the country -- and am now ready to share this actionable list:
9. Kansas City
Kansas City is a bit of a one-trick pony, which may lead to some questioning its place on this list, but that one trick happens to be one of the best unisex shops in America: Standard Style. Kansas, like Chicago, has the Midwest working both for and against it... the styles from New York and L.A. may take a minute to land here, but when the good ones do (and they certainly do from both coasts, unlike say Charlotte or Phoenix), Standard Style is where they end up.
Whether it's A.P.C. and Life After Denim for guys or Elizabeth & James or Rebecca Taylor for women, you can always expect the best of both fashion worlds will end up in this shop. As one store reviewer wrote, "They have the best selection of great new brands that I can't find anywhere else in Kansas City. I was so excited to actually have a place to buy all the fun new clothes I read about in my magazines."
8. Atlanta
It's the South, first and foremost. That's why brands like We Are the Process who fully embrace their Southern heritage are top-of-mind when thinking of where to start shopping. Their tees are some of the best you'll see in the over-crowded streetwear game and their tanks look as good on females as they do on the men they were designed by. Secondly, Atlanta has a Black vibe to it. That's why Fresh.I.Am, a simple yet refined hatmaker who recently collaborated with buzz worthy rapper Theophilus London, thrives in Atlanta -- the city that gave us hip-hop style icons like Andre 3000. Also, Standard, a streetwear/sneaker boutique, is a locally-owned beacon in the mass-produced, commercial centric Lenox Mall, one of the top three Simon-owned malls in America.
7. L.A.
Everyone thinks of Rodeo Drive when they think about L.A. shopping, but the real value is in getting to know people who design or work in showrooms. Not everyone will meet Lisa Kline, but tons of fashion brands are represented by L.A. showrooms like the Joey Showroom and Open Showroom where you can find threads from still-emerging collections like Black Halo and JoyRich. Also, some of the best boutiques in America are located in L.A. including Opening Ceremony where two of my favorite labels -- Adam Kimmel and Band of Outsiders -- can be found. You may break the bank trying to keep up with the Joneses in L.A. though, so get familiar with the thrift and trunk show scene.
6. D.C.
Before returning to Austin, I spent three-plus years in our nation's capital, which is by no means a fashion hub. There is, however, a budding district -- the 14th Street and U Street areas to be exact -- where you'll find upscale boutiques like Redeem and sneaker stores like Palace5 within blocks of one another selling to the gay community prominent in Dupont and Logan Circle along with the young professional and hipster populations in the Columbia Heights, Mount Pleasant and Shaw neighborhoods. Concentrated shopping is a key to concentrated style.
5. Portland
I must say that I'm not that impressed with Portland if we're comparing the city to its Pacific Northwest peers, namely Seattle and Vancouver, but it did stand out for its shopping. Compound is one of the nation's cleanest sneaker shops, with more range than Nike-focused shops like Undefeated. I bought some John Varvatos Converse desert boots at Compound within minutes of hitting the Downtown streets a few months back. Similarly, shops like Radish (women's) and Johnny Sole (shoes) may lack the name recognition of similarly-focused boutiques in other cities, but the range is broad enough to include strong brands like Bodybag by Jude and 80%20, both of whom can now count my girlfriend as a fan. Blackbird and Blake carry menswear that can have you looking date-ready within minutes.
4. Austin
I'm here everyday. Well, except when I'm traveling... so I'm here about 50 percent of my days. Still, I'm continuously discovering new shopping in my home city despite its small-ish vibe compared to most of the cities I frequent. Just two weeks ago, I stumbled into a shop near the University of Texas campus called Cotone that almost immediately moved into my three favorite women's boutiques in Austin. The shop opened just in time for back-to-school season and carries Brandy Melville -- the Italian brand started by Silvio Marsan in Rome three decades ago -- which has been blazing trails in the U.S. since opening in New York in 2008.
Further into the city, the Second Street District is a few blocks of mostly women's boutiques that have opened in the last few years. South Congress Avenue is the center of Austin's enviable "buy local" shopping culture with the best brands and styles carried in shops like By George, Maya, Service and Stag, the latter two representing well-curated menswear shops that are still fairly new to the city. Sixth Street meets Lamar Boulevard and it would almost give Downtown Austin a mall-like shopping experience (Anthropologie, Free People) if not for Waterloo Records and Book People, two of the most well-respected independent record and book shops in America.
3. Chicago
Chicago is punished by long winters, which can make the desire to shop shrivel up and curl into a desire to drink hot cocoa and watch TV. But the city that gave us important style icons -- they all happen to be Black -- like Michael Jordan, Michelle Obama and Kanye West makes up for it with two things when it comes to shopping: 1) great shops that help you layer up and 2) great local boutiques that help you take advantage of the summer. On the layering front, I'm talking about Chicago's affinity for brands and shops that have excelled in New York like Allsaints, which opened up on Michigan Avenue just this month, Brooklyn Industries and Carhartt, both of which are in the Wicker Park area. On the local front, look to sneaker and streetwear favorite St. Alfred's along with the supremely-curated Sir & Madame, owned by Brian and Autumn Merritt who were recently mentioned in piece about Black style in The New York Times. It looks like Chicago's inspiration comes full circle; successful Black style that doesn't limit itself to Black shoppers at all.
2. New York
The fashion media of this country is based in Manhattan for one reason and one reason only: there's no better place to live and breathe fashion in America. Walk around Madison Avenue and you'll see some of the best professional attire this side of the Atlantic. Walk around SoHo and you'll see some of the most diverse and unique styles this side of the Pacific. There are shops like Saturdays Surf Shop (which GQ Creative Director Jim Moore recently called the coolest shop in America) and Dave's Quality Meats that come to mind when I think about buying locally in Manhattan.
Still, it's the first-in-the-States status that New York City has maintained for decades that make it a shopping hub for fashionistas (and those hoping to catch on). International designers hope to "break into the States" by making a splash in Manhattan, just as international musicians hope to break into the States by making a splash in Austin during South by Southwest. That's saying a lot although I should point out that New York does often embrace the woe-is-me elitism of fashion, so buyer beware.
1. San Francisco
The denim capital of America; San Francisco is home to Self Edge and A-B Fits, possibly the best one-two punch for denim shopping anywhere in the country. My business partner, Jon, recently visited SF for some meetings and the Style X lookbook designer, Brooke, reeled off a dozen legitimate boutiques that he had to visit. I went through the emailed list and found gems throughout... Department 17, Shotwell, Harputs Market, Seed Store, Dish, Unionmade, General Store, Welcome Stranger, and Azalea. My Roommate's Closet, Carrots, and the Archive are just a few others worth mentioning.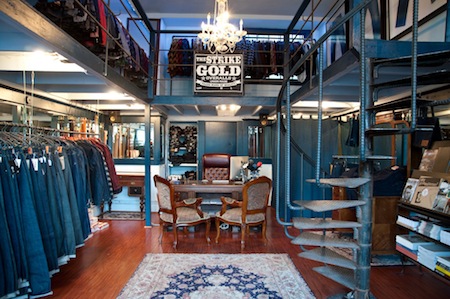 Self Edge is the best of SF, and some of the best of Japan.

It's also worth noting that shops like Self Edge and Boutique Harajuku successfully pull the some of best denim and women's brands from Japan across the ocean. Add that to the fact that San Francisco is home to premium brands like Martha Davis shoes and Tellason denim, plus streetwear brands like Benny Gold, Black Scale, and Hella Tight and you have the makings of a city that can go toe-to-toe with New York if we're looking to spend a weekend shopping locally.

SUBSCRIBE TO & FOLLOW LIFESTYLE
HuffPost Lifestyle is a daily newsletter that will make you happier and healthier — one email at a time. Learn more