The saga of Lennox, the non-aggressive Belfast family pet sentenced to death under the U.K.'s "Dangerous Dogs Act" based not on any misdeed but simply on his appearance as a "Pit Bull Type," has riveted the world, generating over 174,000 signatures on the "Save Lennox" petition, over 20,000 on a more recently-created "Boycott Belfast" petition, as well as an intense social media outcry. (For background, see my first post on this case.)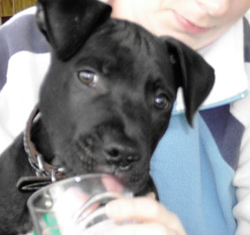 As reported here last month, his family's final plea to lodge an appeal was denied by Northern Ireland's highest court on June 12; at the time of that last post, hope remained that further legal options might be available. However, this sad case is now inching perilously closer to tragedy, as the Barnes family, owners of Lennox, released a statement on July 3 that all legal options have been exhausted, and that
"the fight to spare Lennox's life may well be over. It has been almost impossible for us to accept that we have to admit defeat. We always believed that there was some hope and that justice would prevail. We were wrong. "
At this point, the family's only remote hope to spare Lennox's life is for the city of Belfast to agree to allow him to leave Northern Ireland for adoption in a country where his existence is not banned by breed specific laws, and this is their last-ditch plea. Without this intervention, his death sentence could now be carried out on Monday, July 9.
It should be noted that since he was removed from the family in March of 2010, a number of viable re-homing offers have been put on the table as a potential solution, and the Barnes family have always remained open to this; as heartbreaking as this might be for Craig, Caroline, and especially young Brooke Barnes, who would be losing her dear soulmate and companion, it would be obviously preferable to a death sentence. Yet Belfast has, so far, turned a deaf ear to such a solution, insisting instead that Lennox must be put to death.
Other compelling offers have opened the door for the Northern Ireland government to gracefully demonstrate evenhanded goodwill in the case and thus save face in the eyes of the world: Jim Crosby, an impeccably credentialed dog aggression expert cited in my earlier articles, has presented official proposals to Northern Ireland First Minister Peter Robinson (who has informally stated his disagreement with Lennox's death sentence on Twitter) and Northern Ireland Secretary of State Owen Paterson, whereby Crosby would visit Belfast -- on a completely pro bono basis -- to conduct an independent evaluation of Lennox from the basis of his particular area of expertise.
Although Crosby is an opponent of breed specific legislation and has spoken out on behalf of Lennox for some time, his offer emphasized that he would not criticize any preceding actions or opinions in the case; instead, he presents
"a mediated remedy that would allow the Belfast City Council and the Government of Northern Ireland to extricate themselves without loss of public respect, yet with compassion for the individuals... a possible solution that would both protect the citizens of Northern Ireland and allow the dog Lennox to live out his life in peace."
Perhaps the most feasible offer currently at hand comes from Victoria Stilwell, the highly regarded celebrity dog trainer and author (best known in the U.S. as the star of the program It's Me or the Dog) who has been a longtime staunch supporter of Barnes family and Lennox, and who has offered to personally cover all costs related to Lennox's rehoming with her in the United States.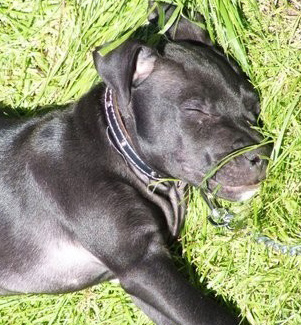 Stilwell has been conferring closely with Lennox's legal team, and is in Belfast at this very moment, ready and willing to take Lennox out of Northern Ireland to prevent his euthanization. As Stilwell, the Barnes family, and the Lennox legal team anxiously await a response from Belfast on this offer, Stilwell has posted an eloquent plea on her official website. This plea, in short, presents an elegant "out" for the city of Belfast, which has faced a public relations debacle over the Lennox case, as well as an olive branch to spare the city further negative backlash:
"... to the Belfast court system and the BCC [Belfast City Council], I now publicly give you my word that if you remand custody of Lennox to me and allow me to take him to a safe place in the U.S., I will not disparage the BCC, the Belfast court system, or those involved with this case in any way moving forward. Indeed, I will publicly recognize the courage that it will take to rise above the divisive voices clamoring on both sides of this issue, follow the law, and yet also show some humanity and allow this dog to live out his final years in peace in the US... All I'm asking is that you recognize the special nature of this case and allow him to leave the country -- a result which still allows you to uphold the spirit of the law while avoiding the death of what I and many others consider to be an innocent dog and averting an even more damaging end to what has undoubtedly become a public relations nightmare."
Barring the acceptance of these offers to save Lennox by removing him from Northern Ireland, which would in turn save face for the city of Belfast, the Barnes family has one final, heartbreaking request: "If the offer is turned down we will fight for our right to say goodbye. We cannot bear the thought that Lennox will die without being reminded of the hearts and hands that love him."
NOTE: Supporters worldwide are still rallying frantically to save Lennox. Group actions include an email campaign to veterinary surgeons to refuse to administer the lethal injection, and appeals to Michelle O'Neill, Northern Ireland's minister of agriculture, for a pardon. A peaceful protest took place at Belfast City Hall at Saturday, June 7; and another one is scheduled for New York City on Monday, July 9 beginning at 10 a.m. at the British Consulate, 845 Third Avenue.
SUBSCRIBE TO & FOLLOW TRUMP'S FIRST 100 DAYS
How will Donald Trump's first 100 days impact YOU? Subscribe, choose the community that you most identify with or want to learn more about and we'll send you the news that matters most once a week throughout Trump's first 100 days in office. Learn more