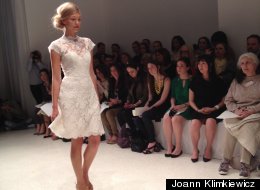 You said "Yes!" to your partner's proposal, and now you're on the hunt to say "Yes" to the dress. But as you face the overwhelming racks of lace and tulle and silke crepe, you might begin to doubt that you'll ever find your dream gown.

Stay calm, says bridal couturiere Romona Keveza.

"I tell brides to approach the search for a dress the way I approach designing them," Keveza told HuffPost Weddings after showing her Spring 2013 collection in New York City on Saturday. "Don't think, feel."

She advises brides to "get into a dream state" when starting to look for a gown, letting go of your budget or what you think might look good on your figure (just go with it for a sec). Free of those constraints, she says, mine bridal websites and magazines for designs that call out to you. "You'll notice a pattern," Keveza said. "It might be lace, it might be a silhouette or designer, but a pattern will emerge."

Armed with your new knowledge of styles and designers, you can hit those bridal boutiques. Just have patience. "You'll find the right, dream dress," Keveza said. "When you know, you know. And it's in your heart, not your head. Just like when you found the right guy."

To help get you started, here are some style themes we saw emerge from the bi-annual Bridal Market in New York City over the weekend, which showcased dozens of top designers.
Who says strapless is queen? Designers put a delicate cap on bare shoulders, as in this fitted lace dress by Amsale.

Another cap-sleeve dress by Amsale.

When it comes to classic, the lace has it. From hand-beaded to fluted-skirt to cap-sleeved bodice, designers showed that lace still has a hold on runways and wedding aisles. This Amsale gown perfectly encapsulates the trend.

A Romona Keveza gown.

The one-shoulder dress showed strongly on the runways, whether sexy and draped, as in this gown from Romona Keveza.

One shoulder, wrapped in a bow by Amsale.

A one shoulder gown by Angel Sanchez.

Dresses airy as spun sugar floated down the runways, like these whipped confections by Amsale.

Another Amsale gown.

A frothy Angel Sanchez gown.

Brides have been bucking traditional floor-length gowns for years in favor of shorter, flirtier hems. Amsale showed delightful designs in lace and silk, and this one with frilly, floral embroidery.

The silk Amsale gown.

The lace Amsale gown.

Designers gave brides who like some zhuzh (are we still saying that?) bold options. Oversized bows, peplum skirts, embellished ribbon and floral details stood out on the runways. This bold gown is by Amsale.

Another Amsale gown.

An embroidered Amsale gown.

A frilly Angel Sanchez gown.

Angel Sanchez showed dresses fit for an ice princess (we mean that in a good way). Geometric acetate detailing paired with tulle to create the shimmer of ice crystals -- perfect for winter brides.

Last year, Vera Wang showed nary a white dress, opting for nudes, ivories and midnight blacks. This year she went bolder, sending brides down the runway in shades of scarlet, crimson, vermillion and dahlia. Wang explained the symbolism of red: "Boldly romantic, charming, protective, grand, seductive, sexy ... A celebration of love."

An embellished dress from Vera Wang.

A one shoulder dress from Vera Wang.

A red Romona Keveza gown.