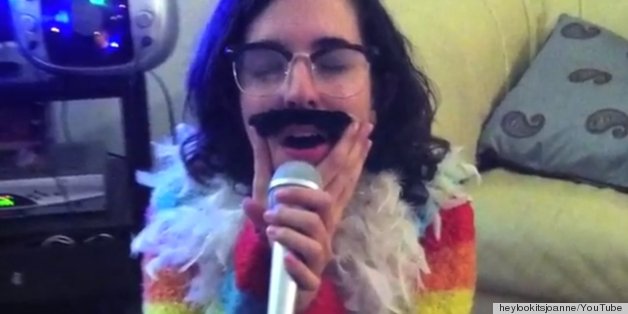 Do you know what I like about wearing a fake mustache? Everything. I love how those cushy black fibers keep my upper lip warm. I love making a feminist statement about how people think it's funny when women wear fake mustaches but chastise them for not shaving their real Frida Kahlo-thick ones.
My most beloved mustache-wearing activity is drag karaoke. Singing as a 1970s man who likes to meet other men in meat trucks on New York City piers is thrilling. It is my homage to the LGBT peeps who Travolta-armed at Studio 54 into the early hours. I can stay up all night dancing in my rainbow boa, spinning and singing until my beleaguered friends tell me to sit down.
Yes, this is not meant to be a full exploration of the cultural and social significance of gay men's lives in the 1970s. I'm telling a story as an unofficial, living-room drag king, like a drag queen might perform as Donna Summer. It's all done with love. Plus, dragging out my mustache inspires me to do more research into LGBT history once I've hung up my boa for the night. The documentary Gay Sex in the '70s is fantastic if you want to learn more about LGBT history during the early gay rights movement between 1969 and 1981. It's one of my favorites.
The number-one rule of doing drag karaoke all night: Avoid looking at your busted self in the mirror the next morning -- especially when the adhesive has peeled off your sweet facial hair.
Check out the morning after my drag karaoke fest in the latest "Look It's Joanne" video.