With the campaign and the election finally behind him, President-elect Barack Obama is now focusing on governing, but in which direction will he take the country? Charles Ogletree is in a unique position to know. The Harvard professor was an advisor to the university's Black Law Students Association when Obama was a member, and Ogletree has been Obama's trusted adviser ever since.
This week, NOW on PBS' David Brancaccio sits down with Ogletree, who some say is being considered for a top Justice Department position, to get early and unique insight on what we might expect from an Obama Administration.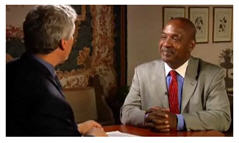 Some of Professor Ogletree's thoughts:
"The real surprise is going to be how tough he's going to be on national security, because he's very concerned about protecting America's shores."
"You're going to see a cabinet that's quite diverse...there's no one who's excluded because of their party affiliation. The only question is: who is prepared today to do the best job imaginable to move the country forward economically, politically, and socially."
"If you go back and look at [Obama's law school exams]...brilliant analysis of what the problems were then and what they might be in the future....this kid took that talent and used it to now carve out an idea of what America could be."
"I'm willing to do whatever Senator Obama as President wants me to do. I love my job now. I want to produce the next generation of Barack and Michelle Obamas for public service."
Watch the complete NOW on PBS show here.
SUBSCRIBE TO & FOLLOW THE MORNING EMAIL
Start your workday the right way with the news that matters most. Learn more