"I know you're scaring away a lot of business, but you're doing the right thing," I said to the heavy-set Starbucks worker taking my skim mocha order in New York this morning.
"Yeah," my server replied, still visibly dejected.
It's been two months since New York City restaurants with 15 or more nationwide outlets were compelled by law to publicly display calorie counts on all their products at the point of purchase. This is particularly hard on Starbucks: Not only are the drinks outed, but those killer pastries as well.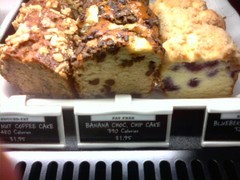 I'd be lying if I said it didn't make me think twice about having a 290-calorie hot chocolate or my coveted 390-calorie fat free banana chocolate chip loaf. It's also made me think more about the extras -- whipped cream, soy milk, extra "room," etc. I now only order 2% room.
Even though Starbucks' hand was forced, the disclosure does make me feel a little better about plunking down nearly five bucks for a combination of ingredients that probably costs less than a postage stamp. Someone's looking out for our health, and helping us make better choices. Even Big Apple libertarians are probably rethinking their espressos as a result.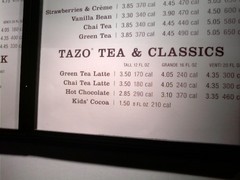 Much has already been said about our country's obesity crisis, trans-fat crackdowns, and more, but the burden of caloric awareness when eating out has traditionally been on the consumer. We've had a little help in that department. My friend Lisa Lillien (a.k.a. "Hungry Girl") has built a successful enterprise giving consumer-to-consumer advice on ways to eat both smart and yummy, but she's fighting an industry trend of silence at best, disinformation at worst. Other services to help consumers uncover restaurant item calories include chowbaby.com and calorieking.com.
Still, no one wants to prepare for eating out like he does for buying a car -- "if we can't get that Happy Meal under 500 calories, we're out the door!" -- so a disclosure rule placing that burden back on the business deserves support. And the businesses deserve it, too. Doing a good thing is doing a good thing, whether compelled to or not.
I know, there's only so much we can do to save people from themselves. A family of five strolling into McDonald's for dinner should understand they're not doing themselves a healthy favor, whether Ronald's being a calorie exhibitionist or not. But there's also something to be said for arming people simply to make good decisions. No one's being barred from eating high-fat garbage -- that's a still a protected American institution.
Where's the rest of the country on this issue? According to the Center for Science in the Public Interest, menu labeling bills or regulations were introduced in 2007 in state legislatures in Arizona, California (Governor Schwarzenegger vetoed his state's bill last October), Connecticut, Hawaii, Illinois, Maine, Massachusetts, Michigan, New Mexico, New York, Pennsylvania, Tennessee and Vermont.
The lines don't seem any shorter at my Starbucks since the disclosure went into effect, and that's a sign that people are either feeling happily informed, or just don't care. It is New York after all.
I tried to give my barista some moral support, but by the time I got my mocha he was already on to the next customer, who himself was ordering up a cup of coffee, with a free extra shot of 100% knowledge.
I say, more java to him.
SUBSCRIBE TO & FOLLOW LIFESTYLE
We're basically your best friend… with better taste. Learn more