Excerpted and revised from "The 40-Year-Old Version: Humoirs of a Divorced Dad"
Somewhere in Africa, there's a goat with an unsuspecting Kenyan family's name on it. I adopted the animal for the family after coming across the idea in a holiday catalog from the non-profit group Heifer International. But the gift wasn't only for the Kenyan family; it was also for my own.
When I told my kids that one of their coveted Hanukkah presents would be rerouted to a needier family, they were confused at first, then entranced. My son was eager to plot Kenya on a globe, while my girls schemed ways of sending comfy goat beds overseas. It inspired more discussion than a typical holiday gift, even one that doubles as a pillow, giggles when shook, and can safely bake small cakes. I just hope Heifer tapes a gift receipt to the goat's belly in case the family wants to trade up for a llama.
My children's mother is technically Jewish -- her own mother is Jewish -- but both have shrugged off the identity like a heavy blanket on a warm night. In their mother's house, the kids get a Christmas tree every year -- one of the few issues about which I put my foot down when I lived there. But now whatever they do for Christmas is fine by me, because it means Hanukkah is exclusively mine. No trading off days, no competing gift moments -- Dad does Hanukkah, period.
As Jews are apt to do, I customize our Hanukkah observance. For starters, I stir in a little non-denominational holiday compassion. In addition to donating through Heifer, we like dropping off toys and clothes at our local Goodwill center. The U.S. Marines' "Toys for Tots" also redistributes toys, even Jesus Christ dolls, which I expect many kids might excitedly mistake for Obi-Wan Kenobi.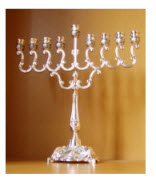 Connecting holiday compassion to Hanukkah was not a tradition in my own childhood. Hanukkah is, after all, more about spirituality than selflessness. The festival of lights focuses on the story of Jews who, for lack of an all-night convenience store, ran perilously low on olive oil, but managed to make it last eight nights. I have the same miraculous experience with my toothpaste every six months or so, but I keep that to myself.
I didn't really begin to consider religion seriously until late in life, despite some formal religious training in my youth. When I was 13, I had my Bar Mitzvah in Alief, Texas, a tiny suburb outside Houston. Our congregation's temple was so miniscule that we'd rent out the local church for big events. We'd just hide the crosses and New Testaments and Oy Voila: a perfect Bar Mitzvah venue. The only problem were the invitations:

"Come celebrate Joel Schwartzberg's Bar Mitzvah and his transition to Jewish manhood... at the First Church of Jesus Christ Our Lord and Savior."
When I left home for NYU, it wasn't long before I began rationalizing forbidden practices like eating on Yom Kippur, making sandwiches on Passover, and ordering shrimp cocktails. I joined a large Jewish student organization, but like so many others in the group, I was more focused on dating than deities. In fact, I think it was those guys who introduced me to shrimp.
In my first family life, I passed my lazy reverence onto my kids, whose exposure to their own religion had been limited to annual Hanukkah Brachos and one overtly Jewish Power Ranger. (Season 13's Bridge Carson, if you must know. He couldn't have been Bridge Goldstein?)
But now, with my wife's help (I got remarried in 2008), I take great pleasure in connecting my kids with their spiritual DNA. We spin dreidels, wear my remarriage yarmulkes, take turns lighting the colorful candles, and now I always translate the brachos as we say them -- "lehadlik" (to light) "nair" (candles) "shell Chanukah" (of Hanukkah).
And then comes the compassion thing. Connecting the holiday to acts of selfless generosity, like gifting a goat, is a mitzvah that creates no messy religious inconsistencies (unless said goat is also a Scientologist.)
While I hope my children feel further bonded with their dad through this singularly-shared heritage, I have hopes for the Kenyan family as well. My biggest hope is that, through our generosity, the Kenyan family realizes there are parts of the better-developed world where, come holiday time, caring families of all faiths practice compassion alongside religion and frenzied holiday shopping. The great thing about this kind of program is that recipients traditionally "pass on" their animals' offspring to others in their community. Not only can't you do that with a Nintendo DS, but it isn't even considered re-gifting.
This year, in an unusual scheduling arrangement, I'll be spending Christmas Eve with my kids in addition to a few Hanukkah nights. That means exposure to yet another holiday tradition: Chinese food.
And as long as we're out, we'll pick up some extra olive oil just in case.
Joel Schwartzberg is a nationally-published essayist and author of "The 40-Year-Old Version: Humoirs of a Divorced Dad"

SUBSCRIBE TO & FOLLOW LIFESTYLE
We're basically your best friend... with better advice. Learn more