An all-day conference titled "Democratic Education Symposium: By the people for the people" was held on Saturday at Medgar Evers College in Brooklyn. Over thirty presentations were delivered on such topics "Public Schools: Privatization and Inequity" and "What is Democratic Education: How we can move it to NYC Schools," with participants as diverse as Jerry Mintz, the Founder of the Alternative Educational Resource Organization (AERO); Sam Anderson, an activist educator; and a group of fifth graders from the John W. Kimball Learning Center who gave their own presentation: "What We Want from School."
The general theme that arose from speeches, papers, and open discussions was a concern for what the participants saw as a trend toward greater inequality of opportunity for economically and socially disadvantaged students both in New York City and nationwide. One of the two keynote speakers, Chris Mercogliano, who had recently completed a thirty-five year career at the Albany Free School, the oldest inner-city alternative school in the United States, recalled the rising popularity of alternative education in the 1960's and 70's. At the time, "democratic learning," which emphasized what children learned outside the classroom as a means of motivating them to better learning inside the classroom, seemed to be the wave the future. The reaction to this democratic system of education has developed into the "assessment movement" with its more restrictive form of instruction, particularly for lower-class students. To Mercogliano, the way a child is treated in a classroom is linked to the economic class he or she comes from.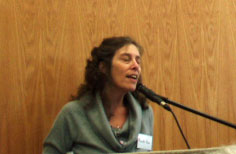 Michelle Fine, a professor at the CUNY Graduation Center, expressed her frustration with what she sees as the "gentrification of public education." She asserted that public schools are being turned into "two-tier" educational systems with an increase in the privatization of what were once schools for all so that only the relatively privileged have a chance at a quality education.
Edwin Mayorga, of the New York City Coalition of Radical Educators, sees as a divisive element in the charter school movement a battle between two groups of minority parents fighting over classroom space and resources that should be shared equitably and without conflicts. He regards the current high-stakes testing emphasis of the Bloomberg Administration as dehumanizing educators, students and their families and treating education as if it were monolithic with a "one size fits all" approach to teaching. He urges educators to begin to develop relationships with students' families and raise the consciousness of both parents and students city-wide to resist the continuing polarization between parents and parents as well as parents and teachers.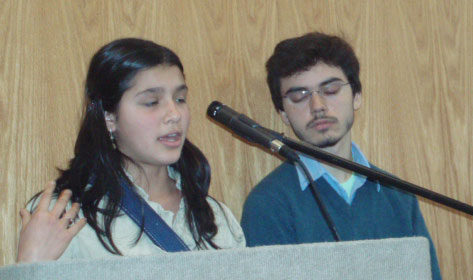 Antonia Perez and Guido Girgente.
Among the student presentations were those by Antonia Perez and Guido Girgente, Beacon Hill High School students. They expressed their concerns that their highly rated school was becoming increasingly "gentrified" with a notable decline in the percentage of minority students over the time they've attended the school. They observed that rather than by lottery, giving more opportunities for all area students to be enrolled, interviews and portfolios were now being used to be "more selective" in admissions. The result, they cite, is that in a relatively short time the minority population of the school has declined from 45% to 34% and the number of students with learning disabilities has almost disappeared.
Putting the issues of democratic education in a larger context was Jean Anyon, a professor of Urban Education at the CUNY Graduate Center author of Ghetto Schooling: A Political Economy of Urban Educational Reform. She regarded the crisis in education as a reflection of the crisis in an increasingly inequitable economic system. Among the needed steps that would lead to improvement in education were:
1. An increase in the minimum wage. At present, according to Anyon, 41% of American workers fall into the poverty zone.

2. The need for a jobs policy that will provide college graduates with occupations appropriate to their education and not just low-paying jobs.

3. A revision of the personal and corporate tax structure to reverse the trend to lower taxes for the wealthy at the expense of the middle and working class. Anyon cited the decline of personal income taxes for the top brackets from 80% to 30% in the last fifty years and that in those days corporate taxes provided 40% of federal revenue and now less that 9%.

4. Comparable worth for comparable work laws enforced which she believes could decrease poverty, especially among women, by 30%.

5. The need for better public transportation, especially in poor neighborhoods where private transportation is less obtainable and jobs to other parts of the city or suburbs difficult to access.

6. A change of housing policies so that better neighborhoods would be affordable for poorer families. Although zoning by race is considered illegal, zoning be social class is not, but results are the same: racial segregation.
Anyon urged teachers to get their students involved with community groups and civic action just as they did when the Civil Rights Movement was launched over fifty years ago. She also observed: "An angry parent is an opportunity to organize parents" so that education in a democracy will again mean quality education for all.
SUBSCRIBE AND FOLLOW
Get top stories and blog posts emailed to me each day. Newsletters may offer personalized content or advertisements.
Learn more