We're only halfway through Fashion Week, and it's always right about this time that we begin to wonder how much more we can take. We've been living on four to five hours a sleep a night since Wednesday. We've already gone through seven packets of Green Vibrance, and we're longing for a meal that doesn't involve a wrapper!
To top it all off, we had a very unexpected, not-so-fashionable visitor who decided to crash our fashion week without an RSVP...Hurricane Hanna.
Friday morning, the city was shrouded in gray clouds and the air was so thick with humidity you had to take a shower immediately after your shower. I'm from Los Angeles and humidity is one thing I don't think I'll ever get used to! Especially not when you're sweating all the way through your favorite Comme des Garcons white linen shirt. Je N'Adore Pas!
Anyway. We're not here to give you the weather report, so let's do this...
FRIDAY, SEPTEMBER 5TH, DAY 1
8:32am - I get to the office to find out that Russell Simmons has canceled his attendance to the Y-3 show on Sunday. I'm bummed, but I have a thousand other things to get done, so I quickly move on.
11:04am - I get an email on the Crackberry informing me that I've been granted access to the Marc Jacobs, Peter Som, Anna Sui and Zac Posen shows. I breathe a little sigh of relief, and I begin reconfirming all of our VIP guest attendees for Y-3 and arranging for car services to pick them up the day of the show.
6:12pm - Cabs in New York are often impossible to find between the hours of 4pm and 6pm. Whoever came up with the idea that cabbies should end their shifts right at the time that millions of people get off work should be shot. Note to self: Find that guy.
6:28pm - Found a cab! (But the inside smells like rotten eggs.)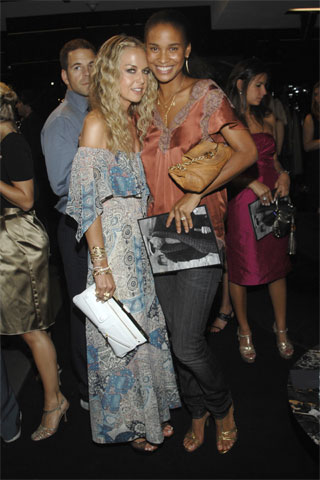 style="float: left; margin: 0 10px">7:02pm - I arrive at the Dolce & Gabbana boutique on the Upper East Side to celebrate a photo exhibit by Michael Roberts, Vanity Fair's Fashion Director, which was entitled "The Good Shepherd." All of NYC's chicest including Fabiola Beracasa, Zani Gugelmann, Andrew Saffir & Daniel Benedict, Lauren Santo Domingo, Jennifer Creel and Hamish Bowles were there to clink glasses and check out photos of a half naked model running free with a herd of sheep through rolling pastures. (I know...when I think of a man all alone in a field with a herd of sheep, the last thing I think of is Dolce & Gabbana, but I digress...) Michael's photos were stunning, and when I asked my good friend and actress, Joy Bryant, what she thought of the pictures she simply replied, "Baaaaaaaaaaaaa!" Love that girl.
8:05pm - I left the boutique and hailed a cab (it's WAY easier to get one on the Upper East Side at 8pm), and I headed down to the 15th anniversary party for What Comes Around Goes Around, Manhattan's fashion mecca for all things vintage. I told the driver to take me directly to the Hudson Hotel on 9th and 58th, but when I got inside, I saw that the place was empty. I was informed by hotel staff that the party was at the Hudson Terrace about 12 blocks away! TAXI!!!
8:24pm - I finally get to the party and the line is about 300 people deep. I don't wait in lines, so I marched up to the door and spotted Australian goddess, Elizabeth Hehir, WCAGA's delicious Sales Director, working the door and gave her a look that screamed "Don't make me wait in this line!" She rushed me right in. The new collection, which was shown separately on the third floor and which is inspired by 1950s Havana, is incredibly on point! We put in our orders with Elizabeth on the spot.
10:49pm - The winds were picking up on the outdoor patio. It felt tropical. A hurricane was definitely on its way. I grabbed my bag and ran.
11:52pm - The skies opened up and released their wrath in the form of an hour-long torrential downpour. I was glad to be in bed.

SATURDAY, SEPTEMBER 6, DAY 2
10:58am - I got to the tents at Bryant Park just in time to catch Lindsay Lohan and Samantha Ronson create absolute mayhem at Charlotte Ronson's show. (Charlotte is Samantha's twin sister, and her brother Mark was DJing the show.) The collection was fun and young and inspired by music and concerts. A little too girlie for our taste, but I don't have to wear it. I didn't want to get trampled in the Lohan frenzy on the way out so I raced for the door as soon as the lights went up.
3:08pm - I arrived at the Chelsea Art Museum for the Vena Cava by Sophie Buhai and Lisa Mayock. By this point, it was POURING rain again. Hanna was wreaking havoc and none of the fashion fold were having it. It was hot, humid, sticky and everyone was soaking wet. It's never a cute thing to see frazzled fashionistas. Trust me. The collection, inspired by Egyptology, Masonic symbolism and the second coming of the occult in the late 1970s, was my favorite to date with the leather leggings stealing the show.
4:05pm - Everyone was getting beaten down by rain drops the size of grapes and the winds were unrelenting, but I had to get to the next show and try to do it without getting wet. I realized that it's not possible.
4:54pm - I'm soaked head to toe, but I'm make it to Alexander Wang which thankfully is only one block away. The room was PACKED with fashion favorites like supermodel and former show stylist, Erin Wasson, Isabel Dupre, rapper Foxy Brown (who we heard gave a surprise performance at the afterparty!!!!!), Vogue editrix, Anna Wintour, Maggie Betts and actress Becki Newton. The collection featured his signature separates, but the pastel jackets were our favorite. Ladies, pay attention!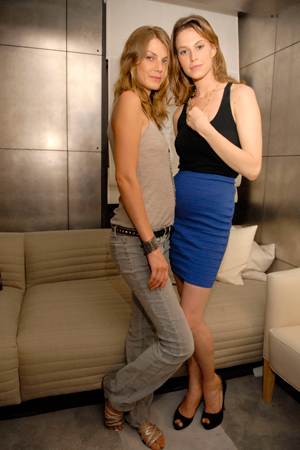 style="float: left; margin: 0 10px">6:37pm - It was a special night for me because at this point, I was heading uptown to the newly redesigned Morgan Hotel where my friends, Elettra Wiedemann and James Marshall, and I were celebrating the launch of our charity, The Burundi Solar Project which is raising money to equip a hospital in Kigutu, Burundi with solar energy for the term of its existence. We've created limited edition t-shirts designed by Yigal Azrouel, House of Diehl, Phillip Lim, Rag & Bone, Rogan and Giambattista Valli, all for sale through JOFD.org. All of our friends turned up to show their support including supermodel Angela Lindvall, Harper's Bazaar editor Sarah Cristobal, Stephanie Rudnick, Andrew Saffir & Daniel Benedict, Jennifer Missoni, Robyn Ward, Bill Blass' Prabal Gurung and IMG's Abby Gardner and Alyssa Vitrano.
9:45pm - We didn't want to leave our own party, but we just had to do a quick drive by the afterparty for Ruffian by Claude Morais and Brian Wolk in the penthouse at the Royalton Hotel. I was introduced to these incredibly talented men by downtown artist to the stars, Brad Fisher, and I immediately became a fan. The party was just getting going when I got there with Emma Roberts leading the crowd into what I'm sure was to be a long night of debauchery. I congratulated the boys, and I took off. There were Brazilians waiting.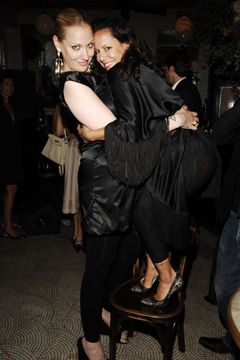 style="float: left; margin: 0 10px">10:15pm - I was exhausted at this point, but Carlos Jereissati, CEO of Brazilian luxury retail group, Iguatemi, was in town, and he was hosting a dinner at Pastis along with his sister, Erika Jereissati Zullo, Iguatemi's VP of Special Services, and brother, Pedro, CEO of the Jereissati Group's telecommunications operation, Telemar, and I couldn't miss it. We all know that a little rain wasn't going to keep them from showing this city how the Brazilians like to have a good time! We missed the seated dinner, but made it just in time for dessert with almost every notable Brazilian in town including designers Francisco Costa, Alexandre Herchcovitch and Carlos Miele and supermodels Adriana Lima, Caroline Ribeiro and Isabeli Fontana! Shortly after our arrival, famed Brazilian songstress, Bebel Gilberto, mesmerized nightlife queen Amy Sacco, artist Tom Sachs, Prince Dimitri of Yugoslavia, Carlos Souza, photographer Todd Eberle, design guru Richard Pandiscio and Prada's North American CEO, Graziano de Boni, with one my favorite songs, Bananeira, as well as many others. Bebel, along with the brigadeiros(Brazilian chocolates) which were served were enough reason for me to brave the rain all day.
1:32am - Zzzzzzzzzzzzzzzzzzzzzzzzz.
SUNDAY, SEPTEMBER 7, DAY 3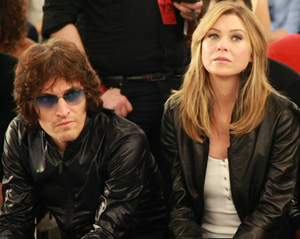 style="float: left; margin: 0 10px" />This was the big day. We were showing Y-3, Yohji Yamamoto's line for sportswear giant Adidas, at 5pm. Our team had been working closely with Y-3 and Adidas global PR teams for months to ensure that everything was perfect. Known for their extravagant show production and off the beaten path venues, this season's show was held in the old Barnes & Noble space on Sixth Avenue which was transformed into a stark celebration of white light. Long bulbs of fluorescent light hung vertically all up and down the rectangular blue washed wooden runway. Our guests included, actress Ellen Pompeo, Sean Paul, Veronica Webb, Vincent Gallo, Amanda Hearst, Luigi Tadini, Gossip Girl's Nicole Fiscella, FischerSpooner's Casey Spooner and fashion photographer David LaChapelle among others. The collection was once again the perfect fusion of Yamamoto's signature silhouettes with Adidas' casual sportswear, but the highlight came when a young man dressed in a sheer black form fitting dress with white underlay coupled with high-tops and baseball cap was sent out sending the audience reeling with confused adoration. It had turned out wonderfully, and we were all beyond ourselves. But it's not over yet. The new Soho Y-3 store opening party is on Tuesday. I wonder if they'd let me borrow that black sheer number?
SUBSCRIBE TO & FOLLOW LIFESTYLE
HuffPost Lifestyle is a daily newsletter that will make you happier and healthier — one email at a time. Learn more